Embracing technological disruption is not just about protecting value. Florence Chong talks to GIC's Lee Kok Sun
The challenge of technological disruption goes beyond the protection of assets, or picking winners and losers, says Lee Kok Sun, CIO of GIC Real Estate, one of the world's top 10 asset owners.
Meeting the challenge, he says, involves developing a corporate culture attuned to innovation and technological changes. The ramifications of technological change, he says, are evident across the entire investment portfolio of the Singapore sovereign wealth fund.
GIC has been tapping into opportunities presented by technology to future-proof its investments. It has been an active investor in Silicon Valley start-ups since 1986, when it established an office in San Francisco and began investing in venture-capital funds.
It now has a large global portfolio in the world of hi-tech and innovation, ensuring its real estate platform is better placed than most to monitor technological change.
In May, GIC Real Estate used GIC's connections in Silicon Valley to host The Bridge Forum, where 80 real estate executives from Asia-Pacific met with 100 technology firms and start-ups to discuss issues facing asset owners.
Asked about the impact of disruption on asset values, Lee says: "That is difficult to quantify. It is not just a question of potential depreciation in asset value. It is a question of constant realignment to remain relevant in the longer term."
Lee says disruption will have long-term effects across many sectors of the industry – including real estate. Before underwriting a deal, he says, the potential impacts of disruption need to be assessed. "Technology affects how we as an organisation should be run," he adds. "We need to develop the capabilities and the culture to harness technology to help us make smarter and faster decisions.
"Today, technology is integrated into our everyday life. It is re-inventing the way business is done. Our approach to dealing with technological disruption is through what we call an 'offence, defence and excellence' framework.
"As a long-term investor, we believe we can exploit changing demographic trends which result in behavioural shifts enabled by technological advancement.
"This is done through investments that give us a front-row seat in new areas to better understand disruptive impacts in a pro-active manner."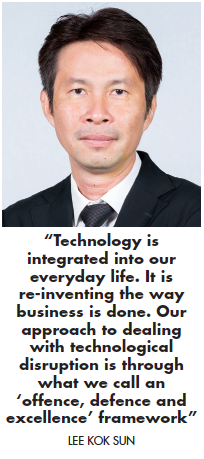 Lee cites the example of shared workspace. "Co-working has a purpose," he says. It serves freelance professionals, small to medium companies, and people who want to embrace the community concept. These ranks are rising in the workforce. At the same time, many companies are looking at their corporate real estate usage – to optimise cost and flexibility. I would say that co-working, in itself, does not generate new demand. Nor do we think it will cannabilise demand."
How big that demand is remains unclear, he says. But GIC is hedging its bets in meeting new accommodation trends. "We are taking a more proactive approach in working with companies like JustCo
(a Singaporean co-working entity). We want to be able to understand what is happening in this space."
In May, GIC formed a joint venture with Frasers Property and Justco to roll out a co-working-space platform in China and Southeast Asia.
Disruption can be clearly seen through the decisions of the millennial generation. Their values are changing, unlike their parents, to whom home ownership was a universal aspiration.
"Greater mobility and an increasing rental population in the bigger cities is driving demand for rental accommodation there," Lee says.
Aside from factors such as continuing urbanisation, housing affordability is a growing concern. Millennials are starting to embrace renting versus owning, provided the accommodation takes into account their personal needs for technology support, such as connectivity.
That this kind of rental property is becoming more common explains the rationale behind GIC's decision to co-invest with a Chinese company, NOVA, to establish a CNY4.3bn (€543m) rental apartment platform. NOVA is a fully-integrated operator and investment manager. Founded in Shanghai in 2015 by Warburg Pincus and a Chinese entrepreneur, it focuses on acquiring properties across Asia and beyond.
Another strong trend is the growth in data consumption and the 'cloud', creating a need for well-connected facilities and data centres. This year GIC invested in US data centres through a joint venture known as EdgeCore Internet Real Estate, in partnership with Mount Elbert Capital Partners and OPTrust.
EdgeCore will initially be capitalised with more than US$800m (€691m) in equity to support data centre development and acquisition up to US$2bn.
Another trend affecting real estate is disruption in the media. This is spawning growing consumption of media content and live streaming, especially of sport, entertainment and fashion and on-demand TV. "The content producers are located in cities beyond your traditional gateways. They are clustered around certain nodes," says Lee. In real estate, large media companies have quite different considerations to those of the finance and insurance sectors.
GIC has formed a joint venture, led by Rockwood Capital, to acquire a portfolio of office assets in Playa Vista, on the outskirts of Los Angeles – known as Water's Edge – which caters to the technology and creative media industries.
The rise of such industries, Lee says, is leading to a redefinition of core real assets. "We have to rethink the commonly-held belief in real estate investment. A good office location in cities is now more than just the CBD."
He says that Playa Vista is one example of how a new business district has emerged on the back of a new industry. "The definition of prime may evolve," Lee says. "While location is still important, we need to be able to evaluate location quality beyond the traditional metrics."
While such initiatives by GIC might be categorised as 'offence', next comes 'defence'.
"We need to play defence well. Technology will disrupt every industry. We need to proactively adapt assets in the incumbent sector to ensure that they remain relevant over the long term."
Lee speaks of an office building in the Indonesian capital of Jakarta which was conceived, many years ago, with a banking hall on the ground floor lobby. With online banking becoming more prevalent, it was decided to convert the banking hall into a hub in which tenants could hold events and showcase their latest products or technology. This is just one example, he says, of re-inventing the use of space in assets in the GIC portfolio.
GIC has itself adopted big data and technology to evaluate and resolve emerging problems. Big data is used to identify tenants that will benefit from disruption – and, equally, those who will eventually be edged out by it.
One such example is the IT and business-process outsourcing (BPO) sector in Bangalore, India, where some will do better than others in the face of disruption. An investor such as GIC needs to recognise this because computer processing could have a major impact on BPO centres as their functions become automated. "It is about working more closely with partners for a more holistic appreciation of the ecosystem in the [information technology] sector," says Lee.
"Increasingly, companies that emphasise the use of information technology are likely to be more viable than those that do not. It is not just about providing better services and experience. It is also about meshing all the stakeholders into an overall ecosystem. We believe the extension of our physical space into social space will help transform the way one thinks about real estate asset services."
The last point of defence is to keep abreast of the technology that GIC's partners are using. "To understand how they are using technology, we have regular dialogue with our partners. And we are engaging our partners with the start-ups in Silicon Valley," Lee says.
He says the impact of technology on retail is about disintermediation. E-commerce is the prime example of disintermediation in retail sales in shopping malls, highlighted by the difficulties facing some retailers.
"Technology shortens the life cycles of all business models and necessitates constant transformation and adaptation, which some are unable to achieve due to legacy reasons," he says.
With the proliferation of car-sharing platforms and similar services, as well as the potential of self-driving cars, shopping malls might need to review the size of their car parks and drop-off areas.
"Technology affects all sectors, not just retail," says Lee. "To make decisions in this increasingly complex world, we are building our capabilities to make sense of the massive amount of data and information flows relevant to our diversified global portfolio.
"In a world where capital has become commoditised, having an information edge and being able to use it effectively will be a key differentiating factor. We have a set of integrated portfolio analytics on every desktop and mobile."
GIC's own proprietary database works best if it is able to access information from its many asset managers. This is why GIC has a team looking for technological advancements, to better prepare GIC from the threat of disruption and the opportunities that will arise from it.
While technology disrupts certain traditional industry businesses, it also opens up new opportunities. One area is the single-family sector in the US.
Lee says: "It [would not have been] possible previously to aggregate a sufficient critical mass of information on existing homes, but with the use of algorithms it is now feasible to help investors screen thousands of homes to seek out those most appropriate for investment."
New construction technologies have also emerged that will have an impact on development, design, and construction, especially in sectors such as multifamily, senior living and student housing.
There will be winners and losers in the changing world of technology, says Lee. With its offence, defence and excellence framework, GIC clearly aims to be a winner.