The total global expense ratio (TGER) is the latest step in harmonising fee and cost transparency on a global basis. Constantin Sorlescu explains
Real estate investing has become increasingly global over the past few years. The benefits are clear – especially in terms of spreading risk, diversifying by geography and sector, and enhancing returns. And just as the world is seemingly shrinking in terms of cross-border investment activity, the range of different real estate investment vehicles continues to broaden.
In addition to traditional funds, growing numbers of investors allocate capital to other structures, such as joint ventures, clubs, and separate accounts.
Recent years have also witnessed a corresponding expansion of regulation affecting real estate investment, the most prominent of which are AIFMD, Solvency II and MiFID II. All have various impacts for cross-border investing.
Combined, these economic, market and regulatory forces have proved to be a fertile catalyst for the non-listed real estate investment industry to take stock of certain key issues. One of them is to look more deeply at how the fees and costs of real estate investment vehicles stack up against each other.
As investment mandates have diversified across sectors and geographies, so investors have examined the total fees and costs of running real estate vehicles more and more closely. The growing need for more visibility and transparency globally led to the creation of the global standardisation project – an industry-wide collaboration led by INREV, ANREV, NCREIF and PREA. One of the results from this global collaboration is the recent publication of the first total global expense ratio (TGER).
As a global metric, the objective is for all investors and investment managers to be able to share a consistent methodology for measuring fees and costs, for terminology, and for disclosure requirements associated with an investment.
TGER moves beyond the two main ratios – total expense ratio (mainly used in Europe and Asia) and real estate fees and expense ratio (used in the US). Combining systems from these key regions has obvious advantages, not least of which is simplifying the process by which managers and investors can ensure they adhere to the principles of full transparency and standardised disclosures.
Arguably, the most potent benefit of TGER will be to provide investors with a clear line of sight across all their real estate investment vehicles.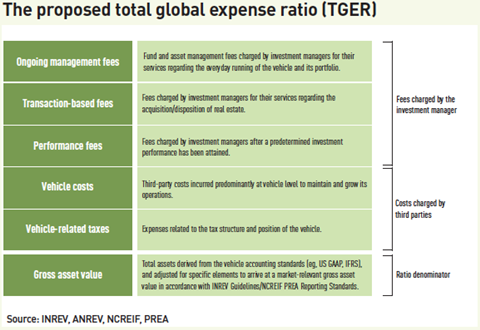 At a time when more capital is crossing international borders than ever before, investors need efficient ways to monitor the performance and cost of the capital they are deploying. The proposed new TGER responds directly to this need. It also enables investors to make accurate, evidence-based assessments of the true cost of investing in specific vehicles while delivering the added upside of being able to compare different investments, regardless of domicile. The higher level of transparency will give investors greater comfort when allocating capital to non-listed real estate.
TGER also benefits investment managers. A single global ratio will be more efficient in terms of fund administration. For example, it will eradicate the burden of responding to multiple requests for the same fund information in different formats for different investors. In essence, it could substantially simplify reporting and disclosure.
A dedicated global team of experts from the four associations involved in the project spent almost two years developing TGER. At its simplest level, TGER represents a standardised method for calculating the total participation charge or burden for a real estate investment vehicle – both before and after tax.
The ratio measures fees and costs divided by average gross assets over the same period, thereby removing any effects of leverage. In this case, gross asset value (GAV) is a market-relevant measure taking account of all the relevant accounting standards (for example, US GAAP and IFRS) and adjusted for specific elements. The basic calculation for the ratio is straightforward: fees, plus costs, plus taxes divided by GAV.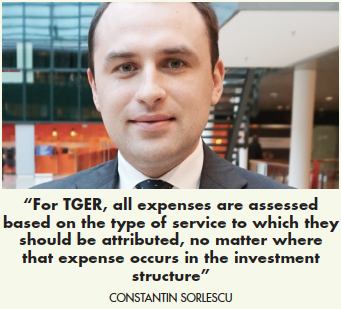 For TGER, all expenses are assessed based on the type of service to which they should be attributed, no matter where that expense occurs in the investment structure. For example, consider audit costs relating to the annual audit of the vehicle. In some cases these costs are allocated to each investment by the investment manager; in other cases, a manager might not allocate these costs to the investment. TGER looks at the nature of the cost rather than where the cost is recorded in the accounts and captures the costs of the annual audit in relation to the vehicle accordingly.
Additionally, fees charged by the investment manager must be transparent and include any relevant adjustments such as reductions, waivers and transaction offsets that might have been agreed between manager and investor.
To meet the all-important objective of comparability, a critical part of developing TGER was establishing a shared set of terms and definitions. Commonality of meaning around key concepts such as asset management fees, carried interest and performance fees, transaction-based management fees, professional services costs, vehicle administration costs and many others, was vital.
Early commitment from all industry players resulted in the creation of the global definitions database in 2017. It represents a unique depository of terms and definitions agreed globally, which support the INREV Guidelines and the NCREIF PREA Reporting Standards. This is a cornerstone of the entire TGER project.
The new ratio and its related disclosures promise to deliver a positive structural shift in the way market participants execute the business of real estate investment. The industry has the opportunity to provide feedback on the proposed TGER until this summer. It is widely anticipated that there will be broad consensus and support for the ratio and its transparency principles.
If so, TGER will likely be embedded within the INREV Guidelines and the NCREIF PREA Reporting Standards by the start of 2019.
This is an exciting prospect in its own right. But TGER also sets the tone for even grander ambitions in the future, so watch this space.
Constantin Sorlescu is senior professional standards manager at INREV