In light of new research suggesting that active managers keep more than 70% of investors' profits, Richard Cooper and Kate Fearnley look at real estate fee structures
CEM Benchmarking has analysed the investment returns of over 8,000 pension funds worldwide since 1991 and found that, on average, active fund managers were able to outperform the market by 60bps. However, the profit share was heavily tipped in the asset management industry's favour, with pension funds retaining just 27p in every £1 of added value.
The analysis follows a report by the UK's Financial Conduct Authority in 2017, which found that price competition is weak in several areas of the asset management industry. It called for the use of all-in fees and standardised disclosure of all costs in a bid to increase competitive pressure.
Local Government Pension Schemes (LGPS) in the UK are taking matters into their own hands and combining to increase their bargaining power when negotiating asset management fees. DTZ Investors supports the call for transparency and competitiveness among real estate managers and so we have designed a real estate fee guide, which can be used by all investors to assess the all-in cost of their real estate management contracts and make sure they are getting the best deal.
But how do real estate investment management fees compare to other asset classes? We have sourced a comparison of fees for active managers in different asset classes from the Findings of Project POOL study published in January 2016 by the Joint Working Group of Local Authorities. However, it is worth noting that there are no products available that offer truly passive/market-tracking exposure to the real estate market.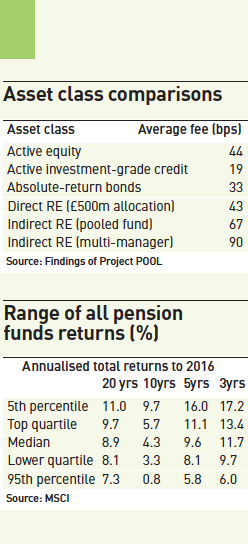 Direct property investment management fees are clearly competitive relative to those charged via other routes to the property market, as well as fees charged for equities and fixed income mandates/funds. Indeed, the Findings of Project POOL states that 'fees for the management of direct property mandates are generally low'. Taking DTZ Investors' view of an equitable profit share ratio between manager and investor of 1:4, the average direct property manager should aim to outperform the market by about 1.7% annually.
So, are active real estate investment managers worth it? According to MSCI, top-quartile pension funds have outperformed the median fund by an average of 0.8% annually over the past 20 years. This suggests that even the best of the bunch are keeping over half of everything they add to the bottom line.
Real estate, as a tangible asset, incurs higher costs than other asset classes. The decisions and actions of the investor and their manager have a direct impact on the performance.
Not many managers yet quote an all-in fee, or provide the same level of service for their fee, and so we have developed a guide for investors to calculate the total costs and fees associated with running their property portfolios, regardless of what might be reported by their real estate investment manager.
Richard Cooper is head of investment strategy, and Kate Fearnley is business development director at DTZ Investors