The universe of pan-European core funds is expanding, with new entrants, a shift in sector allocation and a redefining of core. Richard Lowe reports

COVID-19 has derailed many things, but it has not stopped the steady rise of diversified, pan-European core real estate funds. The two indices (figures 3 and 4) that track such vehicles both showed a dip in the aggregate value of assets in the second quarter of 2020 – but thereafter the upward trajectory of the past five years or so was resumed.
Core real estate – and its promise of stable, strong-yielding income returns – has attracted huge interest from investors in the world of low interest rates in recent years. And while the pandemic hit large parts of the real estate market hard in 2020, heightened risk aversion has strengthened the appeal of core property.
As Iryna Pylypchuk, director of research and market information at INREV, points out, the number of funds in the INREV index has grown from seven to 14 over the past five years, while gross asset value (GAV), which includes financial leverage, has increased by a multiple of four. "This is a very important segment of the market," she says. "If you think about the evolution and speed of that evolution for the ODCE funds, it says a lot."
But the simple picture of aggregate growth hides a more complicated story. Balanced core funds are designed to provide investors with a diversified exposure to a range of property types. But what has been impossible to ignore is the diverging fortunes of certain sectors – namely, retail and industrial.
"It doesn't matter which fund you are, if you have a greater exposure to.… the stronger performing sectors – such as industrial and residential – you would be performing above average or better than your peers who are more heavily exposed to retail," Pylypchuk says.
"Since 2016, you've seen a really strong divergence of the various sectors – in particular industrial and retail, which are almost symmetrical but [are moving] away from each other," says Hélène Demay, executive director at MSCI. "You can have two balanced funds, but if one is tilted towards industrial and one is tilted towards retail, you are going to have two very different outcomes. Balanced doesn't mean uniform."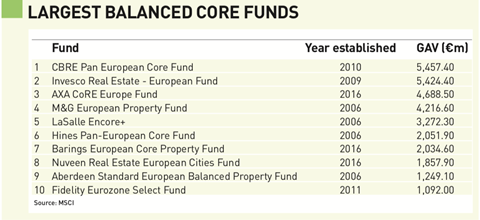 Investors want to boost their exposure to industrial and residential markets, and to minimise their exposure to retail – and fund managers know this. The problem is that retail was traditionally the second-largest component of core fund portfolios, while industrial was on the margins and residential was in many cases non-existent.
For managers of long-established, large diversified funds, the task of reweighting portfolios has been akin to moving an oil tanker – but progress has been made. Pylypchuk says efforts to reweight portfolios were already under way before COVID-19 struck. Two years is a reasonable amount of time to begin effecting change and the INREV index shows that retail exposure fell from about one third at the end of 2018 to 22% at the end of 2020. Industrial exposure, meanwhile, rose from 18% to 22%, catching up with retail for the first time. Residential climbed from 3% to 7%. Office remained the largest component and actually increased from 41% to 43%.
A glance at the different sector weightings of individual balanced funds in the PEPFI index (INREV does not disclose any individual constituent data), shows a fair amount of variation. PGIM Real Estate appears to be leading the charge, with more than 45% of its European Core Diversified Property Fund invested in industrial, 7.79% in residential and zero in retail. But it should be noted that this fund was only launched in 2019 and so has no legacy portfolio.
"Our European core strategy is relatively young, with an allocation built for the future," says Sebastiano Ferrante, deputy head of Europe at PGIM Real Estate. "With large exposure to sectors such as logistics and residential, limited legacy assets and a focus on liquid transparent markets such as Germany and France, our portfolio has maintained a strong resilience in the current COVID-19-induced market uncertainty."
He adds: "We continue to build exposure to logistics for the long term, against the backdrop of increasing online retail-related demand and a shifting trend for industrial companies to carry larger and more robust inventories as part of their supply chain management. We expect logistics to continue to outperform in the near future and we are well positioned to benefit from this trend."
A number of the larger, more established funds in the index have more than a third in industrial, including The Barings European Core Property Fund, which was launched in 2016 and is more than twice the size of PGIM's fund, at just over €2bn GAV.
The largest fund in the index – the €5.46bn CBRE Pan European Core Fund – was established more than 10 years ago and has more than a third in industrial, which would equate to about €1.81bn. The fund, managed by CBRE Global Investors, has one of the highest weightings to retail at 27.9%, but it also has the second-highest weighting to residential (10.9%) – after the AXA CoRE Europe Fund with 21.6%, by far the largest weighting in the index.
In recent years, pan-European core funds have been taking part in a straightforward race, but more tricky terrain was encountered in 2020. Carrying out due diligence, being able to transact and having the conviction to make investments was suddenly a lot harder.
The disruption of COVID-19 threatened to stall fund growth and their efforts to reweight portfolios. Some in the MSCI PEPFI index shrank in certain measures. The NAV and GAV of Invesco Real Estate's European Fund dropped by 7% and 1%, respectively. As a result, what was once the largest fund in the index is now second. The NAV of Nuveen Real Estate's European Cities Fund shrank by 2%, although its GAV rose 2%.
Invesco did not comment, but Nuveen attributed the fall in NAV to several factors: the fund, which was launched in 2016, made its first disposal in 2020. It paused acquisitions because of the market uncertainty. Valuation declines in its retail holdings and the decline of sterling also had an impact.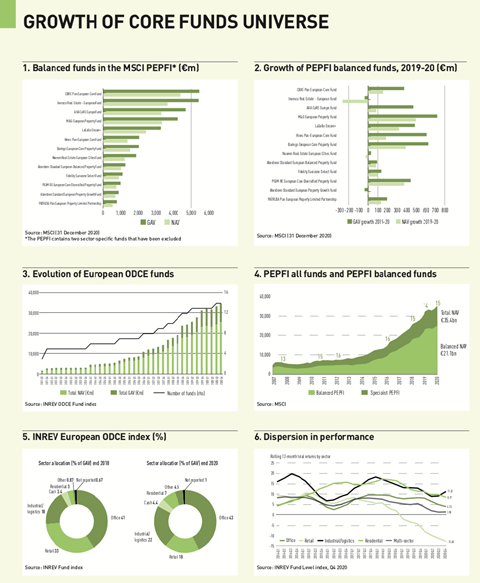 But a number of funds were able to continue to grow and to rebalance portfolios in 2020. PGIM Real Estate grew the fastest, more than doubling net asset value (NAV) and increasing its GAV by 82%. But, as a new fund, this was from a low base (€366m and €444m, respectively).
AXA's €4.69bn fund grew the most by actual value – €497m NAV and €722m GAV. As Isabelle Scemama, global head of AXA IM Alts, says (see full interview, page 16) the company's activities in 2020 were above its expectations even prior to COVID-19, because the organisation was set up in a way that it could take advantage of opportunities.
Hines and Barings, meanwhile, were able to increase the GAV of their €2bn funds by an impressive 44% and 36%, respectively.
"It has been quite a remarkable year for the fund – the most remarkable in several ways in its 15-year history," says Peter Epping, senior managing director and manager of the Hines Pan-European Core Fund. "We started that unusual year 2020 with the biggest amount of equity we have ever raised – having raised €690m of equity in 2019.
"And, also, there was a clear mandate to diversify more aggressively into logistics and residential when historically our fund had really focused on office and high-street retail, given their longer-term rent growth potential….so we started the year by making residential and office investments, and then the pandemic struck."
Perhaps counterintuitively, 2020 represented an opportunity for buyers. After a couple of months into the pandemic, Hines concluded that "the core markets were going to hold up, generally speaking", Epping says. "But there was significantly reduced competition."
Those looking to dispose of assets were favouring certainty of reaching a sale over securing the highest bid. "We saw that sellers of assets had a very strong preference for buyers that are not only capitalised well but buyers that are local, have local teams in the cities – which was especially important given the travel restrictions – but also parties that had very strong reputations in performing deals and bringing them to a successful conclusion," Epping says.
"That allowed us to win a number of deals." This included off-market transactions and auctions. "There were examples where we knew we were the third-best bidder – and there was significant difference in pricing – but sellers were, in many cases, favouring certainty of closing over maximising price. That put us in a position for 2020, as a whole, to make 10 investments overall and significantly increase our allocation to residential and logistics."
Epping says that, where both logistics and residential once represented 2% of the portfolio, today are closer to 15% and 16%, respectively, including development projects (the MSCI PEPFI index suggests the fund had about 17% in industrial and 2% in residential at the end of 2020). "We were able to turn it into a truly diversified portfolio within the space of a year."
Alex Knapp, CIO for Europe, says investors without the infrastructure and physical presence in individual markets were not able to transact in the same way. "There were also just fewer people in the market due to the travel restrictions," he says. "There were a few moments where it felt like we were getting more access, better terms… we came out of the darkest periods of COVID with a transformed fund."
According to MSCI, that capital deployment by core funds was drastically reduced in 2020 compared with previous years. Many investors are anticipating a recovery in transaction volumes in the second half of 2021 on the assumption that vaccine rollouts lead to a return to some level of normality.
"We are probably more enthusiastic, frankly, about trying to purchase now than in the second half of the year," says Knapp. "Even though everyone can see vaccinations coming and see a return to more normality, the simple fact of market participants who in the core space might come from Asia or other places really can't transact. It will be a much busier second half of the year.… and harder to find attractive prices for that reason."
The next generation
This could be the year that the number of constituents in the PEPFI and INREV ODCE indices grows substantially. Last year, PGIM Real Estate joined both indices, but a number of other funds have launched in recent months and years. Due to a number of requirements – including minimum-size thresholds and the need to demonstrate several quarters of performance – it is in 2021 that these are likely to follow suit.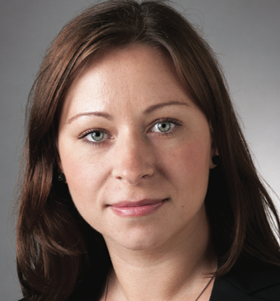 "In 2021, you should see a significant increase in the number of funds," says Demay. Pylypchuk adds: "We have at least a handful of funds which have been either launched last year or the year before which are close or already also compliant and ready to join."
The situation for INREV is slightly more complicated because the index is midway through a consultation, which Pylypchuk says is to ensure it is fit for purpose for both existing funds and new entrants.
Neither MSCI nor INREV will disclose the identities of the incoming funds, but there are some obvious contenders. AEW, BlackRock, Europa Capital and Principal Real Estate Investors have all launched vehicles recently.
The new funds have the advantage of being able to put together a portfolio from scratch that is in line with prevailing trends – and, of course, zero exposure to retail. Retail, which was perceived as less volatile than offices, used to be the 'backbone' of core portfolios. Today the spine of new funds is being made up of logistics and, increasingly, residential – or 'living' assets including student accommodation and senior housing.
"Our objective is to put together a future-proofed portfolio that is composed of assets that are able to respond" to urbanisation, demographics changes and the rise ofnew technologies, says Christina Ofschonka, fund manager of the recently launched AEW Eurocore fund.
In short, this means a focus on logistics and residential and then office. The fund recently acquired a life-sciences office building in Copenhagen, which Ofschonka says is "very resilient and ticks the boxes of a future-proofed asset type". Asked about retail, she says the sector "was not part of the strategy".
Europa Capital, traditionally a value-add real-estate fund specialist, recently launched its first core-plus vehicle, the Europa Diversified Income Fund. Andy Watson, who manages the fund, is by no means new to the game, however; when he was at LaSalle Investment Management in the 2000s he helped set up and manage Encore+, an open-ended fund that today has more than €3bn in GAV.
Watson says one of the attractions for Europa Capital – and its Japanese parent, Mitsubishi – was the ability to start with a "clean page" – a fund "without legacy, without the retail, without hotels, without the UK," he says. "All of these things absent has meant we've been able to outperform."
It is notable that Aberdeen Standard Investments and Patrizia – the two fund managers that have established pan-European residential funds – have decided to have zero exposure to residential in their balanced funds.
According to sources, a number of pan-European residential or 'living' funds are likely to launch this year. DWS has just launched a vehicle, as did Invesco Real Estate last year. M&G is also thought to be considering such a product.
The average exposure to residential in the INREV ODCE index and among balanced funds in the MSCI PEPFI index is still marginal at about 7%, despite strong growth in recent years. Will the growth of residential-specific funds end up limiting the expansion of this component in balanced core funds?
But others, such as Hines, are taking the opposite approach. "Our view is that the balanced diversified fund is ultimately the best route for the investors," says Knapp. "It might be very attractive to put money into a residential or logistics-only fund today, but times may change and our ability to cycle assets and transition the focus of the fund, as we've done over the last 12-18 months, is going to result in a better overall outcome for an investor."
Knapp says investor interest in residential and logistics funds is "an understandable reaction" to being cautious about retail and "feeling like they are under-allocated" to today's most favoured sectors. "There is going to be a moment when sentiment changes, when people feel that logistics is overpriced and feel that…. retail has reached a floor," he says. "Our fund will have a pre-existing access to [the retail sector], whereas the logistics-only fund is then obliged to continue investing in logistics when the market is too hot. Where does that take you as an investor?"
When retail will be back in favour is hard to say at this time. Not any time soon, according to PGIM. "In this market environment, we do not have any near-term plans to build exposure to retail," says Ferrante. "We believe the decline in retail values will be very slow in Europe and, therefore, expect any exposure to the sector to be a drag on performance for the foreseeable future. It will also be some time before retail becomes a countercyclical investment opportunity."
Watson, who before his time at Europa and LaSalle founded the firm Retail Consulting Group in Paris, admits that his "heart beats for the product". He says: "It's just that right now it's a bit painful. At some stage the risk-adjusted returns from retail should make really good sense."
It is also likely that a binary analysis – retail, bad; logistics, good – is not the best way to approach future allocations, especially for core funds. There is a fast-emerging consensus that investing in core real estate is no longer the relatively simple undertaking it once was, of long leases with minimal landlord intervention. It is becoming increasingly about services and operations rather than static buildings, as well as more dynamic relationships between landlords and 'customers', rather than 'tenants'.
"I do think it's a more three-dimensional experience today," Watson says. "[There is] a need to look forward and anticipate the occupier base – to try to project beyond who is in the building now to think who could be in the building in the future. A lot of people use the word future-proofing for that. Whatever you call it, I think it is the next occupier. And that doesn't have to be the same use class. So offices could easily be used for other things, and retail can certainly be repurposed."
Retail and offices, which are out of favour and shrouded in uncertainty, respectively, combined make up about two thirds of the core fund indices. "Those two sectors are in less demand," Watson says. "You've got to look forward and try to imagine how they could be used differently. So I think core involves more imagination than previously…. tenants are our customers. That is a slightly different definition of core."