Specialist office space catering to life-sciences companies and laboratories in the US is benefiting from demographic and technology changes, writes Christopher O'Dea
With many US core property assets at near record highs, investors are looking for new investments offering income and growth capital. They might have to look no further than what ails their plan participants.
The US population is growing older and people are living longer. At the same time, poor diet and lack of exercise have increased illnesses such as diabetes and other chronic conditions, raising demand for drugs and medical devices.
Scientists developing treatments for these illnesses are working in specialised buildings – and this lab property sector is poised for growth.
Laboratory property is a unique asset. Fitted with supercooling gear to preserve biological samples, powerful ventilation, intricate conduits and pipelines to supply a variety of gases and fluids used in research, state-of-the-art labs also require reliable electricity supplies to power the computer resources that have an essential role in today's data-driven sciences – such as genomics – that are deepening our understanding of the causes of diseases and their treatment.
However, navigating the lab-property sector requires an experienced guide. Concentrated in a few markets, lab property is clustered around major research universities. And while the rental rates are high, so are operating costs. What is more, tenants are typically funded by venture capitalists, adding an element of risk not found in traditional office transactions. And the work of tenants is high-risk and high-reward, requiring investors to integrate scientific assessments into due diligence.
Ian Anderson, director of research and analysis at CBRE, explains: "The life-sciences industry – which includes pharmaceuticals, biotechnology and medical-device manufacturing – is on a long-term expansion track. With an ageing population, people experience more ailments. That's a macro driver. When you look at the developing world, whether that results from dietary habits or people living longer, there is a need for a life sciences industry to address peoples' ailments, and a growing need for solutions globally."
That need has sparked breakneck competition to develop new therapies and medications. It is a race that has forced large pharmaceutical companies to abandon sprawling suburban campuses in favour of new labs in or near dense urban centres where up-and-coming researchers want to live – in the process spawning a new property ecosystem of scientific buildings that often replace the bunker-like structures often served as university research facilities.
The evolution of demand for lab property is following two trends: changes in the strategic mission, funding and regulation of the life sciences industry (in particular, the demand for more cost-effective solutions from pharmaceutical companies); and a shift in the scientific paradigm as biologically-based solutions, often with input from genetics, supplant remedies based on chemical compounds.
The pharmaceutical industry is under pressure to be more efficient and cost-effective, Anderson says. Government budgets are shrinking, while insurance companies and consumers are taking a closer look at the industry and the price of drugs. "That's caused the industry to have to up its game," says Anderson.
In the business model that prevailed for decades, most remedies were chemical-based solutions for which drug companies held long-term patents for what were essentially one-size-fits-all treatments.
The property infrastructure of the life sciences industry was established in massive suburban campuses in isolated locations, often with pharma companies and chemical companies in close proximity, such as in the Philadelphia and Chicago markets.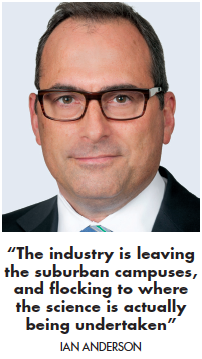 With pressures on cost control, and the shift to more biologically-based solutions opening scientific frontiers, the industry's use of property is radically changing.
"All of a sudden, in a way, they're entering the real world," Anderson says. "The industry is leaving the suburban campuses, and flocking to where the science is actually being undertaken to develop more innovative, cost-effective solutions that accommodate growing demand and the need for more stringent controls."
Life-sciences companies are converging on the markets where the scientific talent is. And current life-science research requires access to other capabilities – computer programmers skilled at both research analysis and calculation, as well as information structuring and transfer operations to move data between storage sites and labs.
The top destinations include Cambridge and Boston, which encompasses Harvard University and the Massachusetts Institute of Technology, along with several world-class medical centres and an ecosystem of research groups, such as the Broad Institute, and the San Francisco-San Jose market, with talent pipelines reaching into Silicon Valley and universities such as Stanford.
Rents for lab space in Cambridge rose by 50% in three years, according to CBRE, which reflects the support the market has from public and private funding, universities, and investment by life-science companies.
Capital investment is behind lab growth: venture-capital investments in life sciences in 2017 were 53% higher than 10 years ago, according to CBRE, with the Cambridge-Boston and San Francisco-San Jose markets capturing the lion's share of investment in sectors with a high degree of influence on laboratory property uptake.
Between 2008 and 2013, Massachusetts and California, which also includes the San Diego market, captured 64% of all venture-capital funding in the US, up from 55% between 2002 and 2007. There is no sign of a slowdown: in mid-2017, 82% of venture capital was deployed to those two states.
"There is a flight to talent going on," says Anderson. "That is causing spikes in the need for lab property in these markets." These markets are experiencing low vacancy, significantly higher rents and rising construction of lab space in the form of purpose-built new construction and, in the case of some markets like San Diego, the conversion of office inventory to labs.
In the Raleigh-Durham market in North Carolina, the lower density and relative ease of new construction has resulted in a higher vacancy rate for lab space. But CBRE notes that employment in life sciences has increased by 21% in the past three years, as the pharmaceutical R&D and medical manufacturing sectors clustered around the universities comprising Research Triangle Park have rebounded. The Philadelphia, Chicago and New Jersey markets offer "exciting momentum within select sub-markets", but overall are experiencing consolidation of the space previously used by the traditional pharmaceutical companies based there.
While market dynamics differ, and the big coastal centres have an edge, CBRE indicates that the common theme in the life-sciences industry is that "persistent demand is absorbing vacancies and rents are rising".
Capturing the lab property opportunity presents several hurdles. Anderson says investors would be well-served to find an experienced guide in the scientific landscape. "There is an opportunity for taking an equity or debt position in some of these developments of future lab space," he says.
But before proceeding "investors need to understand the business plan, because a lot of these companies are venture-capital funded, and it can take these companies a long time to develop a solution". In short, "institutional investors need to find a partner".
One approach is to invest through real estate investment trusts (REITs) specialising in life-sciences property. The largest, California-based Alexandria Real Estate Equities, focuses on properties in life sciences and technology campuses located in what the industry calls "innovation clusters".
Alexandria maintains a staff of scientists to evaluate tenant business plans and the scientific requirements for property assets. Alexandria is also supporting demand for labs by investing in new ideas. Earlier this year, the REIT formalised the Alexandria Seed Capital Platform, which taps established life-sciences talent to assess seed-stage investment opportunities in promising life-sciences start-ups.
Another path is to work with private-equity investors specialising in life sciences and laboratories, such as Longfellow Real Estate Partners, King Street Properties or Wexford Science & Technology. Even REITs focused on broader healthcare sectors have worked with specialists to enter the lab space.
California-based HCP, for example, has made a significant investment in Cambridge by acquiring a stake in a King Street lab joint venture from The Carlyle Group. Wexford continues to manage a portfolio of 23 life-sciences properties it sold last year to Ventas, a Chicago-based REIT that invests in senior housing, medical office and other healthcare-related property.
For its part, Longfellow manages a value-add fund that operates through a vertically-integrated platform encompassing investment, asset management, development, leasing, and facilities and property services for scientific innovation property. The firm works closely with venture capitalists, such as Apple Tree Partners, which fund advanced research such as drug-development programmes based on emerging genetics and biological technologies seeking to invent in new therapies to treat diseases affecting eyes, liver tissue and even the central nervous system.
"A lot of this sounds like science fiction," Anderson says. But it is no fantasy – scientists are at work on cures that seemed inconceivable only a few years ago.
The message for property investors is clear, Anderson says. "This is creating more demand for lab space across the country."
Demographics Africa: Follow the people
1

2

3

4

5

6

7

8

Currently reading

Demographics US: Litmus test for specialist laboratories

9

10