Retirement housing markets in Asia-Pacific are diverse and hard to access, but the opportunity is difficult to ignore. Florence Chong reports
The potential in senior or retirement living in Asia-Pacific is clear, yet institutional investors are either oblivious to the opportunity or shy of entering the sector. Industry experts believe the absence of institutional capital is due to wariness of a new asset class or a lack of understanding of the sector.
Retirement living is either emerging, as is the case in China, or newly institutionalised – yet fragmented – as in Australia and Japan. As such, it still lacks transparency and consistent business models.
Asia-Pacific does not offer a homogeneous retirement market. Unlike offices, or even logistics, each market in the region exhibits its own national characteristics, accommodating local lifestyles and social mores. It is therefore unsurprising that there are as yet no global players or retirement-specific funds. Investors and operators from developed markets eyeing the vast opportunities in China, Japan or Australia have found the barriers to entry daunting.
But a start has been made in markets such as China, where US and Australian companies have formed joint ventures with Chinese partners.
Based on a Chinese Academy of Social Sciences forecast, says Yvonne Wu, Deloitte China's managing partner for life sciences and healthcare, the value of the country's senior housing market will reach CNY13trn (€1.66trn) by 2030.
Large US operators such as Emeritus and Fortress Group are the trailblazers to China. Similarly, Sapphire Holdings, a private Australian group, and Aveo, a listed Australian real estate investment trust (REIT), have established a presence in Beijing and Shanghai, respectively. These foreign investors work with Chinese partners. For example, the Melbourne-based Sapphire has partnered with Fosun, a large diversified Chinese group.
Wu says the Chinese government has a "very friendly" attitude towards foreign investors. "Both the Ministry of Commerce and the Insurance Regulatory Commission have released multiple documents to promote inbound senior care investment," she says.
Foreign investors face challenges in China, she adds, although setting up joint ventures is a feasible option. The issues are that China's current asset-heavy model puts pressure on cash flow, and there is strong competition from domestic players.
Wu says the major players in senior housing market normally build new senior housing by converting old commercial property.
But rents are high, says Katsuyuki Tanaka, vice-president, financial advisory, Deloitte Japan. Investors should also consider the issue of talent shortage, immature business models and initially low investment returns, he adds.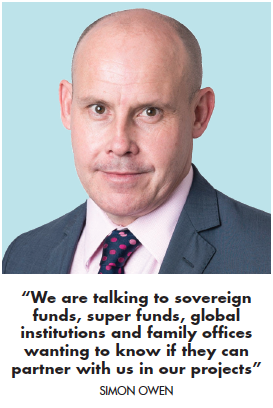 However, China does offer an opportunity for foreign organisations to bring in intellectual property and best practice, Tanaka says. Many domestic developers, including Vanke, Poly Real Estate, and Sino-Ocean, jostle with Chinese insurance companies for a slice of the market.
In 2015, China's Insurance Regulatory Commission selected eight Chinese insurers to build 18 nursing homes across the country. The expected investment value is CNY30bn (€3.8bn).
The chosen few include Taikang Life, China Life, Ping An and New China Life – all of which had already moved into the country's budding retirement-living market. China Life is backing Sino Ocean which, in turn, has formed a partnership with Emeritus, the largest US senior-living service company, to build senior housing projects in Chinese cities.
Tanaka notes that no player has a controlling market share. "The market is immature and too many players exist in China," he says.
With Beijing aiming to have 4% of its elderly population entering institutional senior housing, Wu says China will require 14.3m senior housing beds by 2030.
Janice Chia, an industry expert who has visited senior living facilities around the world, says the Chinese are innovative in their approach to senior living. Chia, founder and managing director of Ageing Asia, a consultancy group on the sector, points to Taikang Community, a Taikang Insurance subsidiary that ties insurance to retirement living.
"When the policy matures, the policyholder will be given a place at the retirement village and looked after for the rest of his or her life," she says. "I have seen so many facilities in China that I am of the view that, by 2025, China could possibly take the lead in developing world-class senior living models across facilities and ageing-in-place."
Chinese groups have already formed strategic relationships with large operators overseas. Taikang has paid US$1bn (€803m) for a 40% stake in NorthStar Realty Finance Corp, which in 2016 owned 460 healthcare properties, including 260 elderly care homes in the US and UK.
APAC's diverse national markets
Japan, which has the oldest population, has a more established senior housing sector than China. Senior care offerings, including home, facility and the elderly care market, will be worth about ¥15trn (€110bn) in 2025, says Katsuyuki Tanaka.
Janice Chia says the Japanese nursing home was born out of government subsidy in the form of long-term care insurance. This paid for up to 80% of the cost of accommodation at nursing homes and seniors residential villages.
Tanaka says Japan's long-term healthcare insurance system is reviewed every three years. The next review is this April. "It is not just focused on nursing care, but is a policy that emphasises home care and independence support," he says.
The subsidy acted as an impetus to the private market to develop nursing homes and senior living, spurring the establishment of specialist Japanese real estate investment trusts (J-REITs) that acquired these assets.
However, Chia says the government is gradually reforming the sector to make it more efficient and to enable continued affordability and sustainability of the long-term care insurance system. More mergers and acquisitions are expected.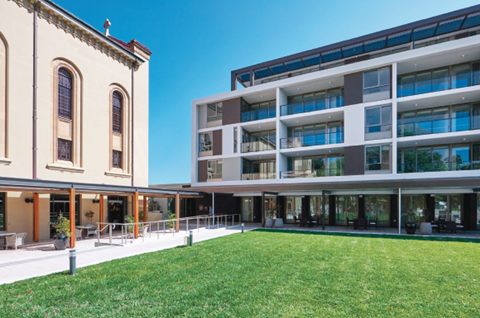 Few foreign investors have cracked the Japanese market. Kentaro Azumi, general manager, corporate division at Daiwa Real Estate Assets, says so far only Singapore's Parkway Life REIT has entered the Japanese market.
The listed Parkway Life owns several nursing homes in Japan. Its latest acquisition involved five homes for ¥4.76bn in February 2017.
Asked if he expects Japanese pension funds to invest in this sector, Azumi says: "Eventually, yes. But currently not many properties are for sale, and the income yield has compressed just like other assets – office, residential, logistics and hotels."
In contrast to Japan and China, Australia's retirement sector has evolved over the past three decades. As in Japan, the Australian retirement industry is undergoing rationalisation, paving the way for corporates to scale up their operations. Institutionalisation began about five years ago.
In 2012, the Retirement Living Council, part of the Property Council of Australia, was formed to lobby government on behalf of the sector, and to educate investors about the opportunities.
Today, Stockland, Lendlease (with the largest retirement village portfolio in Australia) and Aveo control about 30% of the market. The biggest unlisted operator is Retire Australia, now owned by New Zealand's Infratil and New Zealand's sovereign fund, NZ Super, which in 2014 acquired the business from JP Morgan and Morgan Stanley for AUD640m (€408m). The deal remains a record retirement village transaction in Australia.
Most recently, Lendlease sold 25% of its retirement living portfolio to Dutch pension fund asset manager APG for AUD470m. Graeme Torre, head of private real estate for Asia-Pacific, says APG tends to look for joint ventures, which allows for a repeatable and scalable investment programme.
He says APG has been looking for opportunities that capture demographic trends in this region. "However, of all the major markets in the region, including Japan, China and [South] Korea, it is Australia that offered the best opportunity to participate in a large diversified portfolio with an established and experienced partner," Torre says.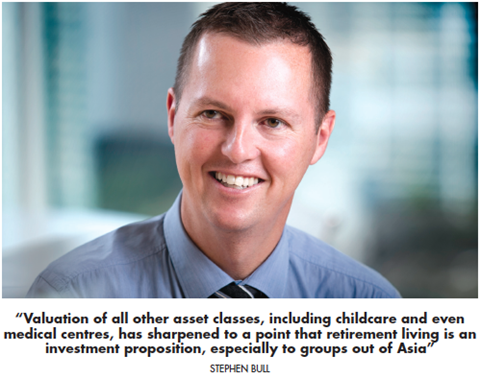 "We like the scale and established nature of the sector in Australia," he adds, pointing out that Lendlease has a mature operation with plans to further expand the business.
The Lendlease-APG transaction could trigger similar deals. Stephen Bull, CEO of Stockland's retirement living business, says there is a change in sentiment among institutional investors. "Valuation of all other asset classes, including childcare and even medical centres, has sharpened to a point that retirement living is an investment proposition, especially to groups out of Asia," he says.
Ben Myers, CEO of Australia's Retirement Living Council, says: "We are starting to see Australian super funds entering the sector."
First State Super has a 70% stake in Oak Tree Group, and has committed to provide "a substantial" facility to fund new developments by this retirement village specialist. Over the next three to five years, First State expects the Oak Tree retirement platform to be worth "north of AUD400m".
Australian seniors living specialist Ingenia Communities is well supported by institutional investors. Increasingly, however, it is fielding enquiries from global institutions. "We are talking to sovereign funds, super funds, global institutions and family offices wanting to know if they can partner with us in our projects," says CEO Simon Owen. Ingenia has a AUD750m development pipeline.
Owen admits that the problem for Ingenia is the scale that some large investors require. At least one group is seeking to invest up to AUD500m – and to take control.
Unlike traditional retirement villages, Ingenia is offering Australians accommodation in manufactured housing on land owned by the company. Owen believes this segment will be as important as traditional villages in years to come. "We are growing very rapidly," he says.
Groups like Ingenia and Stockland hold large portfolios on their balance sheets. "We think cap rate compression in the overall property market will wash through," says Owen. "We want to make sure that our existing investors benefit from future growth in values."
"Of all the major markets in the region, including Japan, China and [South] Korea, it is Australia that offered the best opportunity to participate in a large diversified portfolio with an established and experienced partner"

Graeme Torre
Industry sources say GIC, Blackstone and China Investment Corporation competed unsuccessfully for the Lendlease stake won by APG. And GIC was mentioned repeatedly as a possible buyer of Blackstone's National Lifestyles Villages (NLV) for Australian retirees – but no deal transpired.
Blackstone bought NLV in 2014 for AUD150m. It also acquired a portfolio from Lendlease in New Zealand for AUD100m. "It is early days for institutional investment in the sector," says Myers, who notes that New Zealand has much stronger appetite for non-bank capital in the development of its retirement sector.
In future, the Australian industry will require more capital, probably from non-banking sources. As Australian developers move into capital-intensive, high-rise villages, they might have to look for equity partners
Bull says: "We have started building high-rise villages to suit the changing tastes of retirees." Stockland's first high-rise project is the AUD180m The Residences Cardinal Freeman in Sydney, and it has acquired another Sydney site for its second high-rise project.
Ben Myers says the industry has a collective annual revenue of AUD4bn. The challenge for Australia, he says, is building enough retirement-living units to meet demand.
Bull says the over-65s is the fastest growing group in Australia, increasing by 2.5% per year, while the overall population grows by 1.3-1.4%. He says even Stockland, the second-largest owner in the sector, with a portfolio of 10,000 units worth almost AUD1.5bn, is only building 300-400 units a year. About 100,000 units will be required over the next 20 years, he says.
The main obstacles to growth are the high cost of land and bureaucracy. However, federal and state governments are taking a closer interest. Brisbane City, the largest local council in Australia, has started to offer incentives such as high plot ratios to encourage development of retirement villages.
Policymakers and investors throughout most Asia-Pacific countries are increasingly aware of the urgent need to meet an anticipated avalanche of demand in coming decades.