If population is the ultimate source of demand for real estate, should long-term global investors be allocating to Africa? Christopher O'Dea reports
While there are specific indicators for different types of real estate, in the end, future demand boils down to one question: how many people are there going to be in a given city or country?
Subsequent questions immediately arise. Where will they work? Where will they live? How will they travel between those locations? And how will they buy food, clothing, water and electricity?
It stands to reason, then, that institutional property investors should deploy their capital in markets favoured by demographic trends. By extension, that means finding a way to invest in Africa.
Population growth in Africa is the demographic story of the 21st century. The total population of countries in Africa is forecast to grow steadily until the end of the century, according to the United Nations Department of Economic and Social Affairs' World Population Prospects: The 2017 Revision. By then, Africa's population is projected to reach 4bn, almost matching Asia. The UN predicts that Asia's population will peak in the year 2050, then start declining slowly. In contrast, more than half of the anticipated growth in global population between now and 2050 is expected to occur in Africa – accounting for 1.3bn of the 2.2bn people expected to be added (see figure Population growth by region, 1950-2100).
For Africa, the population growth wave will continue a demographic surge. Africa's population has more than doubled over the past 30 years to 1bn, and the UN predicts that at that rate about 40% of the global population will live on the continent by 2100. Most other regions will grow more slowly, with Europe the only region where the population is expected to be smaller in 2050 than today.
While the UN expects the pace of global population growth to continue its recent deceleration, Africa will add people more quickly than any other region; after posting the fastest growth among all regions, with a 2.6% annual increase from 2010 to 2015, African population growth is set to slow to 1.8% from 2045 to 2050, and to 0.66% in the last five years of this century.
Several other regions face the prospect of shrinking populations: growth in the EU is projected to turn negative around 2025, while Latin American and Asian populations are expected to start contracting around 2060 – the population in all three regions will continue to shrink through 2100.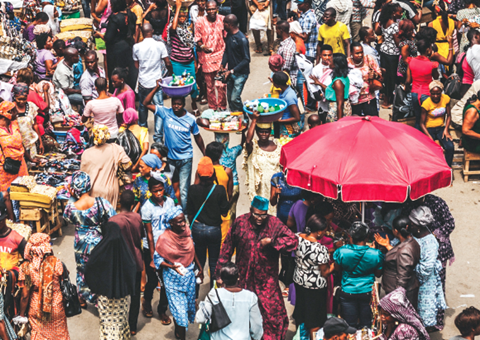 As the century progresses, Africa's population – the youngest in the world – will develop into the largest global workforce. In Africa, children under the age of 15 accounted for 41% of the population in 2017, and persons aged 15 to 24 accounted for an additional 19%. That leaves Africa far ahead of other regions in terms of youth (see Population by age group and region (%), 2017). In Asia, Latin America and Oceania, the next closest regions, the population under the age of 15 is about 24%, while those aged 25 to 59 is between 45% and 48% of total population – nearly as high as the 49% share for that age group in Europe.
The bottom line is that the number and proportion of people of working age in Africa is expected to grow, while other regions face the prospect and cost of ageing populations. In Africa, the proportion of the population aged 25-59 will continue to grow for many decades, from 35% in 2017 to 45% by 2090. According to McKinsey, this means that by 2034, Africa's working-age population will be 1.1bn – overtaking both China and India.
Most of Africa's expanding population will live and work in urban areas. Rural-to-urban migration is intensifying population growth rates within many cities – the urban population is increasing by more than 15m people per annum and its overall urbanisation rate will increase from its current level of 40% to over 50% by 2040. The fastest growing cities are nearly all within the Sub-Saharan region, outside South Africa, according to the bi-annual 2017 Africa Real Estate Report from Knight Frank. Cities such as Kampala, Lusaka and Nairobi are growing at over 4% per annum, the report says.
Africa's population boom might give rise to new 'megapolitan' areas. According to the Global Cities Institute, population trends suggest Lagos, Kinshasa and Dar es Salaam will be the three most populous cities by the end of the century. The heavily urbanised stretch of the West African coast running from Lagos through to the Ivorian capital Abidjan – covering 1,000km – might provide the foundation for an ever-denser network as ports, roads and new city centres are formed to accommodate the influx of people.
Countries with relatively high ratios of working-to-dependent inhabitants have the potential to benefit from a 'demographic dividend', provided political, legal and social systems support productive engagement of the expanding working-age population and create a stable commercial environment to attract investment.
Rapid population growth will increase the strain on urban infrastructure and boost demand for all types of commercial property. It will create challenges for national and city authorities – but also investment opportunities.
Is Africa worth the risk?
The opportunities could be substantial. "Africa, from a theoretical point of view, is the biggest real estate opportunity that is out there," says Jos Tromp, head of research for Europe, Middle East and Africa at CBRE. But investors need to acknowledge the challenges, foremost of which is development risk. "Most of the opportunity is still development-based," he says. "To succeed you need to be willing to get your hands dirty and develop".
There is little existing investable inventory that meets international institutional standards, Tromp says. Also, much of the property being built suits the needs of local commercial tenants in terms of design and capabilities – rather than the long-term needs of international corporates. Buildings often remain in the hands of long-term local holders, which limits liquidity, while in some countries there are political and legal risks to foreign investment. "Africa can be a difficult continent to navigate from the point of view of global core capital," Tromp says. "Without a lot of stock available and with the risk that goes with investing in property in Africa, it can be difficult to get into the marketplace if you're not willing to take the development risk."
Offsetting those risks is Africa's long-term need for significant amounts of capital. "The fundamentals are amazing," Tromp says. "These economies are growing fast," he says, noting that Lagos in Nigeria is one of the fastest-growing cities in the world. "I've seen the markets and the opportunities, but also the issues," he adds. At many coastal cities "there is a massive line-up of ships and tankers waiting to get into the ports", he says. "But the facilities are just so limited that the speed of exchange is withholding economic progress."
Ground transportation is also straining under the population growth, leading to long commuting times and lost productivity, wasted fuel, and even safety issues. "Infrastructure is probably more important than commercial property at the moment, because cities are expanding so quickly, particularly these mega-cities," Tromp says. "These cities are just so big, and they are structurally lacking infrastructure."
A practical solution is emerging. "At the moment, everybody is looking to the historical city centres, but is that going to be sustainable? I would challenge that," Tromp says. "What you will probably start seeing is that some satellite cities are going to get developed as well."
"Africa, from a theoretical point of view, is the biggest real estate opportunity that is out there. Most of the opportunity is still development-based. To succeed you need to be willing to get your hands dirty and develop"

Jos Tromp
In Abidjan, new office, industrial and retail projects are taking place in districts emerging beyond traditional centres, where properties aimed at international companies can be built. The lesson is a familiar one to developed-market investors. "As a consequence of development, the locations of today may not be the locations of the future," says Tromp. "From a property investor's point of view, that is obviously extremely important."
Picking locations will be critical for investment success, according to Peter Wellborn, chairman of Knight Frank Africa. Although there are 54 countries in Africa, "the opportunities aren't in 54 countries", he says. "The opportunities are probably in 10 countries." Most of those are in Sub-Saharan Africa, in West Africa and East Africa. North Africa has become uninvestable since the Arab Spring, except for Morocco, which enjoys financial and family ties with the Gulf state of Abu Dhabi. South Africa, he notes, "really isn't part of Africa; it's a piece of Europe stuck onto the bottom".
Wellborn says: "In the last five to 10 years we've seen the greatest growth in the key capital cities." Some of those have become de facto regional capitals as well, such as the Kenyan capital of Nairobi. "Between Johannesburg and Europe, Nairobi is most important," he says. "It's the capital of East Africa."
Wellborn also notes the importance of development. "You are moving with the development cycle of the growth of these countries," he says. "There is some [existing property] stock, but it is limited. It's important to make sure that the cost-benefit analysis has been correctly undertaken and, above all, that the negotiations that have taken place on cost have taken place in a competitive environment."
African countries are making progress on the development path, Wellborn says. Despite the need for new or upgraded infrastructure, manufacturing facilities are starting to be built – to meet the needs of growing, younger populations. "We're starting to see certain European and Asian producers of goods say, we need to produce certain goods and sell them in the African market, and they're going to be produced in Africa."
In Lagos a new nappy factory is being built. "There are an awful lot of babies in Nigeria, and you don't need to import nappies," says Wellborn. In Accra, the capital of Ghana, a new location for warehousing and manufacturers has been developed adjacent to the city's port. It is a popular site for companies that need to manufacture in Africa but do not want to locate in Nigeria. "Nigeria does present certain logistical hurdles, which are potentially not deemed acceptable by global corporates," Wellborn says. "They've gone to the next best thing, and that's Ghana," he adds. Interest in Ghana from North American investors in the past three years has exceeded the level of the past 30. While Nigeria is the largest nation in West Africa, Ghana is a more acceptable location for international companies and investors. "That's where we're seeing capital being deployed into a location by the side of the port, which is being developed by Chinese [investors]," he says.
Chinese capital is also having a major impact on the Ethiopian capital of Addis Ababa, which is undergoing an economic resurgence since the opening of the Chinese-financed and built rail line linking the landlocked Ethiopian city to imports from another Chinese project, the port of Djibouti on Africa's eastern coast. Japanese investors are also becoming active, says Wellborn. "Japan, it's no secret, have realised that what the Chinese have done in Africa is stolen a march on them."
Wellborn suggests land properties along transport routes are most likely to produce good returns in the long term. He recently assessed the value of land plots located along the four new roads built in Nairobi over the past five years – the plots increased in value by up to 10 times in that period.
Wellborn's findings suggests a strategy likely to appeal to institutional investors. "The increase in value is all down to the new roads," he says. "So if I was looking at any capital city, I'd be looking at the new roads, and saying, where can I get a strategic land holding with a local joint-venture partner to undertake a development, which will be ready in five years' time when these roads have been completed?"