Why the emergence of global, open-ended core funds might be more than just a pipe dream. Richard Lowe reports
At its annual conference earlier this year, European real estate association INREV launched its asset-level index, which CEO Lonneke Löwik described as "a game changer". But, while INREV's move into asset-level performance measurement was the headline story at the conference, there was another significant development: the launch of an index to track the growing universe of open-ended, pan-European, diversified core real estate funds.
Sometimes names can be revealing, and the decision to name the INREV European Open End Diversified Core Equity (ODCE) Fund index after the long-established NCREIF ODCE index in the US reveals the ambitions behind the endeavour. INREV's ODCE index tracks 12 funds with €24bn of assets, while NCREIF's index covers 25 funds with close to 10 times in gross assets – $257bn (€226bn) at the end of March.
INREV has been working closely with NCREIF and Asia-Pacific counterpart ANREV to create three regional ODCE indices. The latter is further behind the curve, with four funds and US$9.6bn of gross assets, but it is also expected to grow quickly.
Henri Vuong, director of research and market information at INREV, says: "The idea is for the three associations to have each of these of indices aligned so that at one point in the future we may pull them together – certainly for the global investors and global managers to have something that they can compare for their performance."
She adds: "The ambition and the idea have come from the interest of investors that have been looking for this product. Certainly, we've seen when US investors come over to Europe they are looking for the European version of ODCE." If it is to work it is important to create consistency, so that, as Vuong says, an investor "could truly invest in a US ODCE, European ODCE and an Asia ODCE, and be able to measure that performance on a consistent basis".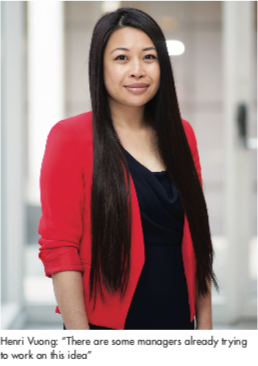 This begs the question: could it facilitate the creation of global core funds?
"There are some managers already trying to work on this idea," Vuong says. One approach would be to bring together existing regional ODCE funds and to create a global umbrella vehicle. The second would be to create a standalone global vehicle. "It's early days," Vuong says.
Conversations with industry participants suggest the first approach is more realistic. It is understood that two fund managers appear to be leading the pack in this area.
In fact, Invesco Real Estate appears to have already created such a vehicle. Publicly available documents from several institutional investors show the existence of the Invesco Global Direct Real Estate Fund, which in one case is described as "seeking to achieve its objective through diversified investment in Invesco Real Estate's regional core and income open-ended funds".
The fund has a strategic allocation of 50% to Invesco Core Real Estate-USA and Invesco US Income Fund, a 25% weighting to Invesco Real Estate-European Fund and 25% allocated to Invesco Real Estate Asia Fund.
Invesco declined to comment on the fund, but IPE Real Assets understands that the company will manage the weightings dynamically, depending on market conditions.
Nuveen Real Estate is another company to watch. In recent years, it has launched two regional core funds, and two sector-specific funds in the US. The funds were launched in relatively quick succession and, as a result, they share similarities that could be useful when presenting them as a part of a global core offering.
Freya Petty, associate for global products and solutions at Nuveen, says launching the funds in a "compressed period of time" has "really enabled us to take a synchronised approach to the terms and the strategies". She adds: "They are all underpinned by the same over-arching thesis around picking the best global cities positioned to deliver long-term structural growth."
Andrew Rich, who manages Nuveen's European Cities Fund, says the funds could be seen as "building blocks" for investors wanting to gain a global exposure. In theory, investors could use the funds to establish their desired weightings to the three regions and rebalance when necessary.
Rich says this way of thinking is very demand-led, as conversations with large investors increasingly turning to the subject of global solutions.
According to one source involved in global fundraising – including an existing core European open-ended fund – the appetite for global core offerings was not there three years ago. But it is today.
In addition to the likes of Invesco and Nuveen, which have existing core funds in all of the three key regions, Rich says look to some of the biggest managers of ODCE funds in the US that have yet to launch in Europe.
JP Morgan Asset Management, which runs the largest open-ended core fund, is an obvious contender. It has a pan-Asian vehicle, but in Europe has restricted itself to opportunistic activities. JP Morgan did not comment, but sources say it has recently increased the "consistency" and "connectivity" between its Asia-Pacific Property Fund and the Strategic Property Fund, while the latter has been changed to allow non-US investors to invest in it.
But a source involved in global fundraising says the concept of regional funds with an over-arching global vehicle is "beginning to manifest itself".
He says real estate fund managers with large US ODCE funds are well aware of how profitable they are, especially once they reach a certain critical mass – which a number of European funds have now reached.
"In the boardrooms of all those groups, they must be talking about it and they must be putting together plans for it," he says. "Watch this space. In another 10 years we will probably have a number of structures."