---
What does Brexit and the future of trade mean for UK logistics? Maha Khan Phillips finds a sector in rude health
With the future of the UK's global trade shrouded in uncertainty, investors are understandably concerned about the impact Brexit will have on supply chains and logistics property in the UK.
"Even though the fundamentals are strong, I wouldn't be launching any logistics funds in the UK now," says one fund manager. The reason? It would be hard to convince investors to deal with the uncertainty of Brexit trade negotiations.
Logistics specialist Gramercy Europe – which sold its second pan-European logistics fund to AXA Investment Managers–Real Assets for €1bn last year – made the decision not to include the UK in its latest fund, for which it has raised €260m.
Alistair Calvert, CEO of Gramercy Europe, says: "We have invested in the UK – and we actually still own assets in the UK – but in the latest fund we have raised, we elected to exclude the UK from that strategy. "It was our belief that the UK is such a small part of our business, and the uncertainty around Brexit and the economy in general is so material, that we didn't want to have that conversation with investors. We didn't want to have to explain our pan-European business, and the first question we get asked is: why have you invested 5% to 10% in the UK?"
Calvert says it was purely a marketing decision. "There are so many other drivers to our business strategy that are much more significant than Brexit," he says. "We are pan-European, focused on the Netherlands, France, and Germany. What affects us more is the growth of e-commerce, changing technologies from the logistics network, and the weight of capital that we are competing against."
In contrast, Canadian investor Ivanhoé Cambridge announced in November that it has partnered with Peel Logistics Property to develop logistics real estate in the UK. The real estate subsidiary of Caisse de dépôt et placement du Québec (CDPQ) will own 80% of Peel Logistics Property UK Logistics Venture (UKLV).
The joint venture has an initial portfolio of three properties developed by Peel Logistics Property in Manchester and Liverpool, and a prime-development site in Sheffield that has capacity for over 800,000sqft of lettable space.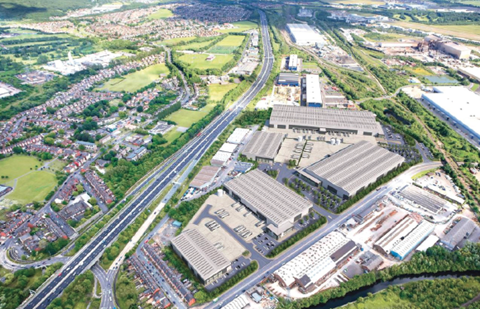 Hemant Kotak, managing director at Green Street Advisors, says Brexit has had little impact on the sector. "The Brexit concerns fizzled out rather quickly," he says. "When I speak to companies that I cover, and when I speak to other industrial landlords, for them, business has in some ways never been better. The industrial sector was the ugly duckling that turned into the swan."
In fact, performance has been strong. According to a 2017 report by Cushman & Wakefield, UK Industrial & Logistics Market Outlook, total returns for the industrial and logistics sectors should outperform those for office and retail over the next five years, supported by relatively strong rental growth prospects. The firm also says the sharp fall in sterling following the EU referendum should prove a boost to exports and to the manufacturing sector, which combined with e-commerce growth would provide strong cyclical and structural support for the sector.
Hans Vrensen, European head of research at AEW , says: "The secular trend towards online retailing is expected to have a big impact, regardless of Brexit and is a trend that will be with us for quite a long time. The consumer shift towards e-retailing and business focus on e-commerce has a massive positive impact on the demand for logistics space. Depending on specific terms, Brexit might trigger a reshuffle of how and when import goods exactly come into the UK to ensure on-time consumer delivery, but this secular e-retailing and e-commerce trend is here to stay."
Remy Vertupier, head of AEW's Logistis fund, says supply-and-demand dynamics in logistics are breaking records year on year. "When we talk to operators who are serving both continental Europe and the UK, they are anticipating more delays and more cost to reach the UK, but many will have set up a warehouse in the UK. That is more or less how logistics are already organised. It's quite rare to service the UK from outside the UK."
The firm is expanding into the UK. "We think the take-up dynamics are great, and the only place where we see true rental growth of above 2% per year," Vertupier says. "We are long-term investors, and if you combine the scarcity of land with the need for logistics space, we think everything is there for us to make good investments."
"There are so many other drivers to our business strategy that are much more significant than Brexit. We are pan-European, focused on the Netherlands, France, and Germany. What affects us more is the growth of e-commerce, changing technologies from the logistics network, and the weight of capital that we are competing against"

Alistair Calvert
Nick Winsley, portfolio manager at AEW responsible for building UK operations, dismisses concerns about a hard Brexit. "Whether Brexit is hard or soft, the supply imbalance in the UK and growing demand are fundamentals that will outweigh any volatility we experience off the back of Brexit."
Simon Martin, senior partner and head of research and strategy at Tristan Capital Partners, says it comes down to the trade deal the UK ends up with. "There's a lot of scrutiny at the moment on how supply chains work," he says. "There is a drive towards… a Canada-type trade deal, which would include a broad frictionless approach to moving goods across the zone. To the extent that the UK ends up with a trade deal that looks like Canada with a few tweaks, on the goods and manufacturing side, you wouldn't have any significant disruptions on the supply side."
The year that surprised
As a whole, the UK commercial real estate market has not suffered in the way that many expected following the Brexit referendum. UK transaction volumes for 2017 are expected to be about £50bn (€56.7bn), up 15% on 2016. The market showed its resilience to the political and economic risk of Brexit by the amount of overseas capital it attracted – albeit boosted by a devalued sterling. International investors accounted for half the total UK volumes, and 80% of volume in London, according to JLL , suggesting that the Brexit bark has, at least up until now, been worse than its bite.
"When I look back at 2017, it was a surprisingly good year," says Andrew Angeli, senior director of EMEA strategy and research at CBRE Global Investors. "At the beginning of the year, we had flagged things like European politics, the absolute price of commercial real estate, and domestic politics in light of Brexit. Some of these things have played out better than we anticipated."
Some sectors have fared better than others. As CBRE points out in its market commentary for the fourth quarter of 2017, the bargaining position is shifting from landlords to tenants in most occupier markets. While this has helped maintain headline rents, incentives are becoming more generous. This has been particularly felt in central London offices, which have seen rent-free packages double during the past year. The retail and leisure sectors are also facing headwinds in 2018. According to CBRE there is waning demand and a lack of new entrants willing to pay top rents.
Student housing is a potential concern. The US and the UK account for 30% of all international students, largely because English is the primary language in these countries, and because both countries at the top of global university rankings.
But as JLL says in its European Student Housing Report 2017, European universities, particularly those ranking between the top 51-200 globally, are ramping up the competition, partly through the introduction of English taught programmes (ETPs). In 2007-08 there were only 500 ETPs available in the key European markets; now there are over 6,000. With freedom of movement still undecided between continental Europe and the UK, it is possible that students will go to other markets.
Ali Meadows, head of UK capital markets at JLL, says: "We are starting to see a bit of polarisation in the UK student housing market. There is some evidence, particularly in some of the regional towns and cities, that there is the possibility of oversupply. London's position in the UK has probably strengthened because there are increasing barriers to entry in terms of the ability to develop new supply. As far as international students are concerned, there is still very strong demand in terms of London universities, so we definitely see some polarisation between the stronger regional towns and cities versus some of the secondary towns and cities."
Will Rowson, partner at Hodes Weill, believes that any provincial market in the UK, be it offices or retail, will be affected by the uncertainty of Brexit and its impact on currency. "Can these sectors be attractive for capital outside of the UK at the moment? The answer is, very unlikely," he says. "They will only be attractive to UK institutions who don't have the currency risk and really don't have anywhere else to invest."
But Kim Politzer, director of research in Europe for Invesco Real Estate, says some investors are unconcerned by currency risk. "Our experience suggests that there are two pools of investors outside of British domestic investors," she says. "We are seeing capital from the Far East, and the Middle East. It's a bit of a gross generalisation, but those investors regard Brexit as a political rather than an economic issue, and they are willing to take the currency arbitrage from the fall in the pound, and are therefore reasonably comfortable with investing in the UK."
Politzer adds: "We have seen some [investors] who are struggling with the UK risk of Brexit, and generally feel that they don't want to be exposed to it. That tends to be more conservative investors, and we've had a lot of questions from our Japanese capital about our UK exposure, and some European capital has been a little bit anxious about it. They are acutely aware of it, because it's at their doorstep."
One area that might be affected is dynamic tech start-ups. "The big guys remain committed to the UK, but people who are more dependent on trying to gain the most talented and innovative staff to generate growth may not be," Politzer says. "That is where you might see cities like Amsterdam capture those growing companies. In the longer term, that could be a real risk for London." He also highlights the long-term impact of global trade developments. China's Belt and Road initiative, the country's push to take a larger role in global trading, has unpredictable implications.
Politzer says: "We have seen local European governments all seeking to be regional hubs for the Belt and Road programme. Hamburg, Amsterdam, Madrid, all the city governments have been very keen to engage with the Chinese. For central Europe, the amount of money China is willing to invest to improve their infrastructure will help. Belt and Road is likely to be positive in terms of investment into Europe, but it will be an important thing to keep an eye on."
It will also be important for the UK to ensure it gets the best deal possible on global trade, and on Brexit. "There are clearly risks still around what trade deals are done and not done," says Meadows. "The UK government is seeking to establish new trade deals and relationships outside of the EU, and if you look at UK transactions volumes in 2017, you can see just how important international capital is for the UK."
Global Trade: NAFTA
1

2

3

4

Currently reading

Brexit: Withstand and deliver

5

6

7