Uncertainty hangs over global free trade agreements, but China's Belt and Road initiative is opening up real estate opportunities in frontier markets, says Florence Chong
Factories and logistics buildings are springing up in far-flung locations as part of the Chinese Belt and Road initiative, and are forming the backbone of an emerging trade route.
In Ethiopia's northern Amhara regional state, close to the port of Djibouti, the first factories of Kombolcha Industrial Park are expected to begin production in February. Kombolcha is some 370km from the capital, Addis Ababa. But goods produced at this new US$90m (€73.5m) Chinese-built industrial park will soon be transported along a 752km Ethiopia-Djibouti rail link to markets elsewhere in Africa – and beyond.
The industrial park and rail line are typical of projects springing up in East Africa, and elsewhere, along the route of China's Belt and Road programme, which passes through 65 countries.
Ethiopia has been co-operating closely with China. With the help of Chinese finance and expertise, Ethiopia hopes to develop a manufacturing development belt along the Ethiopia-Djibouti rail line. China is funding development of a port, costing US$590m, in Ethiopia's tiny neighbouring state of Djibouti. Ethiopia hopes its new industrial park will attract investors from China, the US, and South Korea, and help its economy to grow on the back of China's Belt and Road initiative.
Thousands of kilometres away, Cambodia, a poor, land-locked Southeast Asian country, also enjoys China's largesse. The Chinese have built and now operate its Sinhanoukville Special Economic Zone, a project that so far has attracted more than 100 companies from China, Japan, the US, and Europe.
According to the China's Belt and Road portal, Chinese businesses have helped build 56 economic and trade co-operation zones in 20 countries along the Belt and Road, with a combined investment surpassing US$18.5bn.
Adam Rush, Cushman & Wakefield's regional director for Greater China, says: "Infrastructure is at the heart of BRI [Belt and Road initiative], and if you are talking about property, BRI is having an impact in three sectors: logistics and logistics-related parks, hotels, and, to a lesser extent, residential projects."
Other industry figures say that although Beijing has significantly clamped down on Chinese outbound investment in real estate, it is actively encouraging the development of logistics and industrial parks.
In new research on Chinese outbound investment, Cushman & Wakefield notes that the Chinese government in August 2017 ramped up efforts to control overseas real estate investment by issuing what is known as Circular 74.
"This was the second regulation announced in nine months that sought to restrict outbound investment capital flows, branding overseas real estate investment as a 'limited' category, although not 'prohibited'," the research note says. "Circular 74 appeared to focus in some respects on promoting the Belt and Road initiative, and made special reference to logistics and research-and-development hub investment overseas."
Cushman & Wakefield's research team says "the logistics sector should receive massive investor interest following its inclusion in (China's) official 'encouraged' investment category".
In 2017, Chinese groups spent more than US$22bn acquiring two large logistics businesses spanning a number of countries in Europe and Asia. China Investment Corporation bought the European logistics platform Logicor from Blackstone for €12.3bn in June 2017, and, in September, a Chinese consortium paid SGD16bn (€10bn) to take Singapore-listed Global Logistic Properties private.
"Infrastructure is at the heart of BRI, and if you are talking about property, BRI is having an impact in three sectors: logistics and logistics-related parks, hotels, and, to a lesser extent, residential projects"

Adam Rush
Heavy emphasis on logistics and industrial parks goes to the heart of China's Belt and Road strategy. The initiative is designed to expand China's trade – along with its geopolitical influence. Observers say one part of the strategy is to create new hinterlands for Chinese manufacturers as they face rising costs at home and pressure to move up the value chain.
These manufacturers need to relocate to lower-cost countries to produce labour-intensive goods for both China's growing consumer market and the world.
China wants to protect its position as a trading nation. It also needs new markets. Chinese firms in many sectors are struggling to deal with oversupply in key industrial sectors such as cement, steel and glass manufacturing, and it is imperative that they move beyond China's borders.
A case in point is China National Building Materials Group Corporation, China's largest cement producer. At the annual congress of the World Cement Association in London in December, chairman Song Zhiping unveiled plans to build 100 new cement factories across 50 economies and countries over three years.
Zhiping said the new facilities would be built in nations covered by Belt and Road. He anticipates "huge demand for urbanisation and industrialisation" in many Belt and Road countries.
China is already the world's largest goods exporter and it has been the world's second-largest importer for eight consecutive years, according to the World Trade Organisation. China's market share of world exports rose from 10.4% in 2011 to 13.2% in 2016. Its total foreign-grade volume is expected to exceed US$4trn in 2017, according to the Ministry of Commerce.
China's economic rise in recent decades has been largely due to growth in trade and investment. It is not surprising, therefore, that China is implementing the Belt and Road initiative to achieve its ambition of becoming the world's biggest economy and trading nation. While specific information on the effect on property markets is not available, observers in global property firms offer anecdotal evidence of what may be happening.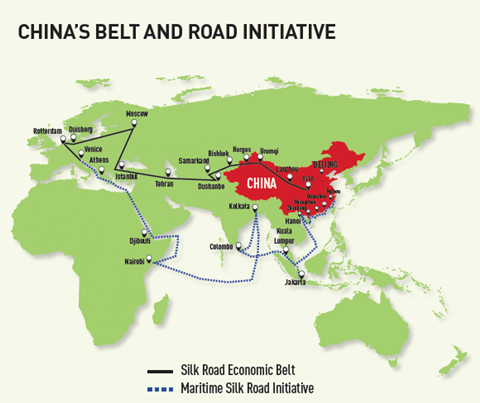 Cushman & Wakefield's Adam Rush, regional director for Greater China, says there are many examples of how developments are springing up around Belt and Road projects. He offers the example of development under way around Pakistan's seaport of Gwadar.
China and Pakistan are developing a 3,000km China-Pakistan Economic Corridor (CPEC), which starts from China's Kashgar and ends at Gwadar. It has been designed to connect the Silk Road Economic Belt in the north and the 21st Century Maritime Silk Road in the south through a network of rail, road and pipeline projects.
CPEC, which could cost US$60bn, has been designed as a new trade route across Pakistan. Although it has the approval of the Pakistani government, the project is controversial. Some Pakistanis have raised concerns that CPEC offers a pretext for many companies to acquire land for future development in key Pakistani cities such as Karachi, Islamabad, and Lahore.
In China itself, the thriving south-western city of Chongqing is testament to the positive impact of the Belt and Road. Europe-bound freight trains have been transporting manufactured goods from Chongqing to Germany since 2012.
Rush says the Eurasia rail service has transformed the city. "Chongqing's economy has a substantial manufacturing base, which will be boosted by growing demand for products in Europe." Rush says importers, exporters, distributors and manufacturers have all set up bases in Chongqing to service growing trade links between China and Europe.
Chongqing's pilot free-trade zone (FTZ), one of seven newly-approved China FTZs, was launched in April last year. Known as Liangjiang New Area, it covers 120sqkm and has been allocated projects totalling ¥80.2bn.
Construction has already begun in Chongqing for a Sino-German Intelligent Manufacturing Industrial Park. This will take six years to construct, but it will boost both Belt and Road development and the Yangtze River Economic Belt.
Singapore's leading energy company, Sembcorp Industries Group, has invested SGD202m in a coal-fired power plant in Chongqing, and it is working with China's Yuelai Group to build Yuelai Smart City for up to ¥5bn.
In the neighbouring province of Guangxi, the 'Two Countries, Twin Park' projects of the China-Malaysian Guizhou Industrial Park and the Malaysian-China Kuantan Industrial Park are taking shape. The Malaysian end of the project is located at Kuantan, an eastern state on peninsular Malaysia, where Chinese groups have bought into Kuantan Port. According to a Hong Kong Trade Development Council research team, Guangxi has been accelerating the growth of its processing trade.
The Guangxi provincial government is also building a Nanning-Qinzhou-Behai electronic information-processing trade-industry belt, believing that, as the province's processing trade changes, its labour-intensive processes will move to cheaper ASEAN countries. In fact, some have already started to do so.
Behai hosts some 600 large and small enterprises in the electronics indistry, one of the fastest-growing sectors locally, according to the Hong Kong Trade Development Council.
Beyond industrial parks and logistics, Chinese investors are buying hotels. Rush says the need for more person-to-person meetings is creating greater demand for hotel accommodation. "This trend is more evident in Southeast Asia than other places, and there is some activity in Dubai," he says.
Rush is also seeing large-scale Chinese investment in residential development in several countries. "This is happening in Cambodia, Malaysia and, to a lesser extent, Singapore."
At this stage, Rush believes demand for office accommodation and retail space is yet to emerge. But it will in time, he says.
Global Trade: NAFTA
1

2

3

Currently reading

Belt and Road: Full steam ahead

4

5

6

7