Growing trade for food across the world makes agricultural land a target for investors. Christopher O'Dea reports
Investors looking for an inflation hedge might want to reach for the guacamole. Booming Chinese demand for avocados highlights how wealth creates demand for more, and often higher-value, food sources – and the productive agricultural land to grow it.
China imported 42.1 tonnes of avocados in 2016, up from 23.8 tonnes in 2015. Five years ago it imported virtually none, according to ChinaAg, a research and analytical firm specialising in China's complex agricultural trade and food industry.
While Chinese consumers' newfound taste for what they call 'butter fruit' will not swing the needle on any institutional portfolio's investment results, China represents a major new market for Latin American growers of avocados, blueberries and other fruits.
The investment spectrum for agricultural land is straightforward: both developed, developing and emerging-market nations need staple row crops grown and transported in bulk; as nations become wealthier, demand for protein increases, typically resulting in the need for more poultry and beef and feed grain.
Consumers in developed countries and top-tier urban markets of emerging nations prefer higher-end fruits, nuts, premium meats and dairy products that require specialised farms and more sophisticated logistics and transportation systems.
Agricultural land offers investors a tantalising opportunity to stabilise a portfolio against inflation or the vagaries of equity markets. In recent years some investors have been expanding their holdings of land dedicated to permanent crops such as fruits and nuts.
The macroeconomic environment is important for investors who are considering agricultural property, says David Durning, CEO of PGIM Real Estate Finance. "The key factor is that demand for food is growing on a secular basis around the world," he says. As the middle-class expands in China and other BRIC nations, "demand for protein and higher quality food is enhanced".
From an investment perspective, the agricultural sector is one of the most efficient and productive in the US, with positive performance characteristics and effective government involvement. In addition, agricultural property "is not economically correlated with commercial real estate", Durning adds. "At times it can be quite uncorrelated with the performance of commercial real estate. Ag property generates long-term cash flows from a real asset, so that's attractive," he says.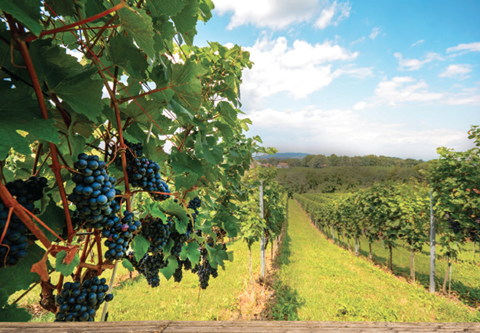 "The difference is it's a diversifier for portfolios as well." PGIM's parent Prudential Financial has historically invested in agriculture property, and PGIM provides capital through both equity and debt investments to producers that grow everything from staple grain row crops like corn and wheat to permanent plantings like fruits, nuts and vineyards. "We're hearing from investors their desire to invest more, so we're exploring various strategies," he adds. "It's a growing area."
As of November 2017, Farmland Partners, a listed real estate investment trust (REIT), owned or had under contract more than 160,000 acres of US farmland, primarily in the Midwestern Corn Belt and water-rich southeastern states. The land is farmed by more than 125 tenants growing 30 major commercial crops. On a total cost basis, the company had 42% of its assets deployed to the Corn Belt, with Corn Belt tenants expected to account for 33% of 2017 rental revenue.
Farmland Partners is expanding its holdings of land devoted to permanent and speciality crops such as fruits and nuts. According to its third-quarter 2017 filings, Farmland Partners expected row crops to generate 67% of its 2017 revenue, down from 79% in June, with the remainder stemming from permanent crops. In November, the company acquired 5,100 acres in California's Central Valley from Singapore-based agribusiness company Olam International, which will lease the farms back from Farmland Partners for a 25-year arrangement that includes revenue sharing, (according to a statement about the transaction).
The nut deal brings higher cap-rate permanent crop production into Farmland Partners' portfolio, while the sale-leaseback enables Olam to pursue its asset-light business model aimed at participating in the high-value market for almonds and pistachios without owning the farmland. Agricultural land has also attracted bank credit – in December, Rabo AgriFinance agreed to provide Farmland Partners with up to $80m (€66m) in loan financing at 1.7% over Libor; that adds to more than $144m equity capital Farmland Partners raised last summer to acquire more farmland.
With Chinese palates hungry for avocado, demand is increasing about 200% annually – fast-food chain Yum China even created an avocado-topped chicken sandwich for its Chinese restaurants – Mexican avocado farms may look like a sweet spot for agricultural land investing. But there are obstacles: most farming occurs on small private plots difficult to acquire, and the avocado region is also beset with violence.
China is moving to secure its supply line for the creamy green fruit. In December, it reduced import tariffs on Mexican avocados, and is exploring development of a major industrial park in the western Mexican state of Jalisco, which borders the avocado-producing region.
The competition is heating up – last year Ontario Teachers' Pension Fund beat other bidders, including a Chinese agribusiness concern, to acquire one of Australia's largest avocado farms.
For 2018, it seems institutional investors are eager to pick the low-hanging fruit of ag property.
Global Trade: NAFTA
1

2

Currently reading

Agriculture: Food for thought

3

4

5

6

7