---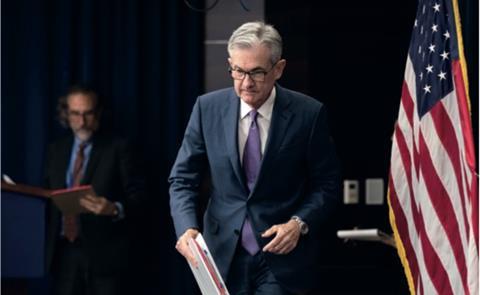 With the longest-ever market cycle expected to get even longer, US real estate debt strategies are in a good position, writes Christopher O'Dea
After close to a decade without a downturn, real estate investors could be forgiven for checking the heavens above every morning. "Something always happens to keep it from falling," says Spencer Levy, chairman and senior economic advisor at CBRE Research. The latest development to keep the sky safely aloft has been the US Federal Reserve's shift from a restrictive stance to an accommodative one at the end of 2018, culminating in July in the first interest-rate cut since the global financial crisis.
"As a result of that singular change, we are now in a place where we think that this cycle could last much longer," says Levy. "That's the good news. The bad news is we think it could last much longer, albeit at a lower terminal growth rate, meaning that when we have the downturn, whenever that might be or even leading up to that, growth is not going to be as robust as it's been in the last year."
But the environment could be beneficial to lenders. "Where we are seeing significant inflows of new capital is in debt funds," Levy says.
"What we're now seeing is many lenders scrambling for yield, including some of the new money that came into the space seeking some of the riskier opportunities," he says. "It's a good time to be a borrower, because the [debt] market's never been deeper and more liquid. But I say that not to describe a sense of excess, because while we have seen some softening of covenants, we have not seen a material softening of loan-to-value (LTV) ratios like we did in the past, so we haven't seen the type of assets that we saw at the peak of the prior cycle."
Levy says: "Rewind the tape by five years. The Fed thought there was too much lending in the real estate sector so they clamped down on construction lending among traditional banks." The resulting illiquidity sparked the creation of funds seeking to capture the opportunity to lend some of the riskier parts of the property market capital structure. "What did we see? First we saw the cost of bridge lending drop like a rock," he says. And when the Fed did not clamp down as hard as originally expected, some banks returned to the construction loan market, resulting in an ample supply of capital that brought the cost of construction loans down as well.
The situation has helped lengthen the market cycle, as the ample supply of debt from yield-seeking institutions made financing available for riskier projects in the transitional and value-add segments. "We're going to continue to see capital [being] deployed into secondary markets and specialty asset classes," Levy says. "I believe we will see capital going into transitional, construction-type loans, because I speak with capital owners all the time and that is what they are interested in."
The question of whether too much equity is chasing real estate deals could easily be directed to the debt markets. But the situation seems to be one of ample capital, prudently deployed. Although banks have resumed lending since the crisis, they have done so under much more stringent lending standards than those that prevailed from 2005 to 2007. "Banks are still lending, but they're lending on more conservative terms," says Jack Gay, head of commercial real estate debt investing at Nuveen Real Estate.
Before the crisis, it was not uncommon for banks to make loans up to 80% of an asset's value. In the current market, Gay says, banks often limit loans to only 50-60% of an asset's value, leaving the gap to be filled by a debt fund that might lend up to a 70% or 75% LTV ratio. "Banks would have filled that space prior to the financial crisis, but now funds and alternative lenders have come into the market to fill that gap," he says. Those sources "are a window for providing a bit of leverage beyond where banks are lending, but generally speaking, the lending standards are still being held somewhat in check".
An additional sign of restraint, Gay notes, is that only a small subset of borrowers are seeking loans up to 75% of an asset's value in situations where banks have topped out their commitments at a lower level of 55% to 60%. And most underwriters for debt investment funds will look at such situations carefully to determine a realistic LTV level based on the asset value and the business plan for the asset.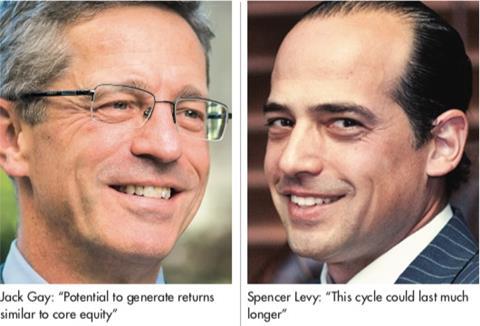 Alternative lenders such as debt funds will evaluate the security of loans in light of factors such as an asset's complexity and the institutional nature of the underlying property, when establishing maximum LTV levels. In complex situations, banks might limit loans to just 50% of asset value, and alternative lenders might go only as high as 65%. "It's not one-size-fits-all," Gay says. "There's variability, and each lender will find its place to participate."
Nuveen's debt team oversees investments of more than $35bn in commercial mortgages on behalf of separate accounts, debt funds, the general account of its parent TIAA, and some equity funds that have allocated capital to mortgages. The attraction of the sector in today's market environment is straightforward – rather than simply moving out on the risk curve, commercial property mortgages offer similar returns to traditional equity at lower volatility.
It is an investment proposition suited to the emerging environment of slower growth and moderating returns. "Given where we are with interest rates and cap rates, cap rate compression is probably not where we're going to see value creation," Gay says. "Returns are going to come more from the income side of the real estate that a portfolio owns, and growth in net operating income, and that presents a more modest growth picture in terms of the returns that investors might expect on core equity assets. We have the potential to generate returns similar to core equity, or greater, also on a current-income basis, through various debt vehicles."
In a typical property debt fund, almost all of the return comes from interest as opposed to capital-value appreciation. "That lines up with where we are late-cycle, banking on the current return, with more modest appreciation," Gay says.
"If we take it one step further, the volatility of a debt investment is lower than an equity investment, because it's less risky. When you're only lending to, say, 65% or 70% LTV, there's a cushion for your return to the extent that there is a downturn and downward pressure on property values," Gay says. "When an investment can put lessened volatility together with similar returns, that offers potentially attractive relative value for debt as opposed to equity at this stage in the cycle."