Australia's largest superannuation fund is expanding into real estate debt – both at home and abroad. Florence Chong talks to Jason Peasley
Australia's largest superannuation fund, the A$160bn (€99bn) AustralianSuper, is preparing to move into the established debt markets of the US and Europe as it seeks to grow its private-debt portfolio by up to five-fold by 2023.
The Melbourne-based fund will establish an office in New York next year, with an experienced team that can hit the ground running, says Jason Peasley, the fund's head of mid-risk strategies. An additional 40 people in New York and London will expand the offshore staff complement to 50. "We will significantly grow our human capital and pool of expertise to deliver on the portfolio growth we are planning," says Peasley.
AustralianSuper's focus on established offshore markets is born of necessity. "With annual net inflows of A$16bn, we need to provide sufficient investment opportunity for the cash," he says. By 2023, the fund's total assets are projected to exceed A$250bn.
Peasley expects the offshore market to generate about 80% or more of AustralianSuper's deal flow to help it reach a targeted A$15bn in private debt, including commercial real estate debt of A$10bn, over the next four years.
At that level, Peasley envisages that private credit will take up an allocation of 5-7%. "By then, we will have a meaningful exposure to private credit compared with our global peers, like Canada Pension Plan Investment Board. Most of our recent deployment is in the US. We see that being the primary source of growth. The dominant part of the loan portfolio will be in our asset-backed strategy.
"We are working with a range of debt products, including loans for repositioning of commercial buildings, multi-use and logistics assets, and construction finance. The returns and terms available in the US market are attractive for certain types of loans, compared to equity transactions."
Peasley also finds the liquidity of the North American market attractive "to a fund of our scale". Importantly, established overseas markets have an appetite for large loans.
AustralianSuper's single-largest investment has gone to a multi-use facility owned by Malaysia's AlloyMDT Group, which is developing One Crown Place in London. AustralianSuper underwrote £230m (€256m) of the project, with its fund manager, Nuveen, lending £50m from its Global Real Estate Debt Fund 11.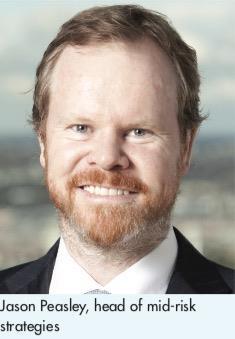 The "comfortable" loan size for the fund is about A$350m, says Peasley. To date, AustralianSuper has lent A$1.4bn overseas, split equally between Europe and the US.
At home, it has commitments of more than A$1bn in real estate debt. But the domestic market will shrink as a proportion of its private-credit exposure as it drives deeper into offshore markets.
"Australia will still be meaningful and significant," says Peasley, who expects AustralianSuper's domestic portfolio to settle into a range of A$2bn-A$3bn.
AustralianSuper road-tested Australia's domestic debt market following the 2008 financial crisis, when bank liquidity dried up. Its initial mandate of A$200m went to Sydney-based financial services group Challenger. But deploying money proved challenging.
Less than five years later, the fast-growing AustralianSuper revisited its debt strategy, having developed a clearly defined strategy it categorised as 'mid-risk'.
"Mid-risk is a natural place for our sub-investment-grade credit strategy. It sits alongside our infrastructure and property debt and equity portfolios. We find that sub-investment-grade credit is really an attractive asset class and complements our mid-risk portfolio."
Initially, he says, the fund invested through external managers. In Australia it invests with Melbourne-based commercial real estate specialist MaxCap Group, which has placed $1bn on its behalf.
Peasley says the money has been mostly repaid and is being redeployed. "We are keen to continue to grow that programme selectively through MaxCap."
Increasingly the fund is directly lending through relationships with developers and arrangers. This is a particular focus of the in-house debt team. "The primary strategy of the internal team is to look at two areas: infrastructure-subordinated debt and global commercial real estate mezzanine debt."
The debt team works closely with colleagues in both property and infrastructure. Peasley has oversight of all three teams under the broad umbrella of mid-risk.
"Domestically, we have been very active in the last couple of years in the residential and commercial construction loan markets. Banks have reduced supply of credit to the construction phase of residential and, to some degree, to commercial projects as well. But we are still comfortable staying in the development and construction phase of residential, and in commercial markets like office development."
In July, the fund committed what was the largest non-bank facility in Australia, lending A$360m for a A$630m office redevelopment in Brisbane. Nevertheless, AustralianSuper remains highly selective when it comes to borrowers, and structures loan terms and conditions to ensure they can be repaid.
AustralianSuper generally lends to construction, either through senior or stretched-senior facilities, but Peasley's preference is to be able to write the entire cheque. It is also simpler, he adds, for the borrower to deal with one lender.
As he sees it, a lender like AustralianSuper has a comparative advantage over a bank – it can entertain slightly riskier profiles, protected by its loan terms contracts and experience as an owner of similar assets. "We see the risk-return equation for those opportunities as very attractive in the current market environment".
A third leg to AustralianSuper's debt strategy is what Peasley terms "high conviction" investing. "We maintain relationships with global managers who run niche and boutique-type strategies to access sub-sectors such as distressed debt and [collateralised loan obligation] credit."
Today, real estate and infrastructure form the backbone of AustralianSuper's real asset allocation of 19-20%.
"Together with our credit strategy, they are forecast to account for 25% of the fund's AUM by 2023," Peasley says. "The trick for us is having the flexibility and capability to seamlessly move across real estate, infrastructure and private credit – to deploy capital to the most compelling opportunities."