---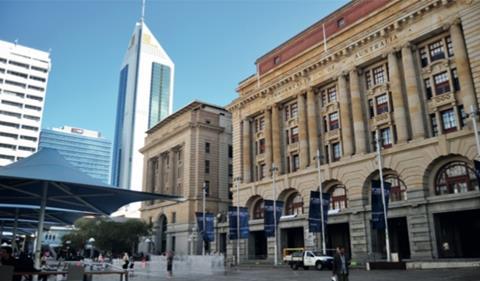 Competition among non-bank debt lenders has reached an unprecedented level. The key to success in the burgeoning market is patience, writes Florence Chong
Australia is witnessing a curious disconnect in its debt market. On the one hand, more borrowers are looking for alternatives as Australia's big four banks continue to shrink their exposure to commercial real estate debt. On the other, new lenders to the Australian market report difficulty in finding takers for the increasing pool of funds on offer.
The contradiction has thrown up a new learning curve for lenders and borrowers alike. In the process, competition has sharpened among non-bank lenders and profit margins have shrunk. It is a market that will reward the enterprising and the patient, because the structural changes under way in Australia's banking sector have created a permanent dislocation in commercial real estate debt.
This has enabled resourceful non-bank lenders to prise open segments of the loans market that were previously held tightly by Australia's largest banks. A case in point is the recent single-largest commercial real estate loan ever underwritten by a non-bank lender in Australia. In July, AustralianSuper underwrote the A$360m (€222m) facility arranged by Melbourne-based MaxCap Group (see Australia's super bank, page 75).
MaxCap's managing director Wayne Lasky does not see the deal as a one-off opportunity. His firm has a pipeline of such opportunities and Lasky expects to close similarly large-ticket transactions soon.
In giving MaxCap a separate-account mandate to lend up to A$600m in July, Dutch pension fund APG shares Lasky's conviction that there are plenty of lending opportunities. The mandate was the single-largest from a global investor to an Australian manager, surpassing two previous mandates, each of A$500m, awarded by Canada Pension Plan Investment Board (CPPIB) and Singapore sovereign wealth fund GIC.
The ability to execute is important, Lasky says, adding that it is easier to raise capital than to deploy it. More capital has been allocated to Australian debt than can be placed with borrowers, he reckons.
MaxCap timed APG's entry into Australia with participation in an A$135m club investment with its open-ended First Mortgage Construction Fund and US-based Fortress.
CPPIB, which formed the Pacific Real Estate Debt Fund in July 2018 with Sydney-based financial services group Challenger, has begun investing in large senior and junior positions. "We are shaping for a strong year ahead," says Gerard Hargraves, Challenger Investment Partners' head of real estate debt. The debt fund is looking to write loans ranging from A$30m to A$250m across the investment and development markets. "We are looking at bridging the gap between the opportunistic credit funds and the major banks in terms of risk appetite and pricing," Hargraves says.
"Based on risk-adjusted returns, there is a lot of merit in investing in debt," says a superannuation fund investor requesting anonymity. The investor has committed a substantial allocation to Sydney-based Madigan Capital Partners, which is run by industry pioneer Michael Wood.
"We see it as a diversification strategy, and we expect it to produce solid returns," the investor says, adding that debt did not get enough "airplay" until recently because the broader real estate market was delivering double-digit returns. "There was no incentive to look outside traditional asset classes," he says. "But the real estate cycle has matured."
Until recently, smaller players who specialised in mezzanine debt and/or high-rise construction loans, chasing mid-to high-teen returns, dominated Australia's debt market, the investor says. "That kind of high-octane growth in the residential market could not be sustained."
The superannuation fund is looking to write senior debt, with some mezzanine, on a loan-to-value (LTV) rate of 50%, although there will be "some flexibility" for a higher LTV when it comes, for example, to a stabilised office building in Sydney.
Overall, the approach will be defensive. "We have previously been on the other side of the fence [as an equity investor]. When underwriting a loan, it is even more important that we can see upside potential," the investor says.
While superannuation funds continue to rely on fund managers to access opportunities, some investors, such as AustralianSuper and First State Super, have set up inhouse debt teams for direct lending.
First State Super has A$5bn allocated to credit, most of it deployed in offshore markets via external fund managers. Ross Pritchard, First State Super's portfolio manager for credit income, says: "We are making reasonably good progress. We have now completed around 10 direct transactions."
To date, the internal debt team has committed A$750m to direct debt opportunities, of which about 30-40% would be to property or property-related assets. "We are targeting pockets [of the market] in which the banks were historically active, but are less so today due to the changing regulatory environment," he says.
In these pockets, Pritchard says there is a scarcity of credit, caused by banks withdrawing. This has created a lending gap that is generating "very good opportunities" for investors.
'Big four' banks rethink lending
Given a spate of new international and domestic regulation and a damaging Royal Commission into the banking sector, Australian banks have been withdrawing, or reducing, lending to real estate.
Industry sources say the country's largest property lender, Commonwealth Bank has folded the real estate lending team within its institutional banking department into its corporate lending division. And the National Australia Bank is restructuring its lending to real estate, planning to become even more selective in how and to whom it lends.
"These are tangible indicators that the banks are continuing to pull back from real estate," says an industry observer. This has created a group of non-bank lenders, led by Australian and global institutional investors, seeking to stand "adjacent" to the banks in their lending policy, albeit with a slightly higher risk appetite.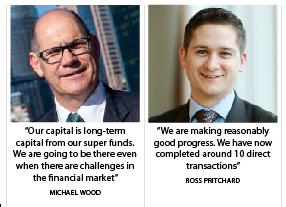 The group, led by AustralianSuper, First State Super and the Future Fund, includes a range of industry and public sector pension funds, alongside global pension funds. They have the capacity to lend A$300m to A$400m, a spot once the preserve of banks, in a single transaction.
Sources say they lend on a spread of about 100bps above bank rates. Banks are lending on a base rate of about 2.5%, with an all-up cost of 4%, while institutional non-bank lenders are prepared to lend at 3.5%, with an all-up cost of 5%. Borrowers are comfortable paying a 1% higher rate if they are able to get terms on a higher LTV ratio.
"Banks used to lend on a 55% LTV ratio, but their credit committees may reduce that to 40%," Wood says. "We can bring in the capital to fulfil the 40-55% piece in a stretched senior loan… We work with the big four banks, and they like the quality of capital that we can bring. Our capital is long-term capital from our super funds. We are going to be there even when there are challenges in the financial market."
Apartment projects provided fertile ground for many non-bank lenders during a three-year bull run ending in 2017. Industry sources say lenders are shifting from development projects to financing sites bought and held for the next cycle. But such opportunities will not be as plentiful as was the funding of development projects during the residential boom.
Some non-bank lenders expected to compete with so-called credit lenders – a space occupied by global opportunistic funds managed by the likes of Värde Partners, Oaktree, Goldman Sachs, Fortress, and PAG.
Goldman Sachs last year underwrote the A$120m construction cost of an A$250m apartment project in inner Brisbane. It has also agreed to fund construction of the A$700m Capital Grand luxury high-rise tower in South Yarra, Melbourne.
Competitors describe Goldman Sachs as one of the more successful credit lenders, with a loan book estimated at A$1.5bn last year. But a slowing of projects could see that figure halved this year, says a source.
Starwood Capital executed its first debt transaction in Australia by providing A$220m to fund Scape Student Housing in the development of its Melbourne projects. These predominantly US-based debt fund managers are seeking double-digit returns, usually wanting internal rates close to 12%.
Industry sources say the days when opportunistic funds were charging double-digit returns in the low to mid-teens – and in some instances as high as 20% – are over and to make up for this, some lenders are having to adopt a more aggressive risk-taking strategy.
Wood, who has placed more than A$500m from public sector and industry super funds since Madigan come into operation 18 months ago, agrees. "We have seen one major offshore fund lend to a portfolio of residential assets that include vacant land and some 200 unsold commodity apartments," he says.
"We would be concerned about the quality of the project sponsor, and what I would term 'commodity stock'. If you try to sell these apartments in this market, you are at the whim of the banks on their willingness to provide loans to the people buying them."
Non-bank lenders are looking beyond residential projects. One source says: "We see a pivot to commercial real estate loans."
Others, including Martin Priestley, head of Nuveen Real Estate's debt division for Asia-Pacific, are looking beyond Australia to elsewhere in Asia-Pacific. Nuveen, which expects its commercial real estate debt portfolio in Australia to reach the $1bn mark "sometime before the end of 2020", sees incremental growth coming from outside Australia.
Australia is becoming a crowded market. "To succeed in Australia you need to set your strategy and return targets and be patient," says Priestley.