Research supports looking beyond offices in gateway cities when creating a global strategy, say Hans Vrensen, Ken Baccam and Guillaume Oliveira
Multi-asset investors have come to terms with an increasing number of surprising political events and a changing economic outlook, with commercial real estate investment allocations continuing to increase.
On a relative basis, most local real estate markets continue to offer attractive returns, despite historically low yields.
Increasingly, North American and Asian investors have been investing in overseas real estate to enhance their returns and reduce their risks through diversification. Some have established significant global real estate portfolios in the past five years. Others have been slower to embark on an overseas investment strategy.
However, real estate investment markets remain cyclical in the aftermath of the 2008 crisis and as some markets have recovered much more quickly than others, it may no longer be appropriate to follow the typical strategy of entering Europe only through the traditional gateway markets of London, Paris and Berlin.
International investors looking to enter the European market at this stage of the cycle can benefit from an optimal portfolio and market-scoring framework.
We have combined three different optimal portfolios with three investors' risk-return preferences. Risk-averse investors (profile A) allocate among our optimal portfolio using a 15-market universe. Investors with a more average risk appetite (profile B) can improve their unlevered returns by increasing risk and using the final optimal portfolio. Investors with a higher risk tolerance (profile C) will find it more difficult to improve returns by looking across the optimal portfolio using 24 market segments, even if taking more risk.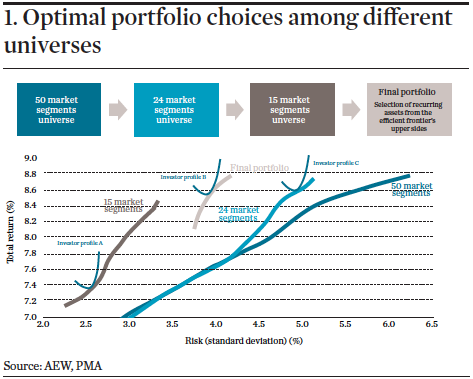 If we look across all the market segments for each of these three different optimal portfolios, we note that the traditional gateways, London, Paris and Berlin, can make up about 60% of the optimal portfolio allocations. However, similar returns can be achieved by excluding these markets with non-gateway markets dominating the optimal portfolios with up to 100% of total allocations.
It should be noted that the optimal portfolios are calculated based on data for the period 2012 to 2021. This allows for both historical volatility and future returns and means risks and returns shown are not only forward looking. In addition, correlation plays a significant part in the construction of our optimal portfolios, resulting in individual high-return markets not automatically being included. Across all three optimal portfolios, unlevered total returns are forecast to be 5.5-6% per year for the next five years.
Our optimal portfolio allocation model also takes into account some practical allocation restrictions: not more than 15% in a single market segment; not more than 50% in office or retail; not more than 25% in logistics; and not more than 50% in a single country.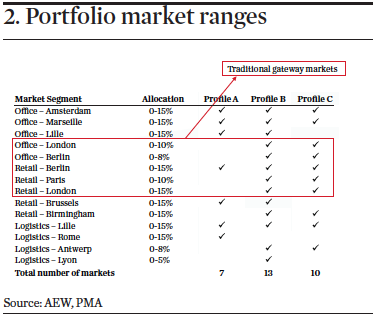 Our analysis shows that optimal portfolios with fewer market segments to select from have better risk-return dynamics; this is evident from the steeper curves for the 24 and 15 segment universes compared with the 50 segment universe, with the final portfolio situated between the 15 and 24 market efficient frontiers. In the next section, we describe how we filter down from the 50 to the 24 and 15 markets.
Initially, we considered an investable universe of 50 local markets across seven countries, including the 20 most liquid office, 15 most liquid retail and 15 most liquid logistics markets.
A practical approach forces us to limit our market universe as most investors looking at Europe are unlikely to be able to cover all 50 markets. As a first step, we include only markets scoring above their own property type's average overall score. This more than halves the universe from 50 to 24 markets.
If we then only include markets above the overall universe average risk-and-return scores, this further reduces the universe from 24 to 15 markets and including fewer, higher scoring markets results in better optimal portfolios (figure 3).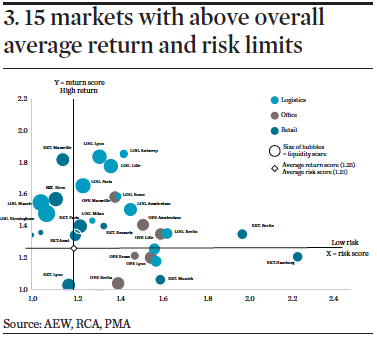 With respect to our market scoring, we assume a five-year holding period; while we accept that many institutional investors hold core assets for longer, this coincides with the period for which we have forecasts. Each market is scored by the following four, equally-weighted criteria to estimate an overall score:
• Economics: common (GDP, unemployment, bond yield) and property-specific;
• Liquidity: past five years' investment volume and transparency index;
• Risk: standard deviation, maximum drawdown and Sharpe-ratio of historical returns;
• Return: forecast total, income and capital returns for the next five years
Logistics markets are, on average, ranked higher than high street retail and offices, although this does not mean that all logistics markets rank ahead of all retail and office markets. For each of the three property types, non-gateway markets consistently rank highest at this point in the cycle.
In the case of offices, Amsterdam ranks top, based on strong risk, return and economics scores; this is partly driven by its late-cycle recovery from a perhaps prolonged but less dramatic decline. Spanish offices deliver low overall scores due to low risk-and-return sub-scores; this is mostly driven by their above-average historical volatility.
In the retail sector, Hamburg and Berlin lead on the back of very strong risk scores driven by strong rental and yield stability over the long term. London and Paris retail also score above average, but Italian retail markets show low overall scores due to low risk sub-scores; again, this is driven by their above-average historical volatility.
The results for our four criteria are presented in figure 4. This confirms the attractiveness of many logistics and selected retail and office markets, as well as the high level of liquidity in the London and Paris office markets.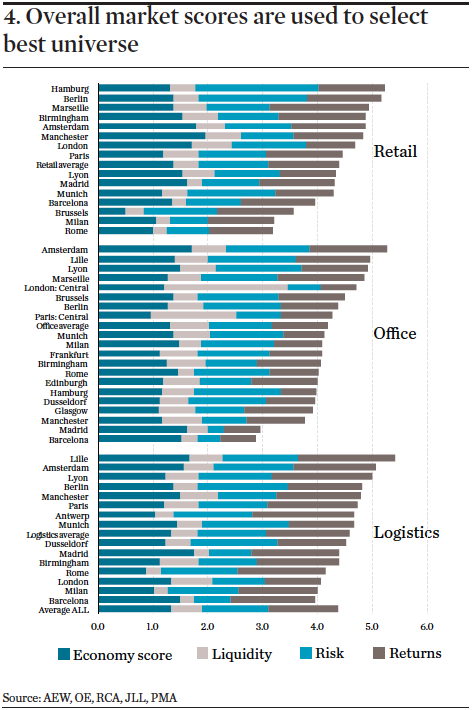 Finally, it should be noted that our optimal portfolios and market scores are focused on traditional prime market definitions and do not address different investment styles.
Experienced investment managers are able to add value for investors with 'manage to core' strategies, even if large prime markets such as London and Paris are less attractively priced.
Hans Vrensen is managing director, head of research and strategy; Ken Baccam is director of research and strategy; and Guillaume Oliveira is an analyst at AEW Europe