The effectiveness of diversification was brought into question during the financial crisis. But new research vindicates a global, 'hybrid' approach, writes Anne Breen
Why construct a hybrid global real estate investment strategy? There are two principal reasons: diversification and liquidity. There is also a third consideration – risk. Not so much the 'traditional' measure of risk, but the risk of being able to implement a global real estate strategy.
The last cycle for commercial real estate investors illustrated well the case for global diversification. However, the heterogeneous nature of real estate markets means that investing on a global basis is tricky and, we argue, requires a hybrid strategy. Defining the size, structure, liquidity and risk of the underlying markets is key to implementing this strategy, while measuring performance is an additional complexity.
Typically, direct real estate markets have been somewhat opaque, not just in terms of performance but also in quantifying the size of the universe. Investment Property Databank (IPD) has made great strides in estimating the size of the universe and creating more frequent measures of performance for funds and markets. At the end of 2013, IPD estimated the size of the real estate universe to be $6.8trn (€5.4trn). Of this total, around 37% is estimated as North American, 39% EMEA and 25% Asia Pacific. Globally, markets with the most developed and the longest track record of data are the largest: UK, US, France, Japan, Australia and Canada.
The listed real estate universe is estimated to be $1.3trn. The US is by far the largest and most developed market and represents around 40% of the total. Today's US real estate investment trust (REIT) market is deep and diverse, allowing investments in sectors such as healthcare, malls, multi-family and offices – no other global REIT market offers investors such a diverse pool of investment opportunities.
Although the Hong Kong and Japan markets are large and transparent, ownership of the underlying real estate markets is focused on the core prime assets in the various central areas and is dominated by a few large companies. This has a significant impact on liquidity. While large assets do occasionally trade in markets such as Hong Kong, smaller floor-by-floor titles exchange more frequently.
A notable feature of listed real estate is its relatively small European market size outside of the UK. European listed real estate represents just 10% of the overall real estate EPRA/NAREIT universe and just 8% as a percentage of the estimated direct universe in Europe. Comparably, in the Americas and Asia listed real estate represents close to 25% in both regions. This lack of depth can be associated with the relative immaturity of REIT legislation in Europe. It is significant for a global investor for three reasons: liquidity, macro investing and sector cycles.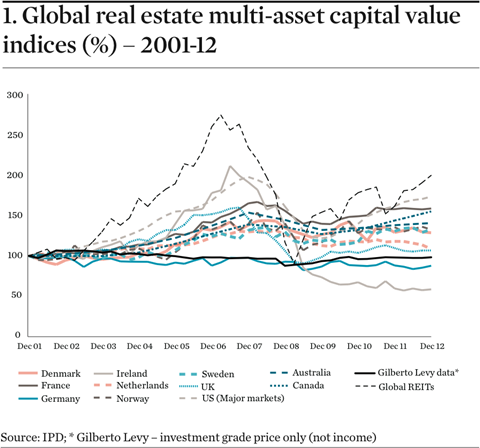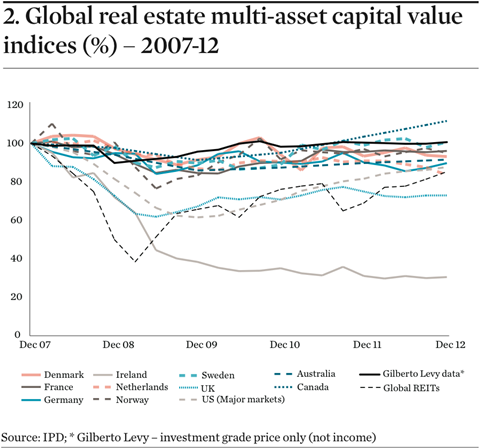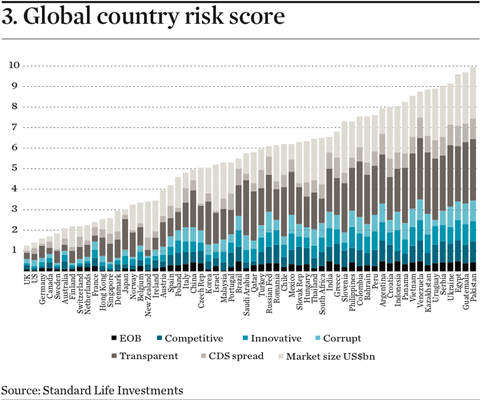 In terms of liquidity, the average REIT capitalisation outside across Europe (ex UK) is $4bn. There are 15 REITs with a market capitalisation greater than $10bn in North America, 14 in Asia Pacific and just three in Europe – only one of which is outside the UK.
Macro investing on a country basis in continental Europe presents the challenge of stocks not being exclusively focused on real estate in their domestic market. The largest euro-zone stock by far, Unibail-Rodamco, is invested in 13 European jurisdictions in major retail centres.
The European market does not offer the opportunity to invest on a sector basis as multi-family, healthcare and hotel REITs are virtually non-existent across the region.
Is global diversification necessary?
The debate about the benefits – or otherwise – of global diversification has been protracted, but the global financial crisis settled the score in favour of diversification. The disparities in real estate performance in key global markets were significant, as figures 1 and 2 illustrate .
Of course, one of the key criticisms of real estate data and indices is 'smoothing' and their construction from valuation data rather than strike prices. To achieve a 'truer' volatility measure, figures 1 and 2 use capital value transaction-linked indices from IPD. IPD has developed a hybrid index incorporating transaction information with the standard valuation data, which gives a more robust measure of volatility. For the purposes of illustration, REIT markets are grouped together in the 'global REITs' series.
The data clearly supports the case for diversified exposure across geographies and across direct investments and REITs. Since 2001, the range in capital value indices between the major global indices equates to 200% – or 10.5% per annum. In the period since the financial crisis, values in the weakest performing market, Ireland, underperformed the strongest market, Canada, by 270% or by 30% per annum. It is also interesting to note that since 2001 the UK, Denmark and Sweden have shown the same level of volatility as southern European markets. This volatility represents less than half that of Ireland but more than three times that of Canada and Australia.
Risks of liquidity and implementation
The above analysis broadly covers the 'typical' statistical measures of risk. Liquidity and the risk of implementing a global strategy are relevant to any investor and are worthy of further analysis.
There are three broad areas that warrant consideration in relation to liquidity. First, there is the vehicle or asset type. In practical terms, investing in REITs typically offers same-day trading. Assuming there are a willing buyer and seller, transacting direct real estate assets can take anywhere between three to six months depending on the complexity of the deal, the readiness of the seller to transact and the jurisdiction, which may involve structuring a special purpose vehicle.
Then there is market liquidity. At a country level, real estate trading volumes vary massively. The US, UK, Germany, France and Japan are the largest real estate markets in terms of trading volumes. This suggests that the large and sophisticated real estate markets are most liquid.
But liquid for whom? Over the past year, only around $4bn of commercial real estate was transacted in North America by cross-border investors, compared with $112bn across Europe for the same 12-month period. Similarly, in the Japanese market, on average, 90% of trading is domestic. This compares with European markets where non-domestic investors can account for between 30% and 50% in the UK, France and Germany.
Finally there is asset size. Take France and Hong Kong: France's total trading volume annually is typically around twice that of Hong Kong's. In addition, the locally preferred floor-by-floor title ownership in Hong Kong tends to mean smaller floors within buildings change hands more frequently than larger assets, which are more typically held by REITs. And, on average, only between eight and 10 large assets (greater than $100m) trade in Hong Kong per quarter compared with between 20 and 30 in France.
For direct real estate, implementation risk is significant. The nature of the asset class presents risks around the regulatory environment, ownership and security of ownership, accessing stock, corruption, rapid and frequent changes in legislation – a key feature of emerging markets – and exit strategy risks, such as liquidity. A measurement of these risk components must keep track of changes in business and real estate market cycles, therefore risk scores should be dynamic and could change over time.
When Standard Life Investments explored these issues, it resulted in the publication of the Risk in a Global Real Estate Portfolio last year, which ascribes a risk score for a total of 60 countries. It is a useful first filter in portfolio selection, with allocations reflecting the investor's or fund's risk appetite.
The second application requires translating the risk score into a risk-adjustment factor. We have developed a simple exponential tool for the conversion – sense-checking the results against existing disparities in risk around the globe and back-testing across changes over the past five years. The results are instructive (figure 3).
There is a compelling case for global diversification in real estate. Investing globally on a hybrid basis is by no means commonplace in real estate and requires a dynamic approach. In doing so, investors must consider carefully the risk of the domestic market and the risk of implementing the strategy. The underlying shape, ownership and size of the market are significant in implementing any strategy, along with the ability to forecast underlying direct real estate cycles accurately.
Anne Breen, is head of real estate research and strategy at Standard Life Investments
In favour of global diversity
1

Currently reading

In favour of global diversity

2

3

4