The market cycle is mature, but investors continue to pile capital into a small number of large, high-risk-return funds. Vanessa Drucker and Richard Lowe report
In October, Blackstone acquired a 65% controlling stake in Great Wolf Resorts, a chain of indoor water parks in North America. The announcement came just days after it had acquired a $5.9bn (€5.3bn) portfolio of US logistics assets from Colony Capital.
Both transactions are typical of Blackstone – large corporate or portfolio deals using financial scale to unlock opportunities unavailable to smaller investors. The transactions were on behalf of Blackstone Real Estate Partners IX, the largest real estate vehicle created by the company with more than $20bn in capital.
Fellow mega-fundraiser, Brookfield Asset Management is slightly trailing with its own personal record in the form of the $15bn Strategic Real Estate Partners III.
Both vehicles show there is strong appetite for higher-returning, opportunistic real estate strategies today. It could be seen as counterintuitive that investors are piling money into high-return strategies – which by definition are riskier – into a market that, based on historical norms, is due a correction.
However, paying high prices for core assets today, which in theory is a lower-risk strategy, would probably leave an investor more exposed to a sudden fall in capital values and rise in yields. An effective opportunistic manager should be able to respond to market shifts.
"Opportunistic taps a broader array of skills and wider opportunity set, including development, operational expertise, management, and perhaps taking REITs private," says Paul Jayasingha, senior director at Willis Towers Watson. "Many believe that this may not be a bad time to allocate to opportunistic, because if capital is appropriated over, say, four years, and they expect a dip in years one and two, they can invest into that dip."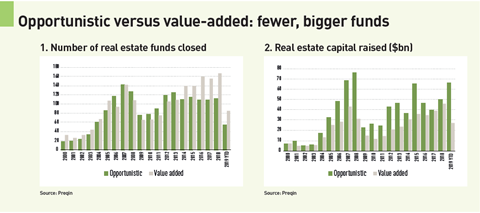 One of the traditional stomping grounds of opportunistic funds is distressed markets. However, the 2008 financial crisis is becoming a distant memory and strong fundamentals across global real estate markets have chipped way at the stock of distressed assets. Tenant demand has been robust across most sectors and capital structures have generally remained intact.
"At this point in the cycle, most distressed sellers have been recapitalised, and significantly distressed assets have been sold to a buyer with a turnaround strategy," says Allison Yager, partner and global leader of real estate at Mercer. "There are some lingering opportunities for correcting assets that have not been managed appropriately or require significant leasing."
After a downturn, the strongest assets in the best locations get snapped up. The ensuing scarcity of such assets on the market leads to an upturn, suiting value-added strategies that can improve secondary assets to sell to core buyers.
Value-add funds are also in demand, but this is not being manifested in the form of mega-funds. By nature, opportunistic funds are more capital intensive than value-added strategies and so require more resources. That helps explain why there are often a handful of large opportunistic funds and a greater number of smaller value-added funds (see figures).
But because by their nature they are taking on more risk, the prevalence of opportunistic mega-funds is also a product of "investors not wanting to take risk with new managers who have not been tried and tested, and who prefer those with track records for consistent returns", says Will Rowson, partner at Hodes Weill.
"If you look at vintages and compare net internal rate of return over years, it comes down to a handful of funds raising large sums," says Justin Bartzsch, senior research analyst at Preqin. "Actually, the strategies almost run in parallel, with little difference in performance."
The real estate asset class has a well-established way of describing and differentiating between different risk-return investment strategies. At the lowest rungs of the risk ladder are secure income, core, and core-plus, above those are the higher-returning categories of value-added and opportunistic. This simplistic arrangement, however, does not fully reflect the subtleties and grey areas.
Many would suggest value-added looks to generate returns of 15% and above, while opportunistic aims for returns of 20% or more. In 2010, depressed markets were ripe for opportunistic strategies.
"Core-plus often means buying an asset and trying to fix one problem," says Charles Ferguson-Davie, CIO at UK opportunistic fund manager Moorfield. "Value-added indicates performing increased asset management, like repositioning completely and refurbishing. Opportunistic strategies go a further step by taking risk for planning, full development and leasing, with perhaps operating risk as well."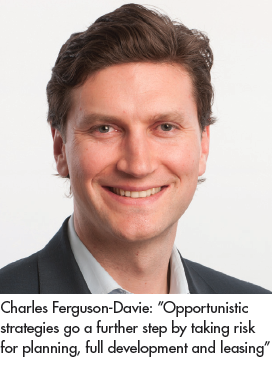 Definitions are shifting too. Some funds deemed opportunistic have started to embrace more operational activities, taking on alternative sectors like student housing. In August, Harrison Street raised $1.3bn for its seventh US opportunistic fund, which is focused on senior housing, life sciences and medical office investments.
Moorfield recently bolstered its presence in the UK residential market, launching its own build-to-rent brand, More. "People need somewhere to live, students will still study, people keep getting older," says Ferguson-Davie.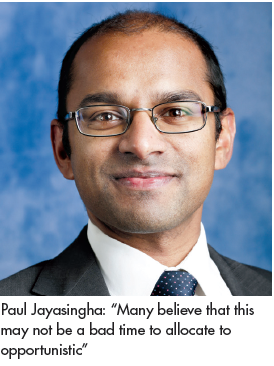 Among sectors in vogue, Rowson highlights residential, logistics and data centres. "Cycle-agnostic sectors are attracting more capital," he says. "In Europe and Asia, these tend to be less mature than in the US."
Low interest rates have altered the perception of risk attached to real estate assets, says Keith Breslauer, managing director of European fund manager Patron Capital.
Over the past three years, investors have begun to regard real estate liquidity as akin to long-dated yielding assets, meaning core investors should pay a spread similar to 10-year bonds.
"The implication is that core real estate should trade tighter as an alternative asset," Breslauer says.