While the shape of the UK's future relationship with its European neighbours is still unclear, the question of how to finance infrastructure fit for the 21st century is equally pressing, argues Darryl Murphy
The vast scale of investment needed to make the UK's transport, energy, social and telecoms infrastructure fit for purpose is certainly focusing minds. An infrastructure development pipeline worth £600bn (€673bn) over the next 10 years was set out by the UK Infrastructure & Projects Authority in 2018.
From improving resilience to climate change and providing data and power infrastructure, a substantial sum of money is going to be required. About half is expected to be provided by the private sector.
Although the UK has a long and innovative history of mobilising private capital, there is clearly no appetite to use established public private partnership (PPP) models from either the left or the right of the political spectrum. There is an immediate need for new tools and ideas to get projects over the line.
The first and most important consideration is that tomorrow's infrastructure needs are very different from those financed before. The risks that come from financing data infrastructure with obsolescence risk or mega-power projects at a time of energy transition are clearly unlike those from low-risk utilities, like water. Many of the projects on the drawing board are large, have no proven financing or funding, nor generate stable, predictable cash flow from the outset, all features that appeal to institutional investors.
In the short term there is a need for short-duration, high risk-bearing capital, which is typically not a comfortable fit for many European pension schemes and other investors. With that in mind, there is clearly a need for a new, independent body supporting government policy on infrastructure, providing early stage capital and 'pump priming' key technologies. With a public-service remit, and the intention of staying public, it could focus on the specific technologies that might bring positive socioeconomic or environmental returns. Direct lending, using credit enhancements, or co-investing with a body like this might take some early-stage projects out of the starting blocks to the point where investors want to be involved.
As investors, we are particularly interested in the scope for credit enhancement, through flexible guarantees that could address specific risks such as complex construction or counterparty credit risk. Institutional debt investors mainly have appetite for investment-grade projects, particularly those investing to fund retirement annuities. We believe that using credit enhancement where there might be material illiquidity premia – say, in single-A to triple-B-rated credits – could mobilise significant capital.
The equity element is also worth touching on, as until now successive governments have not been able to capture equity gains under the 'old' PPP-type models. Instead, there have been cases where private-sector operators have carried the bulk of the risk but also taken gains when operating performance has fallen short.
Getting this part right might mean some real win-wins: for the government in delivering on its commitments; for private sector stakeholders, who could make a genuine contribution to enhancing assets and services; and for the public, the users. But for that to happen 'success' needs to be defined and communicated to the public.
The reality is that the outcomes achieved by many privately financed projects have not been regularly assessed before now. Until this happens it will be a challenge to demonstrate that value for money has been achieved. That is why providing hard evidence supported by data is an immediate priority for the infrastructure finance community.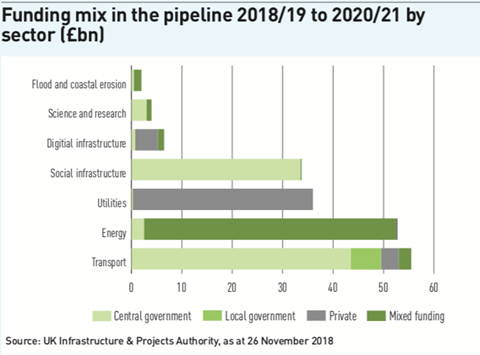 In terms of future model design, appetite for PPP is lacking but it appears the regulatory asset base (RAB) model – as used for financing the Thames Tideway Tunnel, London's super-sewer – could play a more prominent role. There are important differences between the PPP and RAB models in terms of risk transfer. To date, the RAB model has only been used for consumer-funded investments. Broadly, the RAB model can be used to define a broader risk allocation between a wide number of stakeholders, which can reduce the overall cost of capital of the investment.
Ultimately, the model could be rolled out quite widely for large-scale projects where cost certainty is difficult. Developing automated signalling and train controls on live railways, carbon capture and storage, nuclear power, and wider digital infrastructure are examples that come to mind.
The long-term challenge, of course, extends far beyond the current political malaise. Working through how the right institutional framework and a more appropriate alignment of incentives can draw the best-qualified stakeholders to the table should be a priority in one of the most advanced infrastructure markets in the world.
Darryl Murphy is head of infrastructure debt at Aviva Investors