Vacancy levels have always been low in Tokyo, but that could change as a glut of post-Olympics projects arrive. Florence Chong reports
The global pandemic has crushed Tokyo's hopes of an economic pay-off that otherwise would have been expected from its hosting of the hugely expensive Olympic Games. Even as the Olympic flame passed on to the next host, Paris, Japan's expectations of an Olympic-led recovery had already burnt out.
The total cost of the Olympics currently stands at US$15.4bn (€13bn) – an investment that Japan had hoped to recoup through a boost in tourism. Instead, COVID-19 put paid even to live attendance at the Games. Rather than pulling the Japanese economy out of a COVID-induced recession and injecting confidence back into its business community, Tokyo is more likely to suffer post-Olympic blues.
The city's hospitality sector has borne the brunt of COVID-19, but the office sector is also nursing its wounds. Hideaki Suzuki, director and head of research for Japan at Cushman & Wakefield, says: "Pre-Olympics, government spending on infrastructure improvement certainly brought a positive boost to the city's economy, contributing to increased office demand."
But as pre-Olympic expectations disappeared, complicated by ongoing COVID-19 emergencies, Tokyo faces rising office vacancies and a swathe of development projects due in coming years. Some of these are likely to be reconfigured for other uses.
Tokyo's office market, one of the world's largest commercial markets and which claims to have the highest office rents in the world (Hong Kong has slipped to second place), is about to enter unfamliar territory. Potentially, Tokyo faces a massive oversupply of office space, with an unprecedented vacancy rate of 7% should all mooted projects be completed by 2025.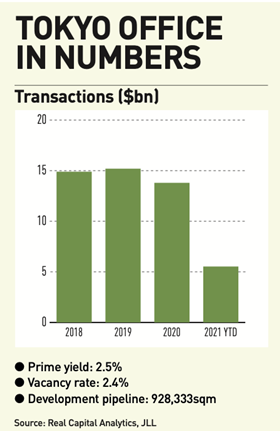 Yuto Ohigashi, director, research at JLL Japan, says there was a "healthy" absorption rate for grade-A office space in the central five wards of Tokyo before 2020. "We saw completion of 10 buildings, offering 662,000sqm of space, in 2020. Fortunately, all that space was taken up by the market," he says.
"Three buildings are due for completion this year, offering 166,000sqm. So far, 90% of one building has been leased. The remaining two buildings are having difficulty leasing space."
Ohigashi believes that with just 126,000sqm of new space scheduled to come on line in 2022, there will be a respite in the next year. But supply in 2023 will swell by 574,000sqm, overshadowed by 928,000sqm of planned construction due for completion in 2025.
"If this materialises, it will be the largest single-year supply in more than two decades," Ohigashi says. He expects developers to revisit their development plans over the next five years, with some projects converted to other use.
Cushman & Wakefield's Suzuki says office supply in 2021 and 2022 is much lower than the historical average, and that this will mitigate the COVID-19 impact.
But vacancies have risen steadily in the five central wards of Chiyoda-ku, Chuo-ku, Minato-ku, Shinjuku-ku and Shibuya-ku – to an average of 2.4% in the March 2021 quarter, says Ohigashi. "This vacancy rate may look low from outside Japan, but it is high to a city has been accustomed to low or even nil vacancy."
Kohei Kawai, Colliers' head of research for Japan, says the vacancy rate in Tokyo's five central wards has risen sharply from about 1.5% in 2019 and is likely going to hit 5% by the end of this year.
Cushman & Wakefield's latest vacancy index shows a rate of 5.31% in the first quarter of 2021 for grade-A, central-business-district (CBD) offices. This rate, near a seven-year high, is expected to go higher.
Not unexpectedly, rents started to fall from the final quarter of 2020. Average rents are down 6% in the 12 months to June this year, according to JLL Research. "Rents across the five central wards fell by more than 5% in the first half of 2021. On average, we expect rents to fall by 4% per year between now and 2025," says Kawai. "Rents in Tokyo rose significantly until 2019. In the second quarter of this year, rents in the central wards averaged US$1,124/sqm on an annualised net-effective basis, compared with US$1,000/sqm in Hong Kong and US$915/sqm in Singapore.
"Japan was in a recession last year, and that has driven a downturn in rents and an increase in vacancy rates. The Japanese economy has not recovered as rapidly as China coming into 2021."
Another important factor, Kawai says, has been the increasing adaptation to remote working, especially in Japan's technology sector. However, he points out that a forecast vacancy rate of 5% by the end of 2021 will still be far below Colliers' estimated aggregate vacancy rate of 13.6% for Asia-Pacific.
Tokyo's most immediate problem is dealing with the fallout from COVID-19 and successive 'emergencies' imposed by authorities to control COVID transmission. Suzuki says: "One large difference from the [2008 global financial crisis] is that, this time, corporates with good performance are also consolidating their offices – in addition to those corporates affected by COVID. This is because of low utilisation of existing offices; the flexible working environment, including the work-from-home option, is becoming permanent."
At Cushman & Wakefield, the number of remote-working days varies, because the situation is different market by market, he says. In Japan, the Tokyo metropolitan government is requesting a 70% working-from-home ratio.
According to the Tokyo metropolitan government, as of June, corporates in the city maintained a 63.6% ratio, while larger companies with over 300 employees and mid-size companies with 100-299 staff kept ratios of 88.8% and 68.5%, respectively.
"Smaller companies with 30-99 staff had only 53.6%," says Suzuki. "They tend to struggle with working-from-home adoption expenditure, and the nature of the work is also not that conducive to being done from home."
Cushman & Wakefield's Tokyo office maintains a higher occupancy ratio of more than 80% now, and, globally, the firm has implemented a 6ft office rule to ensure staff safety, with social distancing and hygiene in place.
Suzuki himself chooses to go to the office one to two days a week, depending on the nature of tasks and for better work amenities.
Ohigashi says: "It is difficult to understand what is going on in Tokyo. We have similar discussions with our clients and colleagues and we can't get a clear picture. We are likely to see more cancellation of space. So, definitely, we will have more vacancies in the next one or two years."
Laurent Jacquemin, head of Asia-Pacific at AXA IM Alts, says: "If you look at AXA in Japan, our office is located at Shirokane, slightly south of the CBD. We have consolidated from four buildings into one on the expectation that our employees will work one or two days from home each week. We expect 60% to 70% occupancy in our office."
He says: "Japan is a very interesting case study, because Japanese people like working in the office – which is a surprise, given many of them spend a lot of time commuting. You would expect people to be happy to work from home to avoid having to commute. Sometimes it takes up to three hours each day. Yet they seem happy to return to the office, especially given the limited space at home."
Jacquemin says that, six to nine months ago, Japanese corporations were suggesting they were unlikely to need as much office space as they did prior to the pandemic, as they implemented remote working. "But over the last three months, more companies have realised that there is a lot you cannot do online, such as fostering culture, training your younger generation and attracting young people to your company. You need physical offices to do that, not video conferences."
COVID-19, he says, has not changed the preference of large corporates. "They may want less space, but they still want to be in the CBD – Marunouchi, Otemachi and Ginza. The reason? It's a desirable environment. This is especially important if you want to attract young talent.
"For me, what is really important about office location is that you can train and onboard young talent. Young people choose companies with amenities that help them feel they are in an agreeable environment. They want to feel energised."
Some companies have cut back on head-office space and set up satellite offices in areas where many Japanese employees live, like Yokohama or Chiba. In corporate Japan, close management is a long-standing practice. Remote working creates complications for managers and, in Japan's hierarchical system, junior staff usually do not leave the office before their managers. "It is important to show your manager that you are working long hours," says Jacquemin.