Australia's harbour city is pinning hopes on a quick bounceback when it reopens in October, says Florence Chong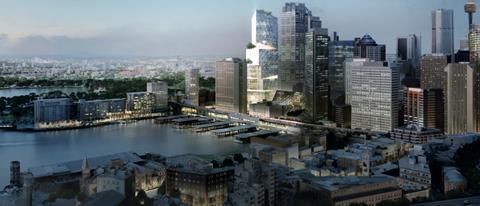 June 2021 brought a sense of despondency to Sydney as it entered its second – and longest – lockdown, having kept COVID at bay for almost a year. Three months on, the number of Delta variant cases continues to defy containment efforts. Office workers have been sent home, and retailers forced to revert to click-and-collect sales only. The city has again been sent into hibernation.
With each passing week, the chorus of frustration from business has mounted, echoing fears that Australia's zero-COVID strategy is creating a hermit economy – not just in Sydney but at a national level.
There are now plans to begin reopening in October and there is continuing optimism that business in Sydney will enjoy a rapid recovery after the lockdown, with glimmers of hope emerging from a surprisingly rapid uptake of COVID vaccinations.
Sydney central business district (CBD) has shown "remarkable resilience", says Kevin George, head of office at Dexus, Australia's largest office landlord. He sees the latest lockdown as "an interruption" that will not derail the recovery.
Dexus and other listed real estate investment trusts (REITs) in Australia recently reported their earnings for the 12 months ending 30 June and, without exception, they said office occupancy had held up well above 90%.
Carmel Hourigan, head of office at Charter Hall Group, one of the city's largest landlords, has no doubt that Sydney will bounce back. "Cities are fundamental to the growth of a nation's economy," she says. "The New South Wales government and Sydney City Council have been extremely supportive, with measures to bring people back to the city."
According to the Council, the city centre has been bleeding A$250m (€155m) a week in lost economic activity during the lockdown. Kylie O'Connor, head of real estate at AMP Capital, says: "In our view, Sydney will absolutely recover. We saw that across all asset classes after the lockdown last year. It did look pretty dire in the city, but then we went back to our offices and it bounced back more than expected. The retail numbers got back to pre-pandemic levels."
But, she says, "I do think we need to be realistic. There will a period of pain while we deal with this pandemic, and none of us know how long that will last. In the longer term, we and our investors have confidence that the CBD will regain its vitality."
According to O'Connor, the impact of the pandemic is being felt in the banking industry and legal professions, with most looking to reduce office space by 15-20% in the short term. But the overall impact is less than originally anticipated.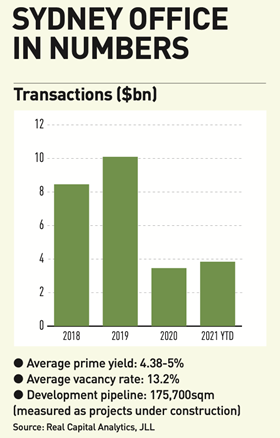 "It is a challenging situation for many tenants, and they still have to work out what they will need in space," she says. "They can't tell at this stage whether a 10% reduction in the number of employees coming to the office each day necessarily equates to a 10% reduction in the physical space they need. They don't want to make a long-term decision about their space requirements because they haven't worked out where the equilibrium is going to sit."
Vacancy in Sydney CBD by the end of August had risen to 13% – but it is still well short of the level reached in the early 1990s, when a combination of economic recession and oversupply pushed it to more than 30%.
However, statistics show a bifurcation of the city's office stock – with tenants moving away from older buildings which lack the health and safety features that are now a prerequisite. Other changes are also obvious, such as a shift from rigid long leases (of up to 10 years) to more flexible and shorter ones.
Andrew Borger, head of office portfolio at Charter Hall, says the focus is increasingly on ESG, flexible space, hubs and project-working space – areas that can be turned on or off. To accommodate this trend, lease terms are becoming more variable – differentiating core and flexible space. Generally, there is consensus that hybrid working is here to stay.
Hourigan says: "We have had a flexible working strategy in place for many years. It is the key to attracting top talent and improving diversity. For the majority of our employees, the office is the principal workplace. It is where we get together for collaboration." Hourigan shares the view of her peers that, with each new lockdown, the desire to work remotely decreases.
JLL has been tracking office worker preferences through a regular survey, which recently showed that employees want to spend more time in the office – the majority favour 3.5 days a week and 1.5 days at home. Andrew Ballantyne, head of research for Australia at JLL, says: "I don't think anyone would say the hybrid model is not real, or an evolution of what we are seeing at the moment. But I do think the office still serves as the workplace for an organisation to foster a culture, and to generate ideas across the workforce."
Michael Cook, group executive for property at Investa Property Group, says: "In my conversations with CEOs and CFOs, I sense their frustration. They want their staff to return to the office, but some are not prepared to mandate a return to the office for fear of losing staff.
He also says it is a fallacy to say that the office was 100% full before COVID-19. "We analysed four years of data of entire buildings, and found that the peak occupancy was 63% to 65%," he says. "The fact that occupancy levels in Sydney were getting back to 60% before the latest lockdown suggests that occupancy was rapidly getting back to normal."
Cook expects offices to be reconfigured to suit the new working environment – for instance, what used to be 'quiet rooms' are being converted into small (1.5m by 1.5m) single 'Zoom rooms'.
"If tenants want to go fully 'with social distancing', they will need to increase their space by 20-30%, but we aren't seeing this at all," he says. "There is definitely a flight to quality."
There will be a "step change" in hygiene, amenities and wellness features across the industry over the next 12 months, says Hourigan. Some are already on the journey; others will accelerate the shift.
The timing of the pandemic could have been a lot worse, had there been a high level of new supply coming onto the market, says O'Connor. Sydney CBD has no new supply coming online before 2024, when two North and South Towers under construction over the Martin Place train station will be completed
Two buildings are due for completion in coming months: AMP Capital's Quay Quarter and Lendlease's Salesforce Tower, both located at Circular Quay on the harbourfront. "We have pre-leased 85% of Quay Quarter," says O'Connor. "And there is strong demand for the remaining space."
O'Connor says the demand underscores AMP Capital's view that premium buildings will always retain their attractiveness to tenants. Tenants look for state-of-the art building technologies, she says.
AMP Capital is on track to redevelop its original headquarters at 33 Alfred Street, Circular Quay. "We are already getting a lot of enquiries about the project," says O'Connor. "It will be the first time that building will be offered to the market for lease."
Meanwhile, the sizeable amount of space offered for subleasing after last year's COVID lockdowns has largely disappeared. Ballantyne says some organisations have withdrawn space offered for subleasing. Several organisations have re-leased the space because it will be required as their employees come back to the office.
Nevertheless, the rental market remains soft. This is evidenced by the prevalence of incentives for tenants, ranging from contributions to capital expenditure, such as office fit-outs, to rent holidays. Base rents, however, have held steady.
Hourigan says it is equally important to look at the other part of the story: the confidence of the capital markets towards the office sector. "Charter Hall has transacted a total of A$2.8bn in office over the past year. Pricing has become more attractive when compared with other asset classes," Hourigan says. "We are seeing a pick-up in demand for office investment. The market is looking at the pricing, and can see that office remains attractive compared with other asset classes."
According to Real Capital Analytics, a total of A$4.5bn in office transactions took place in Sydney between the first quarter of 2020 and the second quarter of 2021.
Looking ahead, Hourigan says the road will be bumpy while Sydney residents vaccinate themselves out of the pandemic. "But investors can see a light at the end of the tunnel."