The city-state has led the way in controlling COVID-19 and its tightly contested office market is benefitting. Florence Chong reports
Singapore has become the first country in Asia-Pacific to move from rigid COVID-19 pandemic restrictions to softer endemic-control policy as it aims to return to normal.
Singapore kicked off its plan in August to live with the pandemic, beginning its journey to become a 'COVID-19 resilient' nation. With some 80% of residents now fully vaccinated, Singapore health authorities are focusing on the number of hospitalisations rather than daily infection rates. In a calibrated reopening of the city-state, quarantine-free travel lanes for vaccinated passengers going to and from Germany and Brunei were opened in September.
Wong Xian Yang, head of research at Cushman & Wakefield, Singapore, says: "The outlook is now a lot clearer. The latest announcements have removed most of the uncertainty."
Life is slowly returning to normal. Public transport is looking more crowded. Singapore's iconic hawker centres, which serve local delicacies, are open for dine-in groups of five who observe social distancing.
The work-from-home requirement ceased to be a default arrangement from August. Up to 50% of employees who are able to work from home will be allowed to return to the workplace. Companies will continue to operate split teams – on days when the team is rostered to be in the office, working from home will no longer be an option.
How long this arrangement will last is unclear. But during the first round of easing last year, the government moved from 50% of employees returning to the office to 75% within a couple of months. That could provide a guide to the next milestone, says Wong. "This does not necessarily mean it will be the case this time."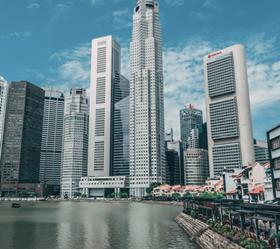 Drawing on last year's experience, Christine Li, head of research for Asia-Pacific at Knight Frank, says restrictions on returning to the office have been gradually eased in recent weeks because the government has a "higher tolerance" for office density. The office environment, she says, is typically considered low risk by the government.
Although confidence took a knock when Singapore went into a mini-lockdown in July, after a relatively COVID-free few months, investor sentiment remains robust. A measure of this is the rising value of office assets, which some attribute to "the stability premium" that Singapore offers.
Li says a total of S$5bn (€3.1bn) in investment occurred in the second quarter of 2021, representing a whopping 127% increase from the $2.2bn recorded during the same period last year. "The market is going for a record high this year – people do see Singapore as a safe haven for their capital," she says.
In August, a local family office paid a record price of S$4,050 per sqft for a floor in an office tower at 3 Church Street in downtown Singapore. This followed a sale in July when Suntec REIT sold six floors in two office towers for S$197m to the Silk Road Fund, a Chinese investor.
In April, PGIM Real Estate bought a 12-storey office building in Robinson Road for S$143m. Benett Theseira, head of Asia-Pacific at PGIM Real Estate, says this acquisition signalled the firm's "strong conviction" in the recovery of the Singapore office market.
The government did manage the pandemic and reopening of the economy well, he says. "With staff returning to the office and the strengthened position of Singapore as a leading regional financial and technological services hub, we expect to see continued growth in demand for office space in the CBD."
Danny Phuan, head of acquisitions for Asia-Pacific at Allianz Real Estate, says: "Our investments in Singapore office have outperformed expectations, despite COVID-19, and validating the resiliency of our portfolio where investments are aligned to secular mega trends."
Allianz Real Estate is one of the bigger international investors in Singapore's office space. As well as the S$634m it paid for 50% of OUE Bayfront in 2021, Allianz bought Duo Tower and Duo Galleries together with Gaw Capital in 2019 for S$1.6bn. In 2018, it secured a 20% stake in Ocean Financial Centre for S$537m.
"Our office assets in Singapore are performing very well," says Phuan. "Demand fundamentals continue to be strong, resulting in average occupancy levels of approximately 95%, with gradual positive rental reversions."
Notwithstanding turnovers, he says, the assets receive a lot of enquiries from companies in the technology and media sectors, and financial services for the vacated space. He adds that Singapore is attracting an increasing number of family offices, hedge funds and advanced manufacturing companies seeking space for regional offices.
As some firms relocate from Hong Kong, Phuan says there is some evidence of tech and media companies, new family offices and wealth management firms setting up their regional offices in Singapore – encouraged by a business-friendly environment, regional connectivity and, more recently, the excellent management of the COVID-19 crisis.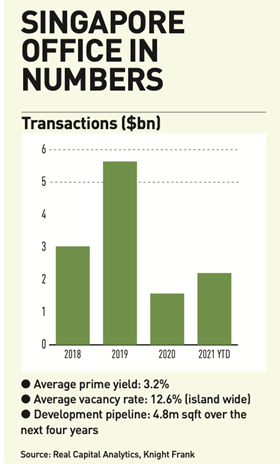 Singapore and Hong Kong are regional hubs – but that they serve different markets. Singapore is for entry into Southeast Asia, Hong Kong for China exposure. Li believes the pandemic will leave a legacy – and that office occupancy will not return to pre-pandemic levels. "This is the case in Shanghai, Hong Kong, Seoul, Tokyo and Singapore," she says. "Year to date, we saw office occupancy hovering around 23% below the pre-pandemic level, which is only a slight improvement from the 26% we saw in 2020."
In the Singapore context, where global firms make up 30% of office occupiers, most multinational corporations follow policies set by head office. Li says: "It is still too early for some tenants to know what they need. Some will likely reduce their footprint as the situation becomes clear. People are trying to work out what the new normal will look like. The situation, frankly, is still fluid, and we are not sure if things will get better from now on. Nobody expected another round of lockdowns between May and July. So some tenants could remain cautious for another six months or so."
Wong says grade-A net office absorption in the CBD in 2020 dropped to 94,000sqft, compared with 830,000sqft in 2019. So far this year, some 68,000sqft. has been taken up. "Average vacancy in the Singapore CBD is 4.6% – considerably better than 9.1% recorded during the GFC," he says. "It is, however, double the 2.3% figure of 2019."
Rents in Singapore CBD are tipped to increase by 2.1% this year, rising by 4.5% next year – and even this forecast is modest, according to Wong, who says rents have doubled in previous recoveries. Singapore does find itself in an enviable position, with some experts tipping it to be the only Asian city likely to experience strong rental growth into the next three years.
This is thanks to a tight supply of new office projects. In Singapore, the government controls all prime development sites. The last office site offered for tender was in Marina Bay, the city's financial hub, in 2016 when it fetched S$2.57bn. There has been no new land sale since, apart from Marina View, a residential site with a small component of office space, which sold this year. Demand outstrips supply for office in Marina Bay, itself an extension of the Raffles Place/Collier Quay CBD extension, which is built on reclaimed land.
The only office building to be completed in the second half of 2021 is CapitaLand's CapitaSpring in Market Street, which has 600,000sqft of space and is fully leased. Another larger project, Gucco Midtown in Bugis, is due to be completed next year. So far, just 10% of its space is under negotiation. The big new supply will come in late 2023, when Central Boulevard Towers comes on stream with 1.26m sqft.
Li expects a two-tier market to emerge, with tenants drawn to grade-A offices. "Our house view is that high-quality office buildings will recover faster," she says. "Office occupiers are concerned about quality, flexibility and wellbeing. Hence the premium-grade buildings will resonate with them when they are trying to future-proof their real estate portfolio."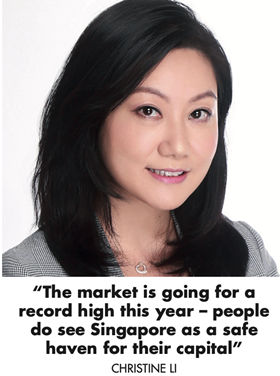 Li believes landlords with underperforming office assets will try to reposition them for mixed use, such as residential or hospitality. The Singapore government has put in place incentive schemes to encourage the conversion of older buildings in the CBD to mixed use.
These incentives have attracted groups like CDL, a leading Singapore development group, Perennial Real Estate and Alibaba, which owns a 50% stake in the 50-storey AXA Tower (bought on the understanding of redeveloping the building to increase its space by 20%).
Will the Singapore market be derailed by a new COVID variant? Wong reflects the thoughts of others when he says: "The key question is the efficacy of the current vaccines. If that efficacy is still high, and there is no overload in our hospitals, the current (reopening) policy is unlikely to be reversed."