China's largest city has its eyes on becoming Asia-Pacific's biggest office market. Florence Chong reports
In years to come, Shanghai will likely look back on the global pandemic as simply a blip in its journey to becoming Asia-Pacific's biggest office market. Tokyo currently wears that crown, but the pace of growth in Shanghai's office market continues to bridge the gap between North Asia's two largest cities.
Kevin Yuan, head of research for East China at Colliers, points out that, at the end of the first half of 2021, Shanghai's office stock stood at 10.2m sqm.
Andrew Haskins, head of Strategic Advisory Services for Asia at Colliers, says that, while total office stock in Shanghai is only about half of that spanning Tokyo's five central wards, it is well above the corresponding total net floor areas in Hong Kong (6.9m sqm), Sydney CBD (3.2m sqm) and Singapore CBD (2.5m sqm) at the end of the first half of 2021.
What sets Shanghai apart from these markets is the pace of its growth, says Haskins. In 2021 and 2022, total new supply should reach between 10% and 12% of the stock levels at the end of 2020. Although new supply is likely to slow significantly after 2022, Shanghai should have nearly caught up with Bangalore as Asia-Pacific's second-largest office market after Tokyo by 2025.
Some in the industry believe that, should Shanghai's growth continue over the coming decade, the prospect of the Chinese city asserting itself as the largest office market in this region is not unrealistic. Where once Shanghai's gleaning new office towers were mostly let to and occupied by global companies, that trend has reversed. Growth of Chinese enterprises is powering demand for office space. Domestic companies have recently been those signing large leases.
Chinese tech and financial services companies are driving the demand. China's tech sector is now a US$4trn (€3.4trn) industry, while asset management is another burgeoning area. Just as the technology sector will account for between 25% and 30% of new demand for Asia-Pacific leased office space over the next five years, the trend is similar in Shanghai, according to Colliers research.
But there is some uncertainty. The recent move by Beijing authorities to reign in companies like Didi and Alibaba's Ant Group may stall the spectacular growth. Informed observers say it is too soon to predict whether this will crimp demand for office space from the tech sector – and whether other new sectors might come to the fore.
Shanghai bounced back more quickly from COVID-19 than other cities in the world. Although the new and more infectious Delta variant is now sweeping through China – with some 48 Chinese cities battling to control outbreaks – Shanghai, at the time of writing, was holding its own, reporting just a handful of cases with life in China's biggest city continuing uninterrupted.
Office workers in Shanghai have mostly returned to their offices. For them, there is no debate about remote working. "As far as we can tell, and for most clients we talk to, workplace occupancy is up to 100%," says a Singapore-based investor. "That has been the case since late last year in China. We own three office buildings there, and each building has been open since May last year. All our offices are fully occupied."
Ada Choi, head of occupier research at CBRE, says: "China's strong economic recovery post-COVID is boosting office occupancy. Businesses have recovered, and some are even expanding."
Danny Phuan, head of acquisitions for Asia-Pacific and head of China at Allianz Real Estate, says: "China was first in, first out of the pandemic, experiencing strong recovery from its domestic economy especially fuelled by TMT [technology, media and entertainment and telecommunications] companies in China."
Allianz started investing in China's office and business park sector through co-investments with some of its existing partners. It has now progressed to investing directly, especially in business and technology parks, including Innov Star, a 61,5000sqm office building in Pudong's Zhangjiang High Tech Park.
Henry Chin, head of research for Asia-Pacific at CBRE, recalls that when China first re-opened last year, companies like tech giant Tencent arranged transport to bring workers back from their hometowns.
"Anecdotally, we have also heard of other companies in Shanghai offering free taxi rides and meals to encourage them to return to office," says Chin. "The incentives varied from firm to firm. As far as my colleagues in Shanghai are concerned, life is back to normal. They can meet clients without appointments, eat out or enjoy a drink with friends and colleagues, and even go to nightclubs. Any movement restrictions as a result of new infections are mostly confined to localised areas."
Choi says the exceptions in Shanghai are multinational corporations and global banks. They are not mandating a 100% return to the office, and their employees continue to have the option of working from home for part of the working week. Choi says there is a cultural dimension to the differences in approach.
In a society like China's, people value face time in the office where they can engage with each other. Another issue is technology. Some Chinese-owned firms are smaller and may not be able to offer employees the same level of access to technology to facilitate remote working, Choi says.
Shanghai should see new office supply of 1.54m sqm for 2021 on a gross floor area basis – 1.6 times the estimated net absorption of 980,000sqm. However, demand and supply should be more balanced over the next five years than was previously assumed.
Demand was weak in Shanghai in 2019 and 2020 for various reasons, including trade tension with the US. "Shanghai is now back in growth mode, with net absorption and rents set to continue on an upward momentum", says Yuan.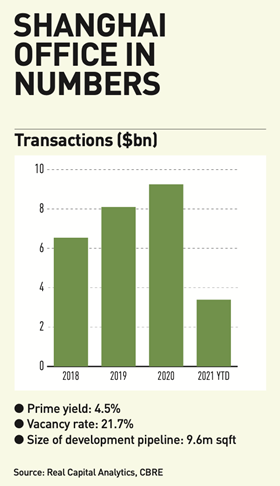 "After a slow-moving 2020, Shanghai's office leasing market has seen a strong recovery. Our view on supply outweighing demand turned out to be too cautious. This year, demand is recovering faster than anticipated, driven by the technology and healthcare sectors. In fact, net absorption in the first half of this year exceeded the full-year figures of 2019 and 2020."
Yuan says most of the new supply is coming into the decentralised business districts, where rents are lower, pulling down overall rents across Shanghai.
In its latest report, Knight Frank predicts more than 1.5m sqm of new office space to be added in the final three quarters of 2021, with over half of that space located in emerging business districts, such as Xuhui, Binjiang and Qiantan. Knight Frank says overall net office absorption in the first quarter reached 342,039sqm, of which the core CBDs recorded positive net absorption of 24,702sqm.
CBRE notes that two new office buildings in Shanghai, providing a total of 164,808sqm, were completed in the second quarter of 2021. Net absorption rose 35.5% quarter on quarter as new high-spec supply triggered numerous relocations and expansions. These accounted for around 60% of new leases signed in the second quarter.
CBRE says the overall vacancy rate in Shanghai fell to 17.8% as space was filled in the main business areas: New Bund CBD, Wujiaochang, Xuhui Riverside and Pudong Expo.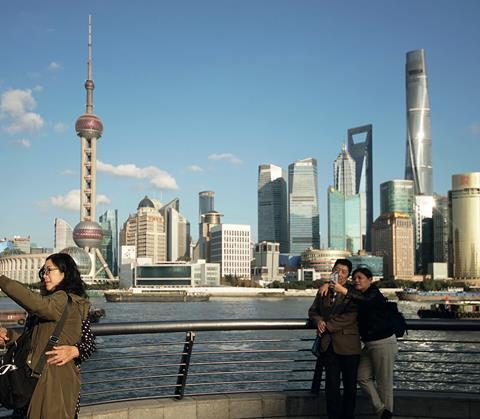 According to CBRE, strong demand growth ensured that the rental decline narrowed to just 0.1% in the second quarter. Landlords continue to offer incentives, some of which may be in the form of customised fit outs, to attract tenants.
Yuan says Shanghai CBD area rents still rose by 0.7% quarter on quarter in 2021, marking the first positive quarter-on-quarter rental growth since the third quarter of 2018.
Rents in Shanghai, however, still lag other Asian metropolises. At U$614 per sqm in the second quarter this year, average Shanghai office rents are behind Singapore, Hong Kong and Tokyo.
High vacancy and lower rents notwithstanding, the trajectory of China's growth remains a drawcard to investors. According to Knight Frank, four en-bloc transactions were recorded in office in the first quarter of this year, contributing more than RMB6bn to Shanghai's investment market. Securities institutions, foreign funds and domestic retailers were the major players in that quarter.
For the first half of 2021, there were 29 large transactions with a combined value of RMB45.9bn – a year-on-year increase of 16%, with office buildings making up 52% of the transactions, according to CBRE.
Based in recent sales trend, the industry is cautiously optimistic that Shanghai office is well on its way to recover from COVID-19.