Tech firms reserved vast amounts of office space to grow into before the pandemic. Now the city is sitting on a glut of subleased space. Vanessa Drucker reports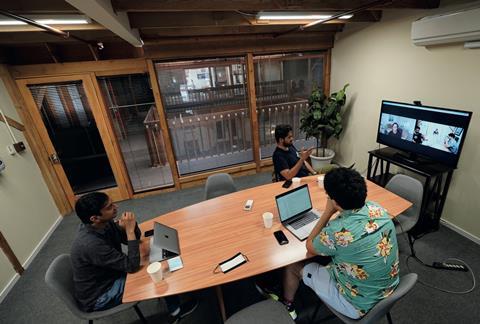 Until recently, many employers and workers announced they could work from anywhere. "Now they are changing their tune," says Merredith Treaster, regional head of Northwest office investments at Nuveen. In the early days of COVID-19, the novelty of working from home appealed to employees and productivity did not suffer greatly. "As a silver lining, you could even do a load of laundry," Treaster says. A year later, at Nuveen, she and her colleagues are now missing their former collaboration.
The tech giants were first to shut down in March 2020. Nuveen, which has two floors in San Francisco, shuttered a week later, and the city itself a week after that. "We were trying to protect the greater good and keep transmission on our watch to a minimum," Treaster recalls.
In San Francisco, it remains difficult to pinpoint when workers will physically return to their offices. "Companies will have to work out who shows up at what time and on which days," says Colin Yasukochi, CBRE's director of research and analysis for northern California.
Officially, San Francisco and the State of California reopened businesses on June 15 this year. As of mid-June, businesses no longer had to post distancing policies, offices could open at full capacity, vaccinated workers could shed their masks, and companies were allowed to set their own COVID-19 protocols. The influential technology industry has been accommodative about hybrid working and remote arrangements. Job numbers, including remote working, have been firm in Q2, with unemployment at 4.9% versus 11.9% a year ago, according to Cushman & Wakefield.
Vaccination rates in San Francisco have been high, with more than 73% of inhabitants fully vaccinated in early September. With the advent of the Delta variant, meanwhile, cases have also trended higher, with an average 165 new cases reported per day. Occupancy levels can be measured by office badge swipes, which have been scoring low by national standards, according to Kastle Systems.
Transportation is another key metric. Large tenants such as Facebook and Google have headquarters in Silicon Valley, with an employee base of commuters inside the city who use free shuttle buses. Early speculation that people would avoid public transport has not played out. Although traffic levels are up, surprisingly, "we've seen a preference for public transport maintained", reports Lee Menifee, head of Americas investment research at PGIM Real Estate.
Companies such as Hines are convinced the fundamentals remain strong and San Francisco's resilience will be proven. Even the pandemic has not altered many of the city's attractions: a source of intellectual capital, quality of life, access to outdoors, first-rate education and a regulated and constrained development market. Cam Falconer, Hines's deputy head of capital markets, says: "Without oversupply, new high-quality office buildings are highly coveted and don't trade hands often." San Francisco's voter-passed laws restrict office development. Falconer says: "Other Bay area municipalities have different rules and restrictions, although all are geographically constrained across the board."
Physical occupancy rates in San Francisco were faltering at about 20.1% at the end of Q2 2021 – for comparison, Dallas, which ranks high nationally, was at 50%. If activity does roar back after September, ushering in stronger leasing, net absorption would not actually turn around until 2022, as it typically requires two to four quarters between signing a lease and physical take up of space. "It will take a longer period of sustained demand, for supply to resume at more normal levels," Yasukochi warns.
The central issue is overhanging sublease space. It made up 45.4% of overall vacancy in Q2, marking the lowest ratio during the pandemic. There is now 9m sqft of subleased space available locally. More of that surplus space is in San Francisco than in Silicon Valley, where most of the biggest technology companies are headquartered. Those Silicon Valley large caps, such as social media and search companies, have seen their businesses improve, as the world became more reliant on their products. Thriving firms have not needed to cut back on temporarily unused space. In the city itself, though, ancillary businesses such as retail, hospitality, transportation and restaurants have been affected.
The glut of sublease space has been driven by fast-expanding technology firms that had reserved space with an expectation of growing into it. When COVID-19 struck, tenants who were locked into long-term leases flooded the market. "I've never seen anything like it," says David Bitner, vice-president and global head of capital markets insights at Cushman & Wakefield. "We need to see those occupiers take that space off. It's been the biggest driver of relative tightness and the recovery of rents, compared to every other market in the country."
Still, that space has been declining in recent months, as sub-landlords have reoccupied premises, or signed leases to new tenants. Treaster points out that it is a positive "green shoot" that larger tenants that had put office space on the market have already removed it. She reports that one major tenant cancelled its lease altogether and paid a substantial termination fee.
Office tours for prospective tenants have increased in number. At its trough, when activity was essentially halted, touring dropped as low as 95% of pre-pandemic levels. Recently, numbers have rebounded to a healthier 30%. Moreover, current touring encompasses various tenant categories beyond technology, and includes law firms, healthcare and some finance.
Menifee attributes the revival to two factors. First, while some tenants delayed or postponed decisions about their future space requirements, for many of them lease expirations are approaching. This group continues to delay by extending, until they can glean a better understanding of how the space will be used. Second, "a rare few are now looking to lock in", Menifee says.
As landlords and tenants procrastinate, rents for class-A buildings have not fallen as steeply as many expected. At the end of Q2 2021, class-A rents were down just 10.8% from the peak, while overall rents had only retreated 12.6%, according to Cushman & Wakefield. There is little visibility yet on when rents will bottom out.
Although landlords tend to prefer longer leases, it is not desirable to lock in leases at a low point. "Tenants' and owners' interests may be aligned in wanting shorter leases that don't require an upfront capital investment," Menifee says.
Yasukochi says: "In 2021, tenants can get shorter lease periods." They might have already built out the space, so may not need to spend so much capital to move into it. For example, if a sublease has just three years left to run, they may only want it for a shorter time.
Gregg Walker, head of business development at DivcoWest, says: "Before COVID-19, it was more of a landlord's market." His own company's tenants have been paying rent throughout the pandemic, but have yet to bring all employees back to work. Tenants today have more options than they did before COVID-19, and as a result can command better deals.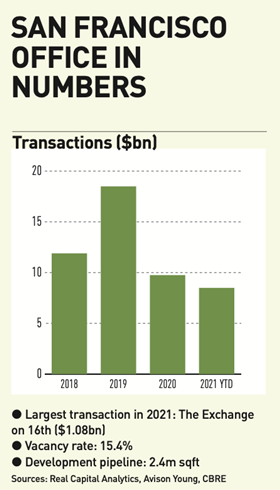 Walker cites some types of typical concessions: reduced rent, tenant improvement dollars and shorter leases. The larger deals are still more likely to be longer-term – say, eight to 12 years – because companies are making a significant investment. The shorter leases, which might have initially been for about five or seven years, are being reduced to three to five years.
The tenant roster is composed of a clutch of Bay area industries, ranging from technology and venture capital to life sciences, financial services, real estate, and legal. Technology leads the pack. The larger firms in the sector have enjoyed so much success since 2020, in terms of both revenues and hiring, that new hires make up much of what has been lost to remote work. Google, Apple, and Facebook all continue to invest in large headquarters designed to keep people close together.
Walker believes that, "if those companies return to working in-house, their example will lead a lot of others to utilise offices again as a place to collaborate and be more productive". Venture capital spending experienced a record year in 2020, with over $25bn (€21bn) concentrated in Silicon Valley and the Bay area, according to Pitchbook data. "Those numbers will be surpassed in 2021, and San Francisco is the number one beneficiary," says Walker.
Treaster, too, has been hearing anecdotally about tours in 5,000-15,000sqft spaces, from newer companies in early funding rounds.
Although law firms continue to take space, they are tending to downsize. However, with buildout so expensive, they are signing longer leases. A trend remains intact from the last cycle, of moving to a more egalitarian model from the big corner office. Firms are economising with smaller attorneys' offices, fewer big libraries and less administrative spaces. Yet they are not reducing headcount, so office space needs remain stable.
Financial services are also stable, and more likely to make employees return to the office. By a similar token, real estate brokerage firms are motivated to bring their workforces back, as a demonstration to other tenants that it is safe to return.
Another key submarket is life sciences, especially on the sales side. Occupiers on average use 40-60% as lab space, with the remainder allotted to offices. Other industries, like legal or human resources can adapt to work remotely, but scientists who are performing experiments must personally come in.
As offices evolve into more than places to work, they must meet a higher bar. That means becoming flexible, technology-enabled, amenitised, and collaborative. The Salesforce Tower, built by Hines and Boston Properties, exemplifies those traits. As the second-tallest building on the west coast, the landmark construction features 14ft ceilings and continuous glass to create a sense of daylight and openness, as well as the largest US onsite water-recycling system.
Tenants are seeking new product, state-of-the-art systems, outdoor decks and views, Wi-Fi-enabled balconies, smaller booths and meeting rooms. "They wanted those before, but coming out of the pandemic, the flight to quality matters more than ever. Employers want to bring employees back, after so many months, to a place that feels clean and light and new," Walker explains. COVID-19 has accelerated the trends from a design perspective, and employees appreciate having various work spaces, rather than sitting at their desks all day.
DivcoWest is following the pattern. Its 199 Fremont site features an outdoor poetry/sculpture garden, and a childcare centre. Twenty minutes from downtown San Francisco, the company acquired the Sand Hill campus to harness outdoor workspaces, with miles of trails, shade trees, and bike paths; the firm installed cafes and a beer garden and organises yoga classes.
There is a catch. Menifee points out: "Space requirements for employees have been declining for 30 years, and we see no reason for that to reverse." The amount of space per employee is shrinking, from 250sqft (or 200sqft for technology companies) to 150-175sqft. Less demand for office space is intersecting with modern wellness features. As for those employees who are anxious about physical proximity, some will not return.
The path towards investment sales will follow a predictable course. First, leasing will resume with rent flows. Then, the sublease space will likely be withdrawn, leading to stronger sales. Menifee is betting on stabilisation, rather than a bottom. "Office values have held up better than we expected," he says. "We don't know the pace of recovery or the timing but are comfortable that leasing activity can fill office space, albeit at pre-COVID levels."
As buyers and sellers tread water, lenders too have become cautious by asking for higher spreads for office loans. That said, for investors with at least a five-year horizon, the shape is positive. As a recent example, Hines announced its purchase of the San Francisco headquarters of PG&E for $800m in May. It is looking into the future through current volatility, with a long-term plan to own and operate.
Coming out of COVID-19, market bifurcation will become starker. Falconer predicts that the "next-generation, quality, well-located buildings will be the winners".