Many Parisians have returned to the workplace, but the outlook for the office sector varies across the city. Maha Khan Phillips reports
In July, more than a million people in France made vaccine appointments on one single day, after President Emmanuel Macron announced sweeping vaccine requirements. For employers in Paris, the vaccine push has strengthened calls to return to the office, and many employees are duly responding.
"In France, we see people coming back to the office," says Emilie Jaskula, head of asset management, France, for AXA IM Alts. "There are still some constraints linked to COVID, but the hope is that from September we will start to see pre-pandemic levels."
Many offices are already experiencing this. Alex Colpaert, head of offices research, EMEA, at JLL, says: "In Paris, following the strict lockdown, the re-entry speed was much more significant with, last summer, many offices back to pre-COVID capacity. Our agency business estimates that this is up to 75%, one of the highest levels in Europe, if not the highest."
But while occupancy levels might normalise in the city, it is not quite business as usual. Not all offices are created equal, and demand is concentrated on key assets.
"Paris is constrained by its number of historical buildings," says Jaskula. "The locations are desirable but rents and investment yields are high because there is such limited supply. But landlords are prepared to invest significant capex, because these areas can achieve high rents, so it is worth investing in their transformation."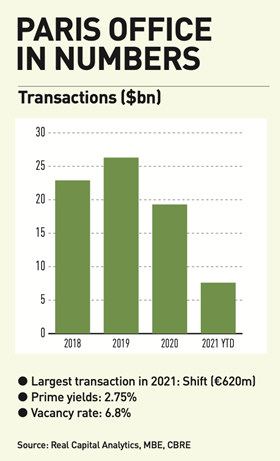 Marie Dormeuil, office analyst at Green Street, believes that grade-A stock will capture rental growth, while grade-B assets will struggle. "Most of the transactions we've seen in Paris have been targeting prime buildings, and the deals that have closed are those where the asking and bidding price meet – for example, on most prime assets," she says. "With regard to lower-quality buildings, sellers are fighting to limit the downside and bidders are trying to push for 'distressed' pricing. They haven't found the [common ground], which is why we haven't seen as much yet of the lower end of the grade-B investment market."
This could provide opportunities. "For developers and developments, there is real potential," says Dormeuil. "Buildings will need to be fit for purpose and opportunities to buy empty assets at discount to pre-COVID prices are likely to arise."
But competition for key assets remains fierce. Jaskula says: "We have development activity under way in core locations. We are bidding for opportunities, but competition is quite high. Near term, we will continue to be selective around our office investment strategies and will be more focused on asset classes like logistics and residential."
How quickly assets can be converted to become more fit for purpose in a post-pandemic world will be key. Virginie Wallut, director of real estate research and sustainable investment at La Française Real Estate Managers, points out that only 1% of office stock is renovated each year. This means that 75% of people work in buildings that are 25 years old or older. "What we saw in Paris was a compression of prime yield since the beginning of the crisis," she says. "There is a smaller number of assets being chased after by a higher number of investors, and in the prime market we forecast compression because investors are only looking for one type of asset."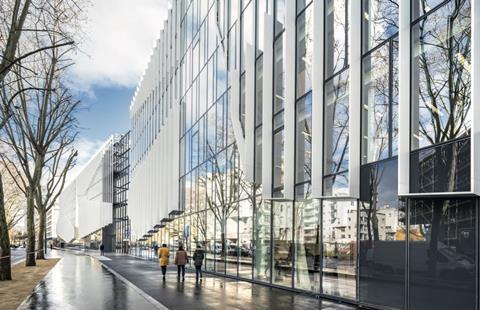 Wallut believes the sector is experiencing a structural shift. "About 30% of Paris offices is dedicated to collaborative work, and 70% is dedicated to individual work. In the future, this will be the other way around, but to implement collaborative work space in your office you will need a certain layout, and not all offices will be able to reconfigure their layouts."
Wallut wants to see more repurposing and retrofitting. "Instead of new construction, we need to make an effort to renovate existing stock. Working from home does not necessarily reduce the need for office space, because there is a need for collaborative spaces."
There are investment opportunities, but they vary across each Paris sub-market. Vacancy levels have now surpassed the 4m sqm threshold, according to CBRE. However, the firm highlights major geographic discrepancies between some sectors. The Western Crescent, Outer Rim, and parts of the Inner Rim have a contained or even falling vacancy rate. In Paris Centre West, the vacancy rate has been affected by renovated and refurbished buildings, but remains contained at 5%.
In contrast, the vacancy rate in La Défense remains high at 12.3%, according to CBRE, owing to an increase in completions during coming months. The Inner Rim North, where several new projects have been completed, also has a high vacancy rate of 13.1%.
Antoine Grignon, partner, co-head of capital markets and head of retail Paris, at Knight Frank, says: "The recovery is really happening sub-market by sub-market. Inner Paris, especially CBD, is doing very well. You have a lot of users who want to have locations in Paris, in places close to transport hubs which are easy to cycle to. That's why we are currently seeing record rents. Prime rents are still going up."
The short-term outlook for La Défense is less positive. "La Défense currently suffers from too much supply," says Jaskula. "Landlords could struggle for the next couple of years, but in the long run it's a strong location."
There has also been divergence in the size of deals being completed. Over the half year, figures from CBRE suggest that both smaller and larger units are proving the most sought after, with the middle constrained. Smaller units under 1,000sqm proved the most resilient, with a take up of more than 313,000sqm (12% down on the long-term average) over the period.
The medium unit segment of 10,000sqm to 5,000sqm made only a marginal recovery across all greater Paris Region sectors, excluding Paris Centre West and La Défense. Office take up totalled just 229,000sqm in the first half of the year, which was 28% lower than the 10-year average, in terms of the number of leases and volume, according to CBRE.
Large companies, however, are coming back to the market. In the first half of 2021, there were 23 transactions in the segment of 1,000sqm to 5,000sqm. CBRE says that large occupiers are selecting smaller, high-quality units that can be adapted to hybrid-working models and remote working.
Grignon says: "What we would say to investors is that there is very good momentum. The large corporates are looking for refurbished, new standard buildings and are ready to pay for them. Some users may need less space, but most will need more or less the same space, but in a different way."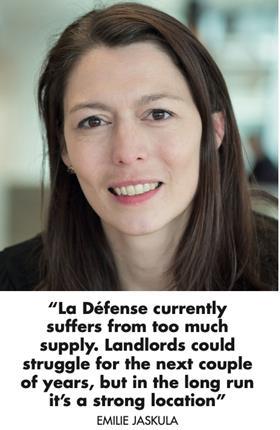 Investors seem to agree. France superseded other countries as the largest recipient of European office investment in the first quarter of 2021, attracting €3.6bn, as opposed to €2.9bn for Germany and €2bn for the UK, the second and third-largest markets for new investments, according to Knight Frank. The country was seen as a 'safe haven', even within Europe, and attracted the highest volume of intra-regional investment at €902m.
In France, Paris offices are expected to maintain a lead over Lyon, according to Capital Economics. The firm says that prior to the pandemic, Lyon's prime office rental growth had outpaced that of Paris since the 2008 global financial crisis, rising on average by 3.5% per annum, compared with the French capital's 2.3% per year. Last year, rents in Lyon declined 3%, while Paris rents rose by nearly 6%, as the hit from working from home affected Lyon more significantly. It expects the city's prime office rents to grow by a cumulative 6% over the next five years.
Capital Economics also highlights that Paris has a supportive supply pipeline. Only 10% of Île-de-France's confirmed supply pipeline is in central Paris, which should mean fewer vacancies than other cities. "Transaction volume was down but we are pretty confident that at the end of the year volumes will be more or less in line with what we saw last year, which is not that bad, because there was a stronger Q1 last year, and in Q2 and Q3 there were some deals that were secured before the beginning of the pandemic," says Grignon.
The outlook remains positive over the long term, according to industry participants. Jaskula says: "We have a lot of conviction for the long term, but in the short term it will be challenging as vacancy levels increase."