With the highest death rate in the world, the US office market has been hit hard by COVID-19. Razak Musah Baba reports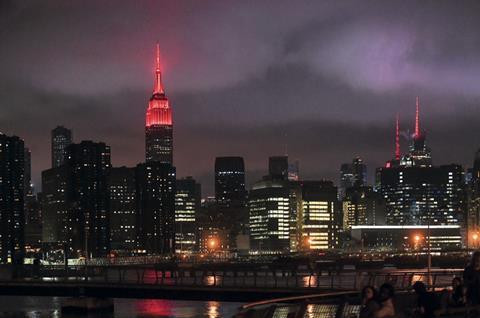 A recent slump in the US office transactions market is unsurprising as investors delay deals and wait for clarity on cap rates and values.
Real Capital Analytics' data shows that US office transaction volumes during the second quarter of the year only reached $11bn (€9.3bn), a 71% drop year on year, as a result of COVID-19.
The attitude among investors is "wait and see", says Jim Costello, senior vice-president at RCA. "But the challenge is for how long?" Even in Manhattan, arguably the biggest office investment market in the world, "there are anecdotal stories of tenants not renewing and there is a question about how much we'll be coming back", he says.
"If a vaccine that works is developed tomorrow, everybody can go back in a month, then maybe these concerns aren't such an issue," he says. But if it takes a long time, "we're going to start to see income challenged".
He adds: "And at that point, it becomes tricky because if income and vacancy start to fall off, then the lenders come into play." Banks might force defaults to protect themselves from further losses.
"So far, we haven't seen huge declines and prices on the order of say, 2009, because the lenders have not forced anything yet. Nobody wants to sell into a crisis if they can avoid it. And so it's sort of a wait and see and let's not do anything upset the boat at the moment."
Pam Boneham, managing director at Barings and head of US real estate capital strategies, says that everyone is watching occupier demand. "There is currently caution in the US market for new office investment, illustrated by the lack of transaction volume," she says.
"Per RCA and NCREIF, average cap rates on transactions have been pretty stable, but given the lack of volume – it's not enough information to rely on." As a result, discount rates and exit caps have been tough to estimate.
Barings did not acquire or sell any office assets in Q2. "There's a great deal of caution among office investors, ourselves included," Boneham says.
So what office investors are really focusing on is trying to answer the question, what will tenants' demand be for office space? Boneham says.
"In the short term, we're seeing investors evaluating their rental assumptions, their rent growth assumptions, static vacancy assumptions, and evaluating carefully the creditworthiness of the tenants, which all combined to influence valuation and pricing. But in the longer run, we have not seen a tremendous change in cap rates."
Boneham believes markets such as Atlanta, Denver, San Diego, San Jose, Austin and Charlotte will stand the test and remain robust, as they offer affordable homeownership, affordable cost of living, a well-educated workforce and population growth.
In the short term, dense urban cities such as New York, Boston, and San Francisco that are dependent on public transportation, high-rise offices and high-rise living are likely to be the most challenged, Boneham says. "These are the vibrant places that we love. In the long run, I'm not betting against them."
According to Spencer Levy, the chairman of Americas research and senior economic adviser for CBRE, there are two aspects to the state of the US real estate office: the fundamentals of physical occupancy and leasing, and the capital markets conditions.
On the first front, metropolitan areas such as New York, Chicago, San Francisco and Boston, that are both high density and dependent on mass transit, are suffering. But other markets that provide greater freedom to commute by car are faring better in terms of physical occupancy.
Levy says there is also a slowdown in leasing, as tenants look to short-term lease extensions. "So there's a lot of wait and see going on in the office market today," he says.
"And that brings me to the other part of it, which is capital markets, where we're not seeing any trade or seeing very few trades except for core assets, due in part to the uncertainty."
Levy believes that cap rates are not going to move as much as people think – because the cost of capital has not gone up significantly. "Because of the fundamental deterioration, we're going to see weaker underwriting assumptions for rent growth, we're going to see weaker underwriting assumptions for how long it takes to re-tenant a vacant space, we're going to see leases in the near term get a little bit shorter," he says. "So with all these factors, even if cap rates stay relatively stable, you're still going to see a drop in values."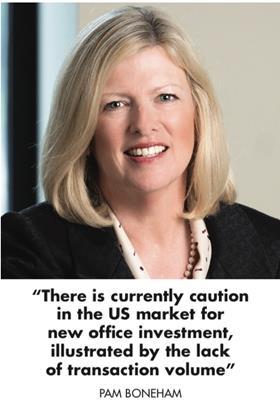 Levy is recommending that many of his clients buy offers today, in part because of the uncertainty which he believes has caused some capital-markets weakness and caused some pricing to weaken. "We haven't seen a lot of trades to prove that, but we believe that you will see some weakening pricing in the industry in the near term," he says.
"But over the long term, we're still very optimistic on major metro areas like New York, San Francisco, LA, Boston – all these great markets."
More remote working is going to be a massive change, but "I don't think it's going to be quite as great as many people believe", he says. "So I think the future of office is very bright, even in the face of some increased work from home, that we're certainly not denying the fact that, in the short term, there are going to be significant challenges, particularly in high-density major markets."
According to Michael Leggett and Jaime Fink, senior managing directors at JLL Americas capital markets, core assets have seen little to no impact on pricing, as the equity and debt markets remain strong for high-quality credit tenant assets with long-term weighted-average lease term in well-located areas.
The directors say pricing is more negatively affected for value-add assets as the equity and debt markets are underwriting the value-add assets more conservatively, given the uncertainty associated with current and near-term leasing activity.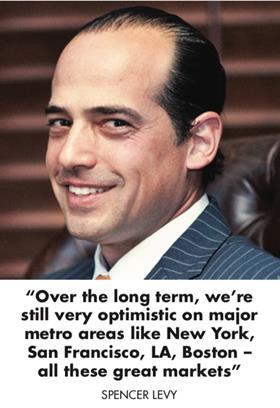 Pricing for value-add assets is generally down in the 5-15% range, they say. This uncertainty associated with value-add asset profiles has caused transaction volumes to be very thin, so price discovery is limited for value-add assets.
Jeff Eckert, the president of JLL's US agency leasing business, says investors are cautious, given uncertain underwriting of the office leasing market, but record-low interest rates will create a global search for yield that bolsters pricing for commercial real estate.
Investing in "core office assets with long-term leases to credit tenants that can ride out the current period of economic and leasing uncertainty" will hold up as a strategy, he says.