Offices no longer dominates global transactions, but they are still a first port of call for investors, writes Tom Leahy
In aggregate, offices are the number one choice for property investors worldwide. In the first nine months of 2019, close to $240bn (€217bn) was spent on office properties, $75bn more than was invested in second-placed apartments.
Commercial real estate investment is almost synonymous with the office market, but as a percentage of total market activity, the share of the office sector has been falling. It peaked at 46% in 2009 during the teeth of the global financial crisis and has since fallen to 36%. The corollary of this trend is increased interest in the apartment and industrial sectors, which have grown in response to changes in how people live and shop.
There is a marked difference in where offices sit in the investment hierarchy when one splits the market by geography. For example, in North America, the office market accounts for just 27% of all investment so far in 2019 and is placed second behind the apartment sector. Whereas in Asia, the office sector still accounts for more than half the money spent on income-producing CRE and, as a proportion of the total market, the sector has increased in recent years. Europe sits in the middle of the two, with the proportion of the market having remained stable at 42% in the past four years.
Some of this variation reflects the different maturity levels of the investment markets. In Asia – exluding Singapore, Japan and Hong Kong – the market is only now being institutionalised and offices are the first choice for international investors. For example, of the $30bn that has been spent by cross-border institutions on Chinese income-producing real estate in the past five years, $20.5bn went to offices. This has almost exclusively been targeted at Shanghai and Beijing, where there is greater liquidity and an international pool of occupiers.
The office sector can draw new capital to a market. There is – or at least perceived to be – less to do from an asset management perspective than in other sectors that require more specialist and/or intensive management. Looking at non-European buyers investing in the European market for the first time in 2019, close to 70% was spent on offices.
A good example of this trend was in central London after the June 2016 Brexit referendum, when some of the UK property funds were forced to divest assets to fund redemption requests. A whole group of private investors new to the market stepped into the space left by the institutional capital. Most of this was high-net-worth money coming out of Hong Kong – new to London, and relatively new to real estate. As such, some of the largest trophy office buildings in the City of London are now owned by very wealthy individuals who are not major global owners of commercial real estate.
It is difficult to imagine these same players purchasing less glamorous assets – multi-let industrial units, secondary retail, student housing – no matter their return expectations. This speaks to another advantage of the sector: large, trophy buildings are attractive to a wider pool of capital than most other parts of the commercial real estate market.
There has been a clear bias shown towards large office buildings during the cycle. In the 12 months to the end of Q3 2019, 88 office buildings priced at more than $500m traded; in the prior 12 months 75 $500m-plus office assets changed hands.
This trend, in part, reflects how prices have appreciated – in other words, there are more buildings valued at $500m than there were five of six years ago – but it does also speak to a clear preference. This can be seen in the transaction yield data in those markets where Real Capital Analytics can provide two cycles' worth of history. In both the UK and the US, the spread between offices trading at under $100m and offices trading at more than $250m has blown out to record levels. This is especially notable as it remained both static and relatively small during the years leading the crisis.
The preference for size is reflective of the polarisation that we have seen in most parts of the CRE industry but is having an outsized impact on the office and retail sectors. Competition for talent means that major office occupiers have increasingly clustered in the largest cites around the world and property investors have followed.
The strongest indication of this trend is how office prices in the central areas of the major global cities has significantly outperformed during the cycle. In Paris, for example, prices for the central city are 65% above the pre-crisis peak, whereas, for the wider Ile-de-France market, the comparable figure is 22%. The same pattern has played out in Sydney, San Francisco, Boston and host of other global cities.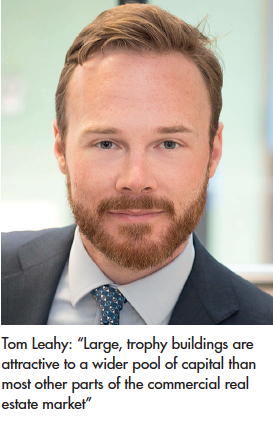 However, it does appear that the period of very strong price growth in the core markets is ending. RCA data show average transaction yields across the global markets have started to shift sideways after an extended period of compression. A trade-induced economic slowdown will no doubt have an impact on occupier markets and rental growth expectations, but a shift from the hawkish stance at the end of 2018 towards a looser monetary policy will at least act as a floor for office values in the short term.
There is a correlation between those markets that have outperformed in terms of price growth and those where cross-border players have accounted for a greater share of market activity. Indeed, the globalisation of the office market is a factor that has affected most gateway cities throughout the cycle. Last year, 337 separate entities spent more than $100m on office property outside their home country. In comparison, the figure in 2007 was 287.
Over time, the biggest pools of cross-border capital have been institutional investment managers – the likes of Blackstone, Brookfield, Allianz and Dekabank – and the sovereign wealth funds, primarily of Singapore, Qatar and Norway. This has changed in the past two years, though, with the emergence of a greater number of South Korean investors – both National Pension Service and Hana Financial have spent more than $2bn on offices outside South Korea this year, while seven other Korean investors have spent more than $1bn.
The globalisation of the sector means some office markets have become more and more dependent on overseas money. For example, in central London since the start of 2017, 18% of all capital invested in offices has come from continental European players and 62% from global (non-European) investors. This can be beneficial, as was shown during the post-Brexit period and the financial crisis. However, when these buyers either move on or are stopped from spending overseas (see China) then it can leave the market looking vulnerable to a correction. We saw this more recently in central London, where average office pricing has dropped off as the market has thinned out and fewer Asian buyers have been active at the prime end.
One of the consequences of the Brexit-induced slowdown and a relatively sluggish year in New York is that Paris is the world's biggest office market in 2019, attracting $15.5bn. Investment from non-European money is at a record high; and, for the first time since 2007, more money has come from overseas than from France.
Much of the increase is because South Korean capital flows have diverted from London. However, the infrastructure improvements of the Grand Paris plan have also had a positive effect on the parts of the market that will benefit from better connectivity. This has boosted forward acquisitions as investors look to profit from positive rental growth, to the extent that the price per unit for forward acquisitions is more than has been paid for new and recently refurbished assets.
The outperformance of the major metros and the very high pricing in general means investors have moved into secondary markets in search of greater value. The top 10 metros have accounted for 42% of all office investment so far this year, which is down from 47% five years ago. The change might not be enormous but is does indicate a shift.
Markets like Dublin, Nashville, Australia's Gold Coast, Portland and Budapest all have office liquidity scores (as recorded by the RCA Capital Liquidity Scores) well above their long-term average, which tells us they have become a target for institutional capital. Analysis of the liquidity scores shows that by moving into less liquid markets, investors can expect a premium on the yield for the extra risk they take on. Over the long term this equates to a premium of about 50bps for every 10 points off the liquidity score.
Of course, by spreading the net in search of value, investors are taking on more liquidity risk and while it can be easy to enter a market, the exit can be more difficult. Those markets which are furthest ahead of their mean would appear to present a greater exit risk than those which have less far to fall in the case of a downturn.
The office sector is not without its challenges. Some see a variety of structural headwinds, whether that is increased rates of obsolescence, lower desk space usage per capita, or a shift towards the sharing economy and the space-as-a-service model, which is rocking the traditional landlord-tenant model. WeWork's travails are well documented, but there is little doubt that the move towards flexibility in all its guises is the future.
In Europe more than $4.5bn of offices with a coworking tenant changed hands in 2019, on top of $4.2bn in 2018. For owners in the major metros, the challenge is how to balance portfolios between investor requirements for secure income and tenant desires for greater flexibility. This has the potential to affect the deployment of capex, which again speaks to the issue of obsolescence and how owners can future proof their buildings against changing workplace trends.
Many of the world's largest office markets are showing waning growth, with London down on the year and latest quarter, and New York, Seoul and Tokyo slowing or flat year to date. However, most are still recording growth in price per unit as the shortage of stock, a lack of forced disposals and plentiful capital means any assets coming to market are attracting good sale prices.
Tom Leahy is senior director of EMEA analytics at Real Capital Analytics