Despite WeWork's recent fall from grace, flexible offices are no fad. Christopher O'Dea reports on an office sector that has been changed for good
For several years, the coworking revolution injected some excitement and positivity into what had traditionally been a fairly staid industry. It also helped boost the fundamentals of major office markets. But the story turned negative this year when the revolution's poster child, WeWork, was forced to pull its IPO and the business model and governance came under growing criticism.
While the WeWork saga is still unfolding, and the disposition of the space it has leased around the world remains uncertain despite WeWork's majority shareholder, SoftBank, taking control of the company, what is clear is that the space-utilisation model on which WeWork aimed to build its global empire is alive and well.
In fact, investors and researchers predict that the square footage allocated to flexible or coworking use will grow to about 10-20% of total leased space by 2030, compared with about 2% today. Those projections even allow for a slowdown in the growth of flexible space that is expected to result from the need to absorb WeWork space in some markets and a dip in the fundamental growth rate of office space.
"I would say coworking has been the fastest growing segment within office demand over the past five years, and it caught many office landlords by surprise," says Tim Wang, managing director and head of research at Clarion Partners. The acceptance of coworking "is a complete revolution in the office asset management space. To some degree, it's a convergence between office and hospitality".
The practice of leasing a limited square footage within an office building to short-term tenants seeking work-ready space was considered a niche offering even a few years ago. Flexible space was a term to describe large rooms of cramped desks leased to anyone with a laptop and dreams of creating the next Facebook. But as digital technology has seeped through more traditional sectors of the economy, companies have begun to use flexible space to accommodate personnel for a wide range of provisional purposes, such as researching or launching new products, without needing to take on costly long-term leases before new ventures have proven their value. That makes more capital available for organic growth investments, compensation or acquisitions.
The flex model, in its various iterations, has proven its value to emerging and established companies, to the extent that CBRE believes the market for flexible space in the US will grow significantly over the next decade, even in the event of a recession. CBRE's baseline forecast calls for flexible office space to expand to about 13% of office space by 2030 – up from just 1.8% in 40 US markets now – and even in a slow-growth scenario, CBRE projects flexible space will account for 6.5% of the office market by 2030.
In New York City alone, the amount of flexible space in Manhattan tripled over the past five years, making it the largest such market in terms of square footage in the US. In terms of market penetration, the 3.6% share of New York City office space taken up by flexible space is far ahead of the 1.8% national average, and trails only San Francisco, where 4% of space is under flex terms.
Stay tuned for the mass commoditisation of office-space leasing. The world's largest service office provider, IWG, has began offering its Regus and Spaces brands as a franchise opportunity in the Hong Kong market. Franchise holders will have the right to develop specific locations, tapping into the IWG brand, infrastructure and marketing and sales platforms – the franchise programme has been adopted in the UK and Europe, and IWG sees the method as a way to expand into new areas faster than traditional growth approaches.
Earlier this year, IWG sold a master franchise for its Japan business to Tokyo-based conference room provider TKP Corporation for £320m (€371m). While the deal differed from the model being tried in Hong Kong – IWG sold 100% of the equity in the company that operates its current locations in Japan, along with exclusive rights to use IWG's Regus, Spaces and OpenOffice brands in the country – it demonstrates an appetite for flexible, serviced offices in some of the world's highest-density markets.
In short, the use of flexible space has become a prominent, and increasingly permanent, part of the property toolkit for building owners and corporate occupiers alike. According to Avison Young's 2019 Mid-Year Global Office Market Report, the coworking boom is "continuing to broaden its reach across major markets, forcing traditional landlords to adapt their offering in order to best accommodate existing and potential occupiers".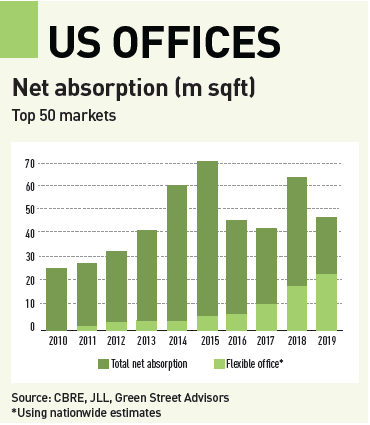 While appealing to freelancers and start-ups, corporate occupiers with proven, usually stronger credit ratings, are becoming a regular component of the flex-space market. Traditional agreements between landlords and flex-space operators are being augmented by a range of occupancy models that change the risk-reward balance for both parties to a transaction. Some landlords are offering flexible space under their own brands, rather than subcontracting the flex allocation to an outside entity. Investors and lenders are working through the valuation and credit implications, and some general metrics are beginning to emerge.
Still, the current crop of flexible-space arrangements has not yet faced the ultimate test of a recession. WeWork's aggressive expansion has resulted in the company having a relatively large share of flexible space in some markets, raising concerns that a drop in revenue from short-term tenants able to end leases quickly during a recession could leave the company unable to make the payments owed to building owners under its own long-term sublease agreements. Such concerns are weighing on the market as global economic activity slows, but are offset by the reality that occupier demand for flexible space marks a structural shift in the office property market that will survive a recession.
"We have been cautious about letting too much of our space out to serviced offices," says Eric Adler, CEO of PGIM Real Estate. "We have WeWork in some of our buildings, like everybody else, but we have managed to keep it to a minimum, because the serviced-office business hasn't really fixed its short-term-assets/long-term-liabilities problem. When these markets turn, small start-ups that get hit hard in a downturn will be wanting to get out of the space."
Because coworking space is literally the new kid on the block, there is relatively little data about how the operating costs and lease rates net out to affect investment returns. "We don't have a lot of data," says Wang, "but in the short term, coworking providers definitely filled up some available space, and that was positive for the market."
According to Green Street, flexible-office space represents a small percentage of office stock nationally (about 2%), but flexible-office growth has accounted for 25-30% of net absorption in recent years, which has "buoyed otherwise unimpressive office fundamentals". WeWork's failed IPO "points to a rationalisation period in the short term" and a "slowdown in activity from flex-office operators is likely, which is a short-term negative for fundamentals.
Gateway office markets are generally the most exposed to this slowdown, although stronger markets such as San Francisco will feel less impact than weaker ones, such as Washington DC. Green Street has cut its five-year fundamental growth forecasts "to account for a flex slowdown".
The main drawback for building owners in dealing with coworking operators is that the credit quality and short-term leases of the underlying tenants – often freelancers, start-ups or smaller businesses – can be several notches below that of larger, more established corporations.
"If you are leasing to a non-credit tenant, in theory, an investor will require a higher initial yield to justify the investment," says Wang. Although the property cycle is in its later phase, it is too soon to tell how coworking will affect buildings values and investment returns. "It's too early to judge whether adding coworking to your building, or buying a coworking-occupied building, is a better or worse investment," says Wang.
While the effect of a recession on the flexible-space market remains to be seen, there is no doubt that coworking has caught on in response to emerging tenant demand, which is here to stay. That is reflected in the increased demand for lease terms shorter than five to eight years, says Wang, who notes that the average coworking lease is about 17 months. The need for shorter leases on space with more amenities and services than traditional office space reflects several changes in the economy.
The foremost change is that "technology disruption is impacting every industry", Wang says. That has reduced the confidence of business leaders to sustain results, while the ability of companies to forecast future workforce needs has reduced the need for longer-term leases. "When your visibility suddenly compresses, the last thing you want to do as a business leader is to sign a long-term lease," says Wang. "You want a turnkey solution that offers space you can move into right away and maintain some flexibility."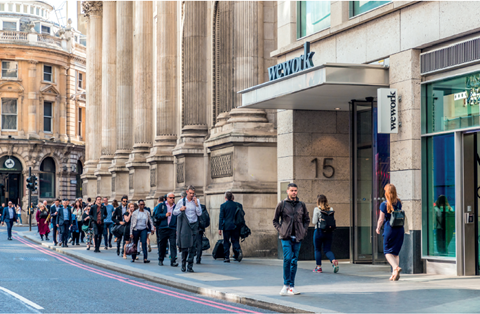 The second factor is the pace of change. "So many technologies come to grow very fast and companies need a relief valve – a swing space for their emerging workforce needs," says Wang. "If a company is pursuing an opportunity, they want to lease space right now, and coworking space is ready. You don't have to wait for completion of the build-out." The last factor is the growing importance of the gig economy, in which small businesses, start-ups and freelancers lease a desk or two at a coworking location.
But it is not available space only that attracts tenants to lease coworking locations. Coworking space combines the practicalities of traditional offices with amenities and services that were previously offered by hospitality operators. "It's a convergence between office and hospitality," says Wang. In addition to shared conference rooms, WiFi/tech support, refreshments and happy hours, "if you want a baseball ticket, they can order that for you".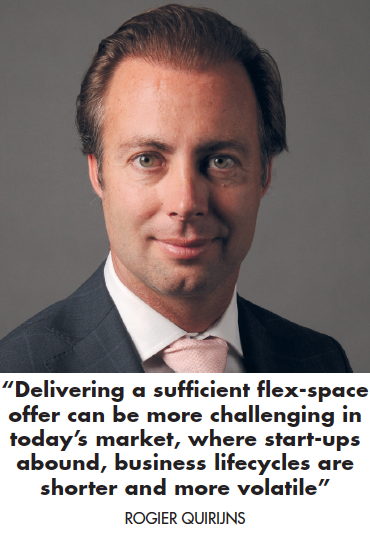 Co-working space is being created under a variety of lease models, Wang says. Some coworking operators will become tenants of an office building, leasing anywhere from a few floors to an entire property. What matters most is location. "I have to give the coworking companies credit," says Wang, "they are generally very good at picking locations, and if they really want to operate in a certain location, coworking providers will work hard to find the space." A large office building in a desirable location can lease 20% of it space to a coworking tenant – a proportion which has become standard for the maximum amount of space that lenders will allow within a building without negatively affecting its market value.
The current focus on flexible space is in large part a sign that building owners are playing catch-up. "Generally speaking, I believe most landlords reacted a bit late to changes in supply and demand for flexible office leases," say Rogier Quirijns, manager of the European Real Estate fund at Cohen & Steers. "It's similar to the way most of the companies in retail have been reacting late to the internet and e-commerce. Flexible office space is, of course, nothing new, but this cycle the technological revolution has brought much more attention to the format, and WeWork has given it a bit more of a cool factor. I call it flexible office, part two."
As an investor, Quirijns says he "wants to be sure that every real estate company or REIT takes flexible offices very seriously, and probably has its own brand or has its own strategy [traditional landlords take on the disrupters]. They should be doing whatever they can to make sure that they have sufficient flex-space offer in their portfolio".
Delivering sufficient flexible space can be more challenging in today's market where start-ups abound, business lifecycles are shorter and more volatile, and the competition to attract tenants with the latest bundle of popular amenities is intensifying.
"In my view, the difference between 'flexible offices parts two and one' is probably that we now have buildings that are flexible," Quirijns says. A company can start out within the ground floor, he says, in a space that offers flexible-office space with some coffee and with some bars in the building where millennials want to work. "But as soon as some of those companies get serious, they want to expand," Quirijns says. The emerging company might go to floor two, which is less flexible, and subsequently to a third floor that might be more traditional configuration than a flexible space.
"It's important to understand your customer and grow along with them, to offer your customer what they really want," he says. While there is no single optimal model, Quirijns says he doubts that offering 100% flexible space is the right way to go. Property companies and landlords "have to start with a flexible building and then offer flexible offices and amenities so the building itself will grow in its location," he says.
What is clear is that flexible space has won a lasting share of the office market. "We agree with the view that the broader concept of flexible-office space is here to stay, for a number of reasons," says Frances Spence, director of research, strategy and risk at Mayfair Capital. To start, the workforce in most developed countries is "increasingly mobile", she says, and there is now an "understanding that different environments provide optimum conditions for different tasks", which supports a wider variety of office configurations.
And while the growing number of freelancers has helped drive the creation of single-desk coworking, Spence says a more robust secular trend is that "larger corporations are using flexible space to respond to the needs of their own dynamic workforce".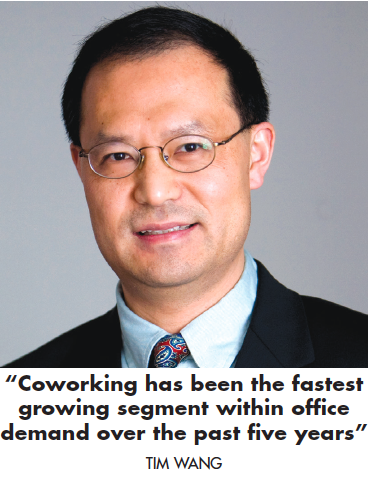 While demand for flexible space will "ebb and flow through the cycle like everything does", says Spence, she believes "there have been some fundamental changes in how the office market functions and how landlords have to manage their office assets". WeWork was the most well-known catalyst for change, "but now there are so many other operators it's a trend that we see will continue to run".
For investors, the growth of flexible space carries implications for underwriting development and investment decisions, as well as in terms of asset management. Several features of the flex-space market "make it harder for investors to underwrite", she says. Flexible space within a building makes it more difficult to determine actual vacancy rates, "meaning it's going to be more difficult to understand a building's supply and rental growth dynamic". That can complicate projections about the level of vacancy likely to trigger rental-rate increases, for example. "If we don't have a true picture of supply, we may be underestimating the vacancy rate, and therefore might be wrong about rental-growth assumptions," Spence says.
Longer term, the competitive battle in the office-space sector will be fought on new terrain. Across the board, "occupiers are increasingly demanding the type of amenities and managed space that flex providers offer, and traditional landlords are going to have to compete," she says. "It's going to be the provision of services that will make one building stand out from others and enable landlords to attract tenants."