Buildings need to get smarter and EDGE Technologies is one of the companies making that happen. Christopher O'Dea talks to Boudewijn Ruitenburg and Erik Ubels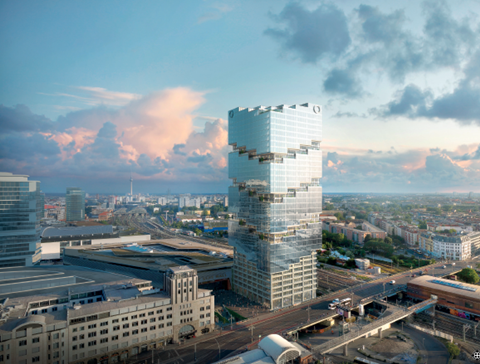 Today, there is probably more technology in your pocket than in the entire building you work in. "A few years ago, we learned that an iPhone was much smarter than a building," says Boudewijn Ruitenburg, chief operating officer of Amsterdam-based office developer EDGE Technologies, which uses technology to manage and operate buildings efficiently. "There was more technology in a phone than in a big, complete office building. Once we realised that, we started to make buildings smarter."
Over recent years the team at EDGE has helped create the 'smart office' category by transforming the way technology is used in office building design, construction and operation. Instead of adding digital controls to existing systems, or grafting operational technologies onto traditional structures, EDGE integrates four pillars – wellbeing, sustainability, design and technology – to create workplaces that reduce greenhouse gas emissions and material waste, while providing space that enhances employee health and engagement.
The company built the first energy-neutral office building, Las Palmas, in Rotterdam in 2007. The gamechanger was The Edge, which opened in 2014 and quickly garnered awards as the most sustainable, smartest office building in the world. This year brought a new generation, EDGE Olympic, the first Dutch project to be certified WELL Core and Shell Platinum – the building includes the company's headquarters, which secured a world-first WELL V2 Platinum, a rating system that focuses exclusively on the impacts of buildings on human health and wellness.
What makes EDGE properties smart is a state-of-the-art technology platform that connects everything and everyone in the building. Thousands of sensors embedded in digital ceilings act as the eyes and the ears of the building, making sure lighting, air quality, noise and temperature are constantly optimised. Using state of the art sustainability technology, EDGE keeps buildings energy neutral, and continual upgrades of the technology lengthen the building's lifespan.
The smart buildings provide a new frame of reference. "Investors have now had opportunities to see what a smart, sustainable building is and what it looks like," Ruitenburg says. "They realise it's no longer bricks and mortar – it's actually a computer with a roof. That is a big change because investors look for investments in property as a stable, safe asset category, but if you start investing, even in a rock-solid location, in a smart building, you also have to think of how to maintain and how to take care of that computer with a roof."
That has required the EDGE team to explain the new paradigm to institutional investors considering whether to allocate capital to develop or own such an asset. "In the beginning, many were really afraid of what they would need to do to with the computer, because computers need updates and specific knowledge to operate," says Ruitenburg.
EDGE has adapted a solution from the tech world to address investors' concerns, and set up a smart product that offers space as a service. To date, says Ruitenburg, developers delivered a building then went on to their next project. "That business model has completely changed, and for a lot of smart products in this world, such as aeroplanes or cars, you need to provide ongoing service," says Ruitenburg.
"That's completely new in our industry. I think we are among the first developers that have an entity in place to provide the product with updates and specific maintenance," he explains. "In this case, our product is a building on a good location that provides cash flow for the investors."
Now that EDGE has sold €2.5bn of its smart buildings and established the ongoing support service, investors have a framework for due diligence evaluation of structures designed around an embedded technology control system. "That proof was important because investors tend to be risk-averse when it comes to the implementation of new technology," says Ruitenburg. "They don't want to end up with a complex product that they cannot operate and maintain over its lifecycle, when the aim is to have a first-class investment that will be up to date for the next 20 to 30 years."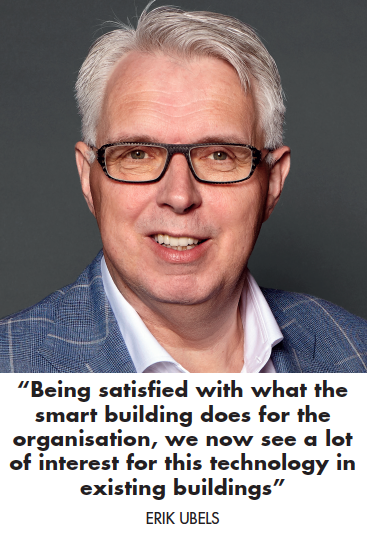 Even as they worked through how to integrate ongoing tech upgrades into property due diligence, many investors questioned why they should buy smart buildings at all. The answer, says Ruitenburg, is simple for investors to grasp: costs. "A conventional building is always either cooling or heating, its switched on from early in the morning to late in the evening, consuming a lot of energy at full capacity," says Ruitenburg. "A smart building is only working where people are located. It's adaptive to use and that in itself saves a lot of energy. When we explain that, everybody gets it. Smart buildings will have a future."
Investors who get it are allocating capital to EDGE projects. This year Allianz Real Estate acquired EDGE East Side Berlin, a smart office development in the Mediaspree district of Berlin in a joint venture involving German pension fund Bayerische Versorgungskammer (BVK). The fund will take a 50% stake in the EDGE Berlin project, investing through Universal-Investment.
The €67.1bn Allianz Real Estate has clearly developed a taste for smart office property – last summer it acquired the EDGE HafenCity Hamburg development from EDGE Technologies for an undisclosed sum acting on behalf of several Allianz companies. At the time, Annette Kroeger, CEO of Allianz Real Estate North & Central Europe, said: "We place huge importance on developing assets with tenant use in mind. The venture with EDGE will offer a differentiated, value-adding working environment, which has become key in securing long-term tenancies."
Having demonstrated the benefits of newly built, smart-office technology, EDGE finds that investors and occupiers want to adopt the technology. "Being satisfied with what the smart building does for the organisation, we now see a lot of interest for this technology in existing buildings," says Erik Ubels, chief technology officer at EDGE.
The main focus is to reduce energy costs. Other priorities include improving air quality and optimising the cost and effectiveness of cleaning services. There are some limitations; it is often not possible to enable individual control of heating and lights, which require specific infrastructure, in older buildings. Smart retrofits are getting a boost from occupiers' desire to reduce their CO2 footprints and occupy environmentally friendly space as part of efforts to attract top talent – this is in turn incentivising building owners to reduce total energy usage, even under leases where energy costs are passed along to tenants.
Even cleaning companies are involved. Cleaning contracts now offer bonuses for reducing the use of harmful chemicals. "There is a huge shift taking place," says Ubels. "They have different reasons, but all stakeholders in the office space ecosystem want smart buildings."
Optimising the operation of a building requires sensors to monitor temperature, humidity, light, air particles and other factors. The traditional approach has been to apply sensors in each area, piece of machinery or existing utility meters, which creates major installation challenges and a digital nightmare when integrating all the information into a practical programme.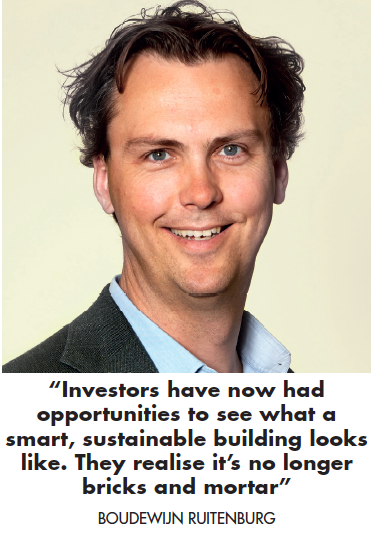 By working with a handful of sensor technology providers, "we take that out of the equation, and make it easy to deploy a solution without being intrusive and having to open up the building for installation," says Ubels.
"Instead of the building owner doing system integration with all these different parties, we do the system integration with our software platform, and they get operating and compliance reporting from that platform," he adds.
EDGE recently completed a smart retrofit – involving 15,000 sensors – on the Unilever North America headquarters building in New Jersey's iconic corporate office market, earning LEED Platinum certification and recognition as the Commercial LEED Project of the Year by the New Jersey chapter of the US Green Building Council. Plans for the new corporate headquarters were hatched in 2014 as part of the Unilever Sustainable Living Plan, which calls for the consumer goods company to reduce its carbon footprint by 50%, while doubling its business.
The project, completed in 2018, connected four separate office buildings on a traditional campus into a state-of-the-art workplace. Edge has also secured a project in Boston. The common motivation, Ubels says, is "to make good on pledges to reduce CO2 emissions and energy usage, and to be a more attractive employer in the war for talent".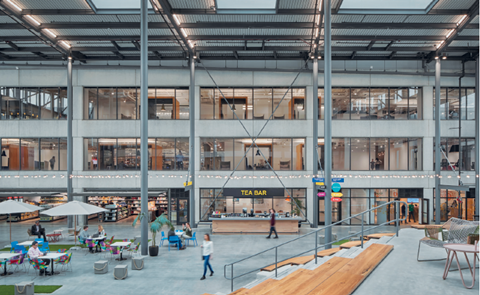 Having solved system-integration issues of new technologies, EDGE is now working to promote adoption of smart technology in the construction of new building.
"We need a common language in the industry," says Ruitenburg. "We would love to do hundreds of buildings at the same time, but right now the building industry creates one-offs. For every product, we form new design teams with local specialists, and they do not standardise – it's not only the smart elements that we should standardise, but the rest, because that will save a lot of design time before we start construction."
The last barrier to buildings becoming smarter is one of economic incentive. "It's not in the interests of all advisers to standardise, because they prefer to create new things, and some would lose a lot of business turnover," Ruitenburg laments. "We, as a developer, I think, could change that. That way of working is foreign to us, because we are interchanging and standardising vendors, and we could compress all of them. It's a long way to go, but that's our focus."