Health and wellbeing in offices is now critical if they are to function. But don't expect this to change if the pandemic does come to an end. Maha Khan Phillips reports
Imagine that it is a busy day at work. You jump on your bicycle to avoid your local transport network. Outside the office, you park your bike in one of the many bike stands, and wait for facial recognition technology to identify you and swing the entryway open.
Once inside, you have a shower and change your clothes. Then you use your work app to call an elevator to your location. You check on the app for a low-density work area to sit in and, once you find your spot, you use your phone to tell the elevator which floor to take you to.
Once there, you use the same app to locate a colleague so you can have a socially-distanced conversation. And while all of this is happening, underfloor air-distribution systems are pumping fresh air in via the floor, while stale air is being absorbed into the ceiling.
If you think this is the office of the future, think again. Most of the services described are already in existence. The others will be in a matter of months.
Real estate developer EDGE's Amsterdam workspace was already certified as the healthiest office in the world before the pandemic, it says. Post-COVID-19, it has consulted with a virologist and with architects, and leveraged its smart technology platform to ensure it provides a safe environment for employees.
"It's very important when you own a building that you know exactly what is happening in the building," says Boudewijn Ruitenburg, chief operating officer at EDGE. "You need to implement technology to be able to monitor the building. We implemented a lot of sensor technology and data-analysing technology, and we used that to maintain the building in a more efficient way."
In Amsterdam and Berlin, the EDGE Smart Platform is being used to assess whether a meeting room's occupancy is rising over the maximum number of people allowed, and what the air quality is. "In most of our buildings we use geothermal energy, thermal cooling, and heating systems and solar panels to increase energy efficiencies," Ruitenburg adds.
The firm also plans to use its heat map to see how intensely its buildings are being used and where, so it can ensure better cleaning, and predict maintenance needs. It is using underfloor air distribution systems, where fresh air is pumped in via the floor, and then absorbed by the ceiling. "This way, we have a complete fresh air supply, with no old air staying within the building," he says.
Air quality has been an understandable concern as employees begin to return to their offices. Harry Badham, UK head of development at AXA-IM Real Assets, the firm which developed 22 Bishopsgate, City of London's tallest building, says the recirculating airflow system has been turned off, so that all the air in the building is fresh air. "It costs more money, because you have to run the pumps harder, and it uses more energy, but it gives people the benefit of outside air," he explains.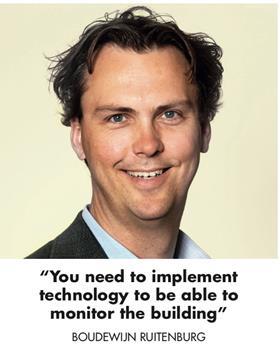 The building's elevators and entry points are now touchless as well, and generous cycle capacity and changing facilities have been built to help people who are commuting. "The use of technology is making some buildings more obsolete than others," Badham says. "If your building can't deal with the technological requirements of health in the workplace, it's going to be obsolete."
And developers are thinking about life beyond COVID-19. Nuno Fernandes, design director for EMEA at Tétris, the fit-out specialist, says sustainability was a large factor in how they thought about re-designing space for returning businesses and their employees.
"That might not sound like an immediate concern, but we thought it would be easy to put up Plexiglas everywhere, but it wouldn't be sustainable," he says. "We would rather come up with solutions that will last, so our approach was to find solutions that were good practice for our clients and would remain in place even after the threat of contagion was gone."
Instead of plexiglass, the firm is using sustainable screens and acoustic panels to create separation. "Rather than plexiglass, we use planter boxes with plants that purify the air," says Fernandes.
Hot desking, which had become a predominant feature during the past decade, is off the table. "Hot desking is no longer an option for hygiene reasons, and there are questions if it's something that will continue happening in the future," he says.
"Right now you can hot desk, but only for the whole day and after that the surfaces will be sanitised."
Above all, office providers are focused on keeping employees healthy. "We have invested in thermal imaging cameras across our portfolio so our customers and staff can measure their temperature as they enter our buildings," says Jonathan Weinbrenn, managing director of BESpoke, the flex space offering for large corporate occupiers. "We have also brought in a huge range of sanitisation measures as well, deploying fogging machines, similar to those used by the NHS and transport networks."
Providers agree on one thing: once all these initiatives are in place, it will be harder to go back. Even after the COVID-19 pandemic is over, occupiers will expect health and wellbeing considerations to remain at the forefront of any service provision. It was a trend that was in development before the pandemic, and it has only gained strength.
"In this crazy situation, the first conclusion we came to was that a focus on health and sustainability, facilitated by smart technology, was the right way forward," says Ruitenburg. "We were already on that route for some years.