Enforced remote working has changed the office landscape almost overnight. But what is going to happen to the sector in the long term? Maha Khan Phillips explores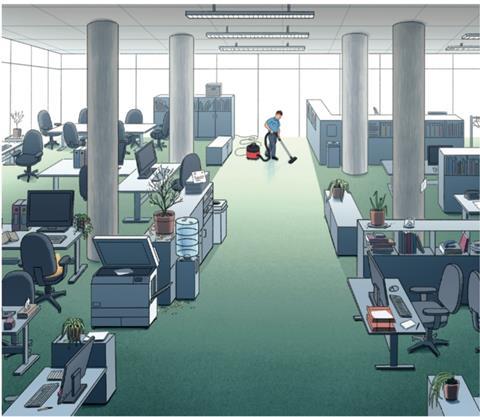 It is difficult to think of another period in history when there has been such a significant change to the way we work, in such a short amount of time. The COVID-19 pandemic has been an unwelcome, but nonetheless substantial experiment in whether a large number of employees can work as efficiently at home as they can at their offices. But what happens now?
"If we look back to March, the idea that you could shut large parts of office portfolios and move whole enterprises to working from home – with the technology and business continuity requirements that brings – is really quite remarkable," says Tom Carroll, executive director, EMEA corporate research and strategy at JLL. "But it's not been without pain for organisations and individuals."
Carroll believes there is no going back. "It's pretty clear from everything that we are seeing and hearing that the office will remain the primary focus for corporate strategy and corporate real estate strategy. But it will be complemented by an increased remote set-up, and a flexible satellite set-up in some cases," he says.
In Europe, 52% of all employees have been working remotely, with the figure going up to 69% for office workers, and 80% across most large capital cities, according to Morgan Stanley, which conducted 12,500 online interviews in the UK, Germany, France, Italy and Spain across gender, age, and region in June.
Of office workers who are operating from home during the pandemic, 70-80% would like to continue to do so; 50% want to work from home one or two days a week, 30% would like to do three or four days, and 17% want to work remotely every day.
It is no surprise then, that over half of employers say things will have to change. Knight Frank surveyed occupier clients in July and found that 51% plan to implement a new workplace strategy, 40% believe they will need less space, 29% will consider how people could work closer to home, and 38% believe their offices will be offering more collaborative spaces in the future.
Long term, will employers, and employees, feel the same as they do today, considering we are still in the midst of the pandemic? Establishing remote working networks for the long term can be challenging, industry participants point out.
Anne Koeman Sharapova, Principal of European real estate at Mercer, says: "The office is a very egalitarian space. Everyone has a similar desk, and a similar work station, whereas home offices are not. People with lower incomes may struggle for space, whereas your boss might have a huge office with air conditioning. So for lower-income households, it's not a desired option to be working from home."
Industry experts also point out that working remotely during a pandemic is vastly different to working remotely when things are normalised. Remote working makes it harder to reinforce company culture, to build teams, foster innovation, and to offer professional development.
Jose Luis Pellicer, head of investment strategy at M&G Real Estate, explains: "Technology doesn't solve everything. It is very difficult to expand your network within an organisation or across organisations. And if you are a new employee, it is very difficult to get onboard."
Other factors also play a part in what employees and employers want. Chris Urwin, director of research, real assets at Aviva Investors, says: "It's less about sector, and more about the type of tasks being undertaken. Offices will continue to play a role in bringing people together to facilitate collaboration. But in the media, digital, and financial jobs, for example, there will be real benefits from being in an office, whereas those in jobs that are relatively routine, where the communication around them is information sharing rather than idea creation, it might be a different story."
Different countries have different set-ups, with occupational density varying across geographies owing to local legislation and cultural norms, according to JLL's June 2020 report, The Future of Global Office Demand. In Germany, for example, employers provide employees with more than twice as much office space as their counterparts in London and Tokyo. It means that some markets will find it harder to switch to the lower-density arrangements required until there is a COVID-19 vaccine, while others will have an easier transition.
The size and location of cities will also play a part in what happens next. Philip Conner, head of real estate research and strategy US at Barings, says: "Europe and Asia tend to have denser cities, whereas the US is the outlier. Most large cities in the US haven't developed public transport, and the commute in places like LA and DC and Atlanta are just horrendous. I can easily see companies downsizing office space in expensive urban areas and maybe adding lower-cost space in the suburbs to see if they can save money."
In Europe, the situation is almost the reverse, says Conner's colleague Paul Stewart, head of real estate research in Europe. "While you have negative demographics in many European countries, that is not the case for the key cities," he says. "De-urbanisation is not a trend. The vibrant, amenity-rich, suburban and business park locations just don't really exist."

John Mulqueen, head of offices, EMEA at CBRE Global Investors, agrees. "A lot of people are looking at the potential resurgence of business parks, based on the ability to drive to work and have a bit more space," he says. "I don't see that happening in Europe. Talent will continue to prefer city-centre locations to access a wide variety of amenities and social interaction."
In contrast to Europe, the US has a larger number of mid-tier cities. Unwin says: "The one big difference between Europe and the US is that, as people flee cities like New York and San Francisco, there are other reasonably sized cities for them to go to, like Boston or Charlottesville. I don't think that kind of optionality exists in the UK or in Europe in general."
The jury is out
There are differing opinions on what will happen for remote working. Aviva Investors points out that providing office space in central London costs about £10,000-15,000 (€10,840-16,260) per person per year. To hold on to an office that people do not always engage with will be costly.
UBS believes that the real impact will not be measureable for several years and that, typically, when given a choice, most staff tend to work from home on Mondays and Fridays, which creates over/under-utilisation of space during the week.
Some in the industry feel that companies are unlikely to decamp from headquarters. "I'm a firm believer in the connected central business office," says Pellicer, "because, even if you work from home, you would still need to come to work a few days a week, and for that you'd need a place that is well-connected. There is also the concentration of organisations that is a factor. If you are a front-office worker and you need to engage with your suppliers, through meetings or lunches, location is an important factor."
Others feel that a decentralised hub-and-spoke model, where corporations will build a network of remote offices in lower-cost suburbs or smaller cities for those who want to come in to work, is more likely to predominate. But the jury is still out.
Ben Sanderson, director of fund management at Federated Hermes, says: "There are people saying city centres are a thing of the past, that the spell has been broken, and we can all work in some meadow in Cornwall. At the other end, there is someone saying that this is a temporary blip, and we'll all get back to normal, and nothing to see here. Both views seem ridiculously extreme."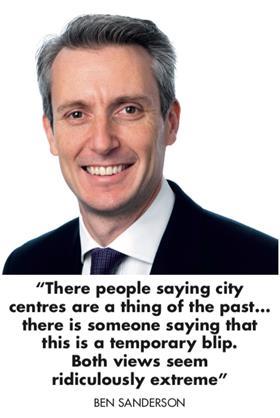 Sanderson says there is no indication in pricing to suggest that offices will become increasingly obsolete. "But in public market pricing there is some indication that offices could be more challenged than other parts of the real estate market, with some of the major REITs in the UK trading to bigger discounts to NAV. So that suggests markets are a bit unsure about the future of offices."
Experts believe there will be a flight to quality. Zachary Gauge, director, European Real Estate Research at UBS-AM Real Estate & Private Markets, says there will always be demand for stronger, well-located buildings. "In the longer term, our expectation is that the better-quality buildings in central locations with the new features that are important will continue to have demand. The real struggle will materialise in the secondary office and the much weaker locations which don't offer any value-add."
There is also agreement that working full-time in an office will be a choice not an obligation, as companies compete for talent. Offices will be set up to foster collaboration, provide opportunities for people to come together to work creatively, to innovate, to cement bonds, and to provide mentorship and professional development.
"We expect to see – and it is already happening to some extent – the newly developed offices in London to be much more focused on gyms and break-out areas and much less on desk space," says Gauge. "People will be going into the office more to meet internally, and to meet external clients. Offices will be geared towards interaction."
Investment implications
Whatever happens next will have implications for investors. The European office market benfitted from strong fundamentals at the onset of the COVID-19 pandemic with record high office take-up above 12m sqm recorded in 2018-19, and a historically low vacancy rate of 5.4% at Q1 2020, according to AEW. However, the impact of COVID-19 was felt in the second quarter. Annual office take-up fell significantly to 9.5m sqm in Q2 2020, a 21% decrease compared with last year.
AEW forecasts a rental decline of nearly 10% this year in Europe, on the back of 2020 GDP decline, with occupiers adopting a wait-and-see approach. However, the firm expects this demand shock to be short-lived and prime office rents to start recovering in 2021, reaching 2.5% annually through 2020-24.
Peter Papadakos, head of European research at Green Street Advisors, says: "We will probably end up with something like a 10-15% reduction in demand for office space in different cities. That's a pretty big deal because, if you think about
demand, on average it equates to about 1% of the office stock annually. If you're saying that you're going to take 10-15% of that demand away because of remote working, ultimately, what you are saying is that you're not going to have any demand for the next decade."
He is also concerned about costs. "The biggest elephant in the room is capital expenditure. The investment community doesn't like to talk about Capex, because it hurts returns. But if you think about the churn in the office space, and the hygiene aspects, and that the cost of upkeep of buildings is going up, we estimate that 10-12% of rental income has to be put aside each year to maintain the building. Post-COVID, that could go up to 15-20%."
It is difficult to make meaningful cost assessments until it becomes clear how future working life will be shaped. It seems that the 'new normal' will be employees working from home or flexibly, at least for part of the week, whether in city centres, hub-and-spoke remote models, or from home. But, say industry participants, the dust needs to settle before those questions can be properly addressed.