The City of London's tallest skyscraper is here. Harry Badham tells Richard Lowe why, despite Brexit, the timing is right
Described by its developers as Europe's first vertical village, 22 Bishopsgate will become the City of London's tallest office tower when it opens next year. It is an unmissable symbol of the unswerving commercial ambitions of London at a time of political and economic uncertainty.
To understand how the 1.4m sqft skyscraper is completing in the middle of a seemingly intractable Brexit crisis, you have to return to 2016 just after the EU referendum. The Brexit vote sent shockwaves through the city and, while many developers hit the pause button, AXA Investment Managers - Real Assets pressed play.
Harry Badham, UK head of development at AXA IM-RA, says that after the Brexit vote there was a "big decision" to be made "about placing the building contract and putting ourselves full risk ahead with a spec office building".
AXA IM–RA had not long acquired the project, which had stalled under previous ownership, when the prospect of Brexit was still widely seen as an unlikely event. Along with its consortium of four investors, it decided to go ahead, becoming one of the first post-referendum developments to be given the green light.
Badham says there were three reasons behind the decision. The first was a fundamental confidence in the city. "London is London," he says. "With international investors we were able to look at London more globally. And it doesn't really matter what context you put London in globally. It's one of the top-three cities in the world, and the barriers to entry and the critical mass and the strength of staff and talent pool – really those were things driving it. So, first and foremost there was the London factor."
The second reason? "Put crudely, we thought no one else was going to build anything. It was obviously a significant investment for us to make and a significant call on the market for us to make, but time and time again we [have] proved that if you can start new buildings when the market is likely to be starved – not at the time you're building but at the time you're likely to be delivering – then you put yourself in a good place.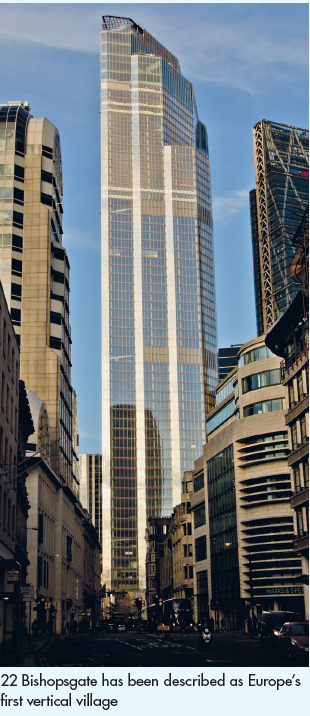 "We proved that really first time round with AXA in 2010-11, when we were one of the first London developers to press the button on two or three schemes, which we delivered in 2012-13, by which time all the previous top-of-the-market stock had been absorbed and we were very successful in our leasing of those schemes."
AXA IM-RA's development arm has been very active in the decade since the global financial crisis. "We've always had three, four, five schemes on the go in London," Badham says, who joined in 2011.
In 2016, AXA IM-RA sought to get ahead of the pack again. "We took apart every single scheme on the London market that was potentially completing in the timetable we were, and we looked at funding risk, planning risk, delivering risk, construction risk," Badham says.
The conclusion was that by 2019-20 the amount of new space coming on to the market was going be below the historic average. "And more significantly, there were going to be two or three years where the supply of new office space was going to be less than long-term demand," Badham says. "We've always seen City rents as being supply-led rather than demand-led. And, actually, if you look back at 10, 15, even 20 years of history, you see that annual demand for new space is reasonably constant, because it's driven by things like lease events that tend to be scattered; it's driven by stability in businesses that are looking to move and upgrade, rather than being completely heavily based on economic things.
"Which means that rent performance tends to track supply – if there is a lot of supply and demand is constant, rents will fall down; if there is less supply and the amount of the supply is less than the amount of demand, rents go up," he says. "We don't take any of these things for granted, but there does seem to be an undersupply of space and rents do seem to be, in the short term, continuing to hold and, in some cases, go up."
That still leaves a third reason behind the decision to go ahead. "The strength of the product," says Badham. The building will include about 100,000sqft of "integrated social spaces and services for its occupiers", including an innovation hub for small businesses and start-ups, and a 22,000sqft food and dining area, known as The Market. Further features "aimed to create an inspiring, healthy and energising workplace for a diverse business workforce of 12,000 people" include London's largest cycle park, a gym with climbing window 125m above ground and a wellbeing retreat.
"The vertical village, as we call it," says Badham. "We were very confident in the product we were building and therefore would be leasing."
The building, which is close to 50% pre-leased, is arriving after a period during which expectations of tenants has changed radically. "We did a world tour back in 2015 of offices in Australia, America, New York, looking at global trends," says Badham. "Particularly at Australia, actually, which as a small country was moving quite far ahead."
He says: "It was all about the war for talent. And that was staff-led. People had become very disenfranchised [after the global financial crisis]. Banks had obviously got into a huge amount of trouble, and the Australian banks in particular started seeing their workplaces as a way to counteract that, to employ the right people, to give people the right environment to flourish.
"On our world tour it was evident that… caring for people in your workplace and providing the right environment for them to be productive and to perform was… becoming more and more critical to differentiate your workplace and to create the right environment.
"So really, from day one, from the design of the building and things like triple glazing the windows to increasing the daylight, getting the WELL certification, starting to think about how to make a building usable by its individuals using technology – things like this were really high on our agenda."
It has also been a period during which WeWork and the co-working phenomenon emerged. Large City offices such as 22 Bishopsgate cater to large, established tenants and so is not competing with the likes of WeWork; but it has attracted Convene, a New York-based flexible workspace company. Convene will take 102,000sqft on four floors, giving it the opportunity to gain a presence in London.
Badham says: "We always knew that these types of spaces were valid to what people were looking for. We went through a tender exercise, which was really to find something that would be relevant to the building rather than just space."
Future of offices: Smart buildings, intelligent by design
1

2

3

4

5

6

Currently reading

Future of offices: London's new behemoth 22 Bishopsgate arrives in time

7

8

9

10