Since June, the world's most valuable office towers have stood watch over the ongoing – and increasingly intense – street battles between Hong Kong police and protesters. As the economic costs to Hong Kong mount, the impact on the city's real estate is starting to unfold.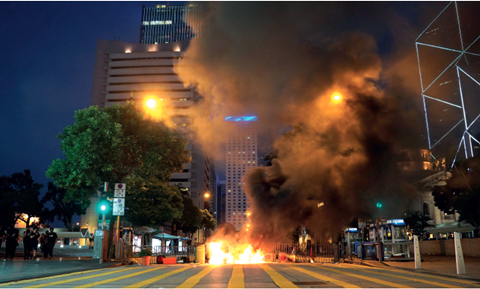 One sign of things to come is falling office rents. The pace of decline has quickened in successive quarters, as vacancy rates rise in the core business district Hong Kong Central.
With third-quarter figures being released by the largest agencies based in Hong Kong, the picture is becoming clearer. Cushman & Wakefield, one of the first to report, said rents fell 3.2% in the third quarter – the largest quarterly drop since the corresponding quarter in 2012.
At the time of the report, John Siu, Cushman & Wakefield's managing director of Hong Kong, said: "Sentiment in the office market has soured considerably in the third quarter and, with no end yet in sight to current instability, rents across all sub-markets will come under increasing pressure over the remaining months of this year and into 2020. Our forecasts are for rents in Greater Central to fall by between 6% and 8% this year, and by between 8% and 13% next year."
However, Siu is sanguine that limited new supply coming to market next year will cushion the rental slide. He says that, while availability in Central rose to 7.4% in the third quarter, an availability rate of between 5% and 10% is considered "healthy". He says: "It reflects a market with supply and demand in equilibrium."
In its September Property Market Monitor, JLL said there was a 72% month-on-month drop in new lettings in Hong Kong Central, which recorded a net withdrawal of 62,000sqft in August. "Ongoing local economic and political uncertainty led to a slowdown in the office sales market, with an increasing number of investors now looking to exit the market in anticipation of potential prolonged headwinds," according to the report.
In this highly charged political situation, few property executives in what is usually a publicity-driven industry will speak openly about Hong Kong. One agency told IPE Real Assets: "People are gun-shy. They are not prepared to comment on the Hong Kong situation." Another global agency declined to be interviewed, saying: "We do not have the data available".
Hong Kong has long been the jewel in the crown of world property, its gleaming towers tightly packed and earning huge incomes for their owners. Despite the recent falls, they remain at stratospheric levels compared with other global cities.
According to the JLL Premium Office Rent Tracker, December 2018, average annual rent in Hong Kong Central was US$338 per sqft, compared with Midtown New York at US$212, London's West End at US$195 and Beijing's Finance District at US$182 (see figure). Singapore, the city with which Hong Kong is often compared, came in at US$108, 16th in the JLL global ranking.
Reflecting the values that Hong Kong office towers command, The Center, in Queens Road Central, sold for HK$40.2bn in November 2017 in what at the time was described as the most expensive office transaction in the world. Such market strength will be tested in coming months unless peace is restored to Hong Kong.
Hong Kong's office market is caught between a rock and a hard place – the China-US trade war and domestic social unrest.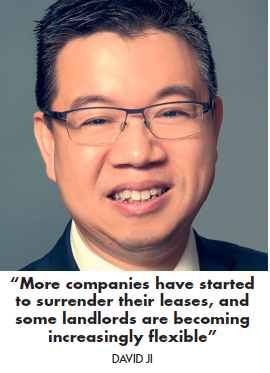 David Ji, head of research and consultancy for Greater China at Knight Frank, says: "The China-US trade war has had some impact on the Hong Kong market. At present, office sentiment is weak amid the social unrest. Tenants have become very conservative with their outlook and business plans."
Ji says that, with market conditions remaining uncertain, many firms are looking long and hard at their medium-to-long-term plans on real estate costs, in addition to the short-term options of reorganising and optimising the use of the city's spaces.
"More companies have started to surrender their leases, and some landlords are becoming increasingly flexible in lease negotiations, offering attractive rental incentives," Ji says.
Industry sources say that Chinese companies are cautious about future expansion, being directly affected by the trade war. Until 2018, Chinese firms were expanding their presence in Hong Kong – usually their first international port of call. Chinese companies occupy about 9.3m sqft of grade-A office space in Hong Kong – 11.6% of the total.
According to CBRE's Marketview on Hong Kong grade-A office, as of March "Chinese firms that have already leased space in anticipation of future business needs are likely to suspend further expansion due to the current uncertain economic conditions. Some excess space may shortly be returned to the market in the form of shadow space."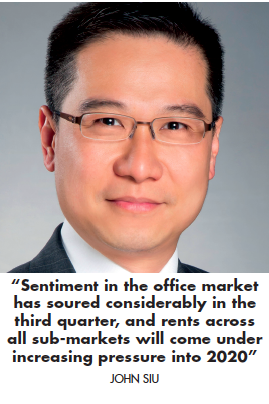 Hong Kong's crisis is forcing some international tenants to reassess their positions, even though the financial and professional services sectors continue to function normally. Some multinational corporations are looking at possible alternative locations, such as Singapore, from which to run their regional operations.
"We have received some inquiries from multinational corporations," says Siu. These firms are evaluating all possibilities in the region from a global perspective. Their needs depend on their business model, their customers and the cost model for their business. "They are starting to evaluate the possibility of relocating some of their business operations in Hong Kong to Singapore," he says.
Ji also says some companies are reducing their presence in Hong Kong, but "generally it is impractical for them to relocate out of Hong Kong if they look for regional coverage for this part of the world". He says: "Hong Kong is still a major financial centre in a strategic location. Many Chinese mainland firms also need Hong Kong as a platform for fundraising and as a gateway for outbound capital."
Siu says: "For a corporation, it is a complex decision on whether to locate a regional headquarters in Singapore, Hong Kong or Shanghai."
So far, enquiries for an alternative location are coming only from a small group of tenants, although at least one global bank is considering relocating part of its operations. Siu says: "It is a long process for a corporation to decide to move headquarters from one location to another. From day one, when the decision is made, until the physical move is completed, will probably take two years."
He believes that, as the situation in Hong Kong becomes more stable and tenant concern about instability decreases, the impetus to relocate will lessen. "If you need to do business in China, and if you think that Hong Kong is the gateway for the China market, then, in that respect, Hong Kong's position will not be challenged," he says.
"Hong Kong's competitive edge is its proximity to China. It is part of the Greater Bay Area, a new economic zone that encompasses nine cities in the Guangdong province and two Special Administrative Regions in the Pearl River Delta."
Others echo Siu's comments that Hong Kong's strategic location cannot easily be replaced. Hong Kong has infrastructure and systems in place that cannot easily be replicated. "We have a good legal system, protection for intellectual property rights and so on," says Siu. "No matter what is happening today, they remain in good shape. These factors will not change overnight. And if the fundamentals are still there, Hong Kong will remain in a good position to be the head office of global firms."
Supporting Siu's point, a global fund manager, who wishes to remain anonymous, says: "I relocated to Singapore because of Hong Kong's high costs – and partly to expand to Southeast Asia. But after two years, I relocated back to Hong Kong. I found it was not easy trying to do business with China when you are based in Singapore."
Ji says office demand in Hong Kong mainly comes from the financial sector, which has been resilient – although it is taking steps to weather current conditions.
"Compared with financial services and banking firms, the trade war has hit the airline, shipping, logistics and retail industries more. Companies from these sectors are exploring cost-saving options in lower real estate costs," the fund manager says. "This shifts demand for space in core areas on Hong Kong Island to decentralised areas, such as Wong Chuk Hang [southern district of Hong Kong island], or even further afield in Kowloon."
Commercial property values at the top end of the market have barely been tested in the current environment. Few of Hong Kong's blue-chip office towers are traded because they are tightly held by the largest developers and ultra-rich families.
It is in the wider office market where uncertainty seems to be affecting transactions. "Some investors are adopting a wait-and-see attitude, so investment activities in 2019 have slowed compared to 2018, which was a record year for the Hong Kong real estate market," says Ji.
Siu says: "Generally speaking, average prices for the overall market have come down by around 6.6% in 2019."
While real estate might be difficult to move, money is much easier to shift. An executive with a French bank says wealthy private clients have started to move their money out of Hong Kong. "They are doing it in small, incremental amounts," he says. Other global banks are starting to measure the outflows. In a note to clients, Goldman Sachs said there had been an outflow of deposits totalling US$3bn-$4bn to Singapore as of August.
Citi's wealth management arm in Sydney had reported a "50% lift in funds flow" out of Hong Kong and into Australia. Real estate will be the key beneficiary. Hong Kong, however, would not be Hong Kong if it was not a city of optimism. "Hong Kong is so dynamic that, once the issues have been resolved and settled down, market sentiment will change 180 degrees," says Siu.
Hong Kong has done it before, bouncing back with V-shaped recoveries after the 2003 SARS public health scare and the 2008 global financial crisis. But in both instances Beijing lent a helping hand by turning on the tourism tap and through other measures. This time, Beijing may be less inclined to come to Hong Kong's rescue.