The outlook for offices across different parts of Europe could diverge markedly as the full effects of the pandemic are felt, writes Alicia Villegas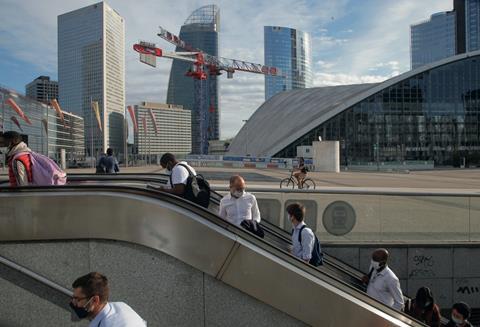 The Coronavirus pandemic has abruptly disrupted the occupier momentum of the European office market, which experienced a record high take-up of more than 12m sqm over the past two years. Lockdown measures implemented across the continent dragged letting activity down by 32% in the first half of 2020, compared with the same period a year earlier, data from Savills shows.
As occupiers adopt a wait-and-see approach and reassess their office needs, demand is expected to continue slowing sharply this year. Consequently, European prime office rents are forecast to drop 9.8% in 2020, according to AEW. The fund manager, however, predicts this demand shock will be short-lived and a recovery from 2021 will offset the 2020 decline.
"Unlike previous cycles, when oversupply of space and lower demand led to large increases in vacancy rates, this time we have a limited supply pipeline, so we won't see a double demand-and-supply shock," says Hans Vrensen, head of research and strategy at AEW in Europe.
AEW projects the European office stock will grow by 1.3% annually over the next four years. That is well below the 2.7% annually before the 2008 financial crisis, and still less than the annual 1.5% growth from 2010 to 2014.
JLL estimates the supply pipeline for 2020-22 has declined by 9% since the start of this year, mostly because of COVID-19-related construction delays.
Although Europe's average office vacancy rates have risen by 20bps from a pre-pandemic record low of 5.4%, investors see a cushion in core markets. Zachary Gauge, European real estate analyst at UBS-AM Real Estate & Private Markets, says: "We see relatively little risk in most core European office markets as, generally, supply pipelines are very tight in core locations. Even if occupier demand is weaker for the next couple of years, we expect rents to hold up quite well for the best-quality space in the market."
Pricing for very core, secure-income assets has barely moved since before COVID-19. That is not surprising given the weight of capital targeting this part of the market and the margin premium that office yields still provide relative to corporate and government-bond yields, which have declined since the start of the crisis, Gauge explains.
Amid a backdrop of low interest rates and the attractiveness of real estate relative to other asset classes, prime offices remain in demand from investors, which supports yields of 3.5-4% in this segment, says Oliver Kummerfeldt, European real estate analyst at Schroders. "We haven't seen dramatic outward movements in prime office yields yet," he says. "Going forward, brokers like CBRE or JLL forecast yields to remain mostly stable, although others like PMA suggest yields could move out between 10bps to 20bps in 2020."
While investor demand is, so far, sustaining pricing and yields at the core end of the market, next year is expected to be "more critical", notes Mark Holz, group head of research at Corestate. "Still, I don't expect values to fall by more than 5% or 10% for core offices; moving up the risk scale from here, there will be more significant price reductions," he says.
Tokoro Capital, which recently launched a €250m European office fund initially targeting opportunities in London and Paris, is seeing investors submit bids at discounts of up to 30% in the value-add office space, while pricing for core and core-plus assets is "anywhere from no discount to 10%", says co-managing partner Max Bassadone.
London & Paris: most liquid but challenged
London and Paris are among the most liquid European markets, but they are also highly dense cities that are reliant on public transit. Social distancing for office workers in these markets is, therefore, more of a challenge, which is harshly affecting the use of office space.
For some, this is a short-term hiccup. Justin Curlow, global head of research and strategy at AXA IM - Real Assets, says: "It will take a bit of time for everyone to be able to get back into the office in markets like London. But ultimately this won't change the attractiveness and the dynamism of the city in terms of its labour pool, which has become far more diversified, with growing tech exposure that will position it very well in the post COVID-19 world."
The London office market faces several headwinds, though. The UK economy suffered the worst slump in Europe in Q2, with GDP down 20% as a result of the length of its lockdown. Although the economy is expected to recover in H2, a rise in unemployment driven by the unwinding of the furlough scheme and weaker demand for office space will depress rents in 2020 – down by 2.5% in the West End and by 2% in the City, according to Capital Economics.
Brexit concerns, meanwhile, have spooked overseas players. Cross-border investment into the Central London office market tumbled by 70% to just £1.2bn (€1.3bn) in the first five months of 2020, according to Real Capital Analytics. It has also affected vacancy rates in the City of London, up by 180bps to 6.6% in Q2. Data from AEW shows this is the largest increase in vacancy rates among key European cities from the end of 2019, although vacancy rates in the City are expected to recover in the next 12 to 18 months, according to Vrensen.
Brexit has already deferred quite a bit of the supply pipeline in London, except for the Docklands/Canary Wharf, where developers are making a bet on Crossrail and existing occupiers are potentially putting space back onto the market, says Curlow.
One of the characteristics highlighted by several industry players is the volatility of the London market. "It reacts very strongly to market changes, so the risk that rental declines in London will be more severe than in Europe is relatively high," Holz says. "It also bounces back quickly. Looking one year ahead, the London market might become interesting, especially if it's attractively priced compared to pre-pandemic times."
In Paris, which is the largest European office market, liquidity is expected to be sustained by investors' flight to safety, some players note. The city's central business district will continue to be a "very defensive" play, says Bassadone, with Grade-A vacancy rates ranging from 1% to 3%, which is likely to prevent material rental declines for best-in-class space in the Paris core. He adds that after a brief pause during lockdown, the market "has thawed" and many transactions are being prepared for a Q4 sale.
With the new office pipeline "extremely tight" in central Paris because of planning regulations, most development activity is concentrated in La Défense and the Northern inner-rim sub-market, where accessibility will improve on the back of new infrastructure projects and the 2024 Olympics, says Irène Fossé, director for research and strategy at AEW.
"Many developers have seen an opportunity to develop new schemes there, but with an economic recession coming, it will be difficult to absorb this new space," Fossé says. Rental declines for prime offices in La Défense will range from 5% to 10% this year, according to Colliers.
Germany, Nordics and Benelux
Sources canvassed by IPE Real Assets agree that the German office market is one of the most resilient in Europe, a situation that is expected to remain throughout the COVID-19 crisis.
On the one hand, the country left lockdown quicker than many of its neighbours, which has helped keep occupancy levels higher in terms of employees going to the office. On the other hand, the main German cities are not as dense or reliant on public transport as London or Paris.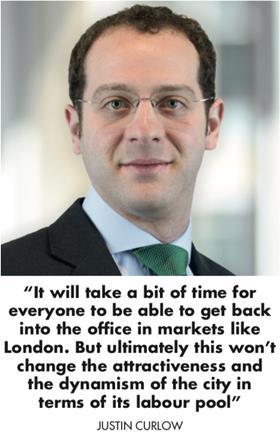 "Germany has also benefited from having a large institutional domestic investor base. Additionally, the fact that it is multi-centred – with several big, liquid office markets – is helping investors find a market to allocate to within the country," says Kummerfeldt.
The office market in German cities looks resilient owing to low levels of supply and a limited development pipeline, much of which is already pre-let, says Lydia Brissy, director of European research at Savills. "In Berlin, the vacancy rate remains extremely low in Q2 2020, at 1.2%," she says.
Holz agrees, noting that "extremely low vacancy rates" of below 5% in most German cities will help to absorb some stress from the occupational side during this crisis, meaning "the impact on offices should be relatively muted in Germany".
Together with Germany, the Nordics and Benelux – especially the Netherlands – also have less densely populated cities, benefit from alternative forms of transport and office buildings that operate at higher levels of square metres (sqm) per desk, allowing for better social distancing, says Damian Harrington, head of EMEA research at Colliers. "There's a clear correlation between these factors and how quickly office-based activity is getting back on track."
Although Brussels recorded an inevitable slowdown in activity in the first six months of the year, institutional demand is expected to keep take-up positive, particularly post-pandemic, as more centralisation of power in Brussels is expected, sources say. Meanwhile, significant lettings are in the pipeline for 2020-21. This suggests that there could be an increase in office requirements, notes Nigel Beller, research analyst at Cushman & Wakefield Belgium.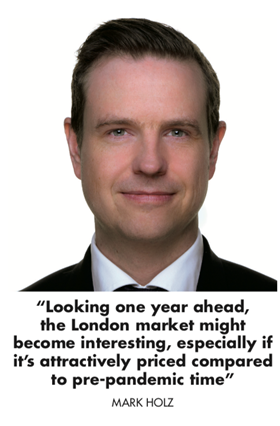 The Nordics, sustained by market fundamentals and transparency levels, seem to be holding up well. Patrik Andersson, partner at Brunswick Real Estate, says: "Regardless of other aspects, the way Sweden has dealt with the pandemic means the economy has held up better here than in many other places. The office market in the Nordics still has few vacancies and rent is being paid almost 100%. We are coming from a very strong occupier market, where only a year ago it was difficult to even find office space in Stockholm."
The most vulnerable markets
Not all markets are proving resilient. "Southern European cities, especially Barcelona and Madrid, are probably going to be more affected," says Brissy. "The lockdown measures were very strict and have impacted their economy severely. There are also concerns about new waves. Against this backdrop, some corporate businesses may want to delay any decision on leases until they have a clear view of the situation next year."
Madrid is forecast to have one of the largest decreases in rents across Europe this year – a drop of almost 10%, according to AEW – mainly owing to lower-than-average recent economic growth. Another factor expected to affect office rents in southern Europe is the higher rates of vacancy – 10% in Milan and 9% in Madrid compared with the European average of 5.6%, according to AEW – owing to new redevelopments in central business districts and new suburban office districts.
Some central and eastern European (CEE) markets also have high levels of vacancy – Warsaw (7.9%) and Budapest (7.3%), for example – compared with the European average. Meanwhile, the 2020-24 supply pipeline in Budapest (representing 20.9% of existing office stock), Prague (17.4%) and Warsaw (15.5%) are the highest compared with future supply on average across Europe (6%), AEW data shows.
Piotr Fijołek, senior partner at CEE-focused investor Griffin Real Estate, which is a co-investor and co-manager of Echo Investment, the largest Polish developer in the commercial real estate sector, agrees that there is significant office space under construction in Warsaw, although most of it is on a pre-let basis. "Vacancy rates are much tighter in the newest buildings and asking rental levels haven't changed so far," he says. "Going ahead, rents should be kept at the same level, maybe with a small reduction."
According to Colliers, prime office rents in Warsaw will decrease less than 5% this year, although AEW forecasts a drop of over 13% in 2020.
The pandemic is being felt in all European office markets. The focus is on how local governments are managing the crisis. In that sense, lockdown strategies and the measures taken by different economies will be key to determining the impact of office occupational behaviour. However, there is a clear split between western and northern Europe and southern and eastern Europe in terms of supply pipeline and vacancy rates.
Meanwhile, one type of asset will remain relevant across all regions. Paul Stewart, managing director and head of real estate research for Europe and Asia-Pacific at Barings, says: "Longer term, demand will focus towards the most modern flexible space able to accommodate future occupier requirements. Already in short supply, rents will polarise in favour of grade-A space."