British Land is competing directly with the flexible-office operators with its own brand, Storey. Christopher O'Dea
If you are one of the biggest landlords on the block, would you want another property-services company leasing your office space to other, smaller tenants?
British Land's answer to this fundamental question was a resounding no. Instead, it launched its own flexible workspace brand, Storey.
The decision was based on analysis of the changes in market demand for office space over the past three to five years, says James Lowery, co-head of Storey at British Land. The primary factor was the increase in the amount of smaller companies, often created to exploit business opportunities presented by the development or application of technology. Several new operators specialised in offering workspace to smaller companies or individuals and, early on, British Land looked into the possibility of developing a closer relationship with flexible-space developers.
In the end, British Land established Storey for a simple reason. "We think it's fundamentally important to keep the customer relationship," says Lowery. "You learn a lot from being close to your customers. We realised there are industries where the incumbents have drifted away from their customers, and we decided we didn't want to do that."
British Land's £16bn (€18.5bn) portfolio includes 23m sqft of space, 48% of which is offices – the company owns £12.3bn of its portfolio, providing a direct link to the majority of tenants. British Land's holdings comprise three office-led campuses in central London, as well as high-quality standalone buildings.
The creation of Storey allowed British Land to control its own destiny in the small but increasingly competitive flexible-space market. "We have a strategy of embedding our own flex products into our portfolio, particularly in the campuses," says Lowery. "We're in charge of what we do and decisions that we make, to genuinely embed a level of flexibility into those campuses. With a third party, it's difficult to do the things you want to do to create a holistic community. If you've got a coworking operator, they care about their community, and not necessarily about the wider campus community that they sit within."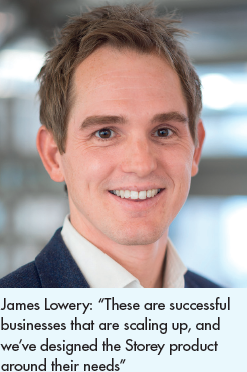 Storey benefits from a number of competitive advantages thanks to British Land's scale. "We think owning the buildings is a competitive advantage," says Lowery. "We also own the property management layer, and have development and operational capabilities in-house." But that is just a baseline. "These capabilities obviously need to be fine-tuned and focused on the needs of different kinds of customers," he says.
Storey aims to be a partner in meeting the office space needs of growing businesses. The brand concentrates on businesses with 20 or more employees. Such businesses want to operate from their own space, rather than within the premises of a flex-office brand – they are successful in their own fields, and the cachet of a space provider is not part of their business model. What is important in terms of office space are the physical, environmental and service capabilities of the space itself, the location of the space within the urban environment, and how the space connects to that environment – from transit networks to retail and dining options.
"These are successful businesses that are scaling up, and we've designed the Storey product around their needs," says Lowery. The objective is to "provide an experience which makes it feel like it's their office," says Lowery. "We don't have Storey branding anywhere when you walk in. We're making it easy for them to do what they want to do, rather than what we think is right."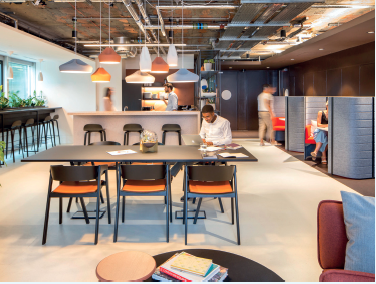 The average tenant in the 250,000sqft of space that Storey operates has about 50 employees and signs a two-year lease. If a company doubles in size, Storey would relocate the tenant in the same building; if the tenant has outgrown the building, Storey would move the business to another British Land building. "Beyond that, we have other options, and this is one of the benefits of creating Storey as part of British Land," Lowery says.
If a company's growth rate has stabilised sufficiently to project space needs for a longer period, Storey can accommodate a more conventional lease or a longer lease period. Likewise, with the need for additional space. For one customer leasing 25,000sqft, Storey configured two floors within a building the customer desired, and agreed a suitable service level. "They had the Storey experience and the capabilities, but they had it in a much more bespoke way," Lowery says.
The economics of the business have been favourable so far. Flexible leases are generating a 30% premium over traditional lettings, after accounting for the additional costs of outfitting space and providing services such as cleaning and internet.
Storey could eventually account for about 10% of British Land's portfolio. But by being in control of its own destiny – and staying in touch with its customers – the company can respond strategically to market conditions.
"The way we approach this is itself flexible," says Lowery. "If we want to turn things up because the market is doing well, or if we want to slow down a little bit for whatever reason, we have the ability to do that."
Future of offices: Smart buildings, intelligent by design
1

2

3

4

Currently reading

Future of offices: British Land takes on the disrupters

5

6

7

8

9

10