Despite the fog of Brexit uncertainty, many are still backing London to prosper, says Richard Lowe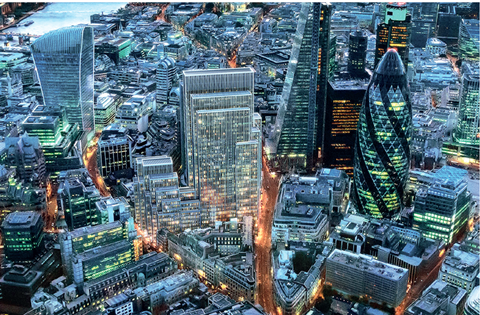 London is telling two different stories. The city, mired in Brexit uncertainty, is normally home to the most actively traded office market in Europe. But these are not normal times and many global investors are giving London a wide berth until some sort of political and economic clarity emerges.
During the first nine months of this year, the volume of London real estate transactions was down 32% year-on-year, while London office transactions dropped by 30%, according to Real Capital Analytics (RCA). It meant Paris took the top spot for the first time.
"Brexit uncertainty is having the greatest impact on office transactions in London, with deals in the sector now representing the lowest-ever proportion of the overall investment market," the RCA report says.
Yet, at the same time, the occupier market is looking very strong, with low vacancy and huge competition among tenants for high-quality commercial space.
"It's almost as though they didn't get the memo – that we were in a risk-off environment," quips Julian Agnew, UK CIO at LaSalle Investment Management. "The demand-supply dynamics look very compelling, particularly in certain markets like the City."
Cushman & Wakefield was unable to find any indication of slowing demand from occupiers in its Q3 London office market report. Office take-up exceeded 3m sqft for the second consecutive quarter, taking leasing activity for the previous 12 months to 12m sqft, above the five-year average of 11.7m sqft.
Overnight, the result of the EU referendum of 2016 hung a shadow of London's booming success story as one of the world's biggest commercial centres. It had been enjoying its place as the financial gateway between the US and Europe, and because of its location, critical mass and history was more often than not the first choice location for global companies seeking to set up European headquarters.
The Brexit vote threw a spanner in the works and raised the question of whether companies would jump ship to other EU cities like Paris, Frankfurt and Dublin. 'Brexodus' has not happened, and there is a growing feeling that it never will.
"We are just not convinced that anyone out there that can really challenge London's dominance," says Peter Papadakos, head of European research at Green Street Advisors. "If I could pinpoint just one [factor], I would say it is the size. Size matters because it allows for a deeper pool of [talent and] the job skillset is much more diverse."
He adds: "Yes, it will be harder to move here if you are not a UK citizen, but that doesn't stop New York or other cities across the world where you need visas to be successful. It's going to be another cost of doing business, but fundamentally it shouldn't structurally change the appeal of London."
Despite dropping down the transaction rankings, London still leads LaSalle's European Regional Economic Growth index (E-REGI), which is based on estimated occupier demand for different cities. "London retains its number one position based on its human capital and wealth and quality of business environment," says Agnew. "So, short, medium and long-term, we are still very positive on London as a global city, even with current Brexit concerns."
M&G Real Estate recently gave a big vote of confidence in the London office market, investing £875m in an office project at 40 Leadenhall Street, dubbed 'Gotham City'. The project, which was sold by Alberta Investment Management Corporation and Nuveen Real Estate, will deliver 905,000sqft of space in the City next year.
Martin Towns, head of UK commercial and global capital partnerships at M&G Real Estate, talks of the current period of Brexit malaise as "an unusual window of opportunity to put some money into the market at an attractive entry price". M&G is looking for more opportunities in the city.
"If you look at cap rates across developed markets in Europe and beyond, London cap rates today offer an obvious premium," says Towns. "And that is unusual when you look at history. It has tended to be the case that cap rates for prime London office buildings – be that City or West End – have been lower than they have been for other leading European cities.
"So there is an obvious relative pricing advantage in the London market at the moment and that differential in cap rates obviously reflects people's current concern about how Brexit will play out and what that means for the occupational market.
"Our view is that the underlying fundamentals in the London occupier market we expect to remain pretty robust, especially for buildings of this type. And therefore we see that additional…. discount being particularly attractive at this time."
Agnew concurs. "If you compare it with Paris or Munich, which would both be sub-3%," he says, "London looks relatively good value on a global basis at the moment, compared with other global cities. Will that dissipate when we've got some sort of resolution, some sort of certainty to the current economic [situation] or Brexit? I suspect it will. There is a lot of pent-up financial demand waiting to come in."
However, Papadakos says investors should look beyond cap rates. "It's true that the cap rates – the initial yields – are higher in central London office versus other office markets across Europe by anywhere between 50bps and perhaps 100bps, but unfortunately the story doesn't end there. The rental growth expectations for the next five years are much stronger in other parts of Europe versus London. So, yes, it's true the initial yield is higher, but the return expectations are lower for central London office than for other office markets in Europe."
Papadakos believes transaction volumes in the UK collapsed not just because of Brexit uncertainty because "the returns on offer are not that good, because you don't have forced sellers and cap rates are staying pretty tight, even for secondary product".
He explains: "Cap rates are inside of 5%, And when you think of all the capex you need to spend to reposition a building in a market where market rents are probably not growing over the next few years, it's hard to make, let's say, unlevered returns of even 5.5% – whereas you can make those returns in much of continental Europe. And the beauty of continental Europe versus London is you can borrow at about 100bps cheaper."
Why it might be a good time to develop
However, providing cutting-edge, class-A space in central London at this point of high demand can be very profitable. Ironically, Brexit uncertainty has probably helped support this part of the market, as developers have delayed schemes, leading to a scarcity of the very best commercial space.
The amount of space under offer is at record levels, says Elaine Rossall, head of UK offices research. "It seems counterintuitive, given the uncertainty in the marketplace," she says. "There is not a lot of choice for occupiers. That is prompting a lot of activity from companies to take space [and] a lot of this is pre-letting activity."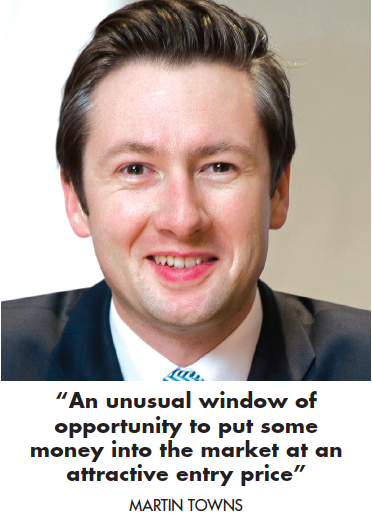 Towns says there was more to the rationale behind the 40 Leadenhall Street acquisition than just higher cap rates. "Our view is that supply and demand in the occupational market in London is pretty well balanced at the moment," he says. "Then, because of the Brexit uncertainty, there is a very limited number of additional new schemes, where developers are starting or where they have the funding in place to start. When we add all that together we see an attractive opportunity to deliver new best-in-class space to the market in a few years' time, when 40 Leadenhall will reach practical completion."
Tenant expectations have changed dramatically in recent years and new towers like 40 Leadenhall will need to be at the forefront of workplace quality and amenity provision. Towns describes this part of the sector as "a market within a market", where "there is potential for an attractive supply-demand imbalance".
The biggest development nearing completion is 22 Bishopsgate, a 1.28m sqft office tower, described by its developer AXA Investment Managers–Real Assets as "Europe's first vertical village" (click here for a full interview with AXA IM-RA's Harry Badham) which is due to open its doors in the new year.
When going to press, the building was around half pre-leased, having just signed renewable energy provider Statkraft. There are also unconfirmed reports of Apple seeking to take space in the tower while it waits for its new Battersea headquarters.
"It represents a significant proportion of space under construction, but it's had a very successful pre-leasing campaign," says Rossall. "It is going to come to the market at a period of relatively low vacancy rates, particularly in the City." The vacancy rate in the City is just above 4%.
Papadakos says developments like 22 Bishopsgate, started in 2015 and 2016, can generate "good returns on a risk-adjusted basis". He says: "For high-quality office space, the rents are actually higher than they were three years ago. So it hasn't been a bad time to be completing in the next 12 months."
Indeed, as the UK prepares to hold a general election that will largely revolve around Brexit, the country's economic prospects are uncertain. And so it is difficult to look at cranes littering the skyline without a sense of apprehension.
But Papadakos is fairly sanguine about the city's office market, even under different Brexit outcomes. Even under a no-deal scenario – which appears to have become less likely in recent weeks – there is unlikely to be a crash in rents.
"The key reason for that is under a no-deal you are more likely to see the slow deflation of rents as opposed to a sudden collapse," he says. In a very undersupplied market like the City of London, especially for spaces above 10,000sqft, "you are going to have to see material and rapid job destruction for vacancy rates to go up quickly". Papadakos adds: "Even under a no deal you are going to see some negative net absorption because of job destruction, but over time it is going to be slow-paced, it's not going to be dramatic."
A no-deal Brexit would also be likely to increase the squeeze on the development pipeline, exacerbating the lack of new high-quality space in the City.
"Paradoxically, under a no-deal, we'll see [the developments] that are supposed to complete towards the back end of 2021 will be delayed. This is something that we have seen consistently since 2016," Papadakos says. "Developers are delaying and delaying and delaying. Under no deal…. we will see the pipeline delayed again.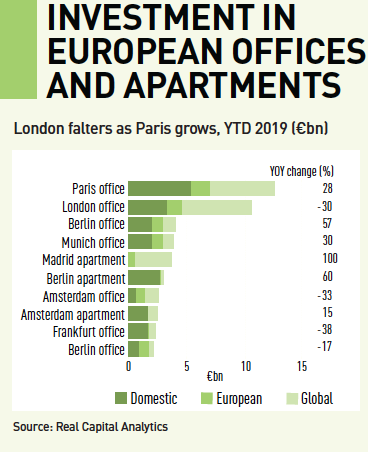 Under a Brexit deal scenario, however, rents are not suddenly going to up either. But the capital markets are likely to see a response. "I don't think the occupational sentiment is all of a sudden switched towards people thinking they are going to hire more than they were going to hire before," says Papadakos. "But you have more liquidity and probably cap rates start compressing."
Initial yields of 4.25% in City could go to 3.9%; cap rates of 3.75% in the West End could go down to 3.5% or even 3.4%. "All of a sudden, at least the negative scenarios are off the table and people see a tight market where rents should be stable, and maybe now there is a little bit of tail possibility of upside surprise," Papadakos says.
"From an investment perspective, the market is relatively subdued generally," says Rossall. "Occupational and investment markets are working at different spends. Assuming we agree a deal, we know there is a wall of money waiting to come back into the UK market once certainty returns."
Future of offices: Smart buildings, intelligent by design
1

2

3

Currently reading

Future of offices: Betting on the Big Smoke

4

5

6

7

8

9

10