For a relatively small market, Australia has been centre of attention for a growing number of global real estate investors. Florence Chong reports
Global asset manager BlackRock and its Australian partner Centuria Capital Group have made a handsome capital gain of A$158m (€98m) from their investment in a pair of office towers in suburban Sydney – in less than three years. They bought Zenith Towers in Chatswood for A$279m in 2016, and sold this year to Starwood Capital and Arrow Capital for A$438m.
In Australia today, it is just another run-of-the-mill transaction in an office market that totalled A$16.7bn in the first three quarters of 2019. But the deal is notable because the asset is in a suburban commercial centre some 12km outside Sydney's CBD core. And it underscores the now-accepted practice of foreign investors partnering with domestic players to access big-ticket property deals in Australia.
Unabated demand from domestic and foreign buyers has pushed at least half a dozen Sydney office towers to billion-dollar-plus valuations this year. Andrew Ballantyne, head of research for Australia at JLL, says: "We have seen some very rapid growth. Asset values have pretty much doubled in Sydney and Melbourne since 2012. Rents have been rising and the cap rate has been coming down, so you have a double impact on value."
So is there a danger of a bubble forming in the market? "If there is a bubble, it is a global bubble," says Darren Steinberg, chief executive of Dexus, Australia's largest office landlord. "It is not a bubble. Australia today is very much part of the global market. It is driven by demand for real assets that give solid income streams with reasonable growth.
"The capital market is obviously helped by the cheap cost of finance and the fact that bond rates are falling and actually negative in parts of Europe. Our market has fallen in line with the global market since 2008 as our debt market [has matured], and we can now get reasonably priced long-dated debt."
Ballantyne says two global themes are driving the Australian market. "The first is institutional investors, who are making higher allocations to real assets – infrastructure and real estate. The second is the portfolio tilt towards Asia-Pacific. When it comes to Asia-Pacific, many risk-averse investors look to Japan and Australia."
Ken Morrison, chief executive of the Property Council of Australia, says: "You are in an economy that has been performing well, certainly outperforming many other economies round the world. You get exposure to Asia, but in an environment without many of the transparency risks you get in some Asian markets. So it is no wonder that Australia is such a focus.
"Having said that, while Australia's economy is still growing, that growth is not as great as it was previously." That slower growth has reflected in softer overall demand for office space in the past six months.
Besides market fundamentals, Morrison says that, increasingly, managers are focused on sustainability. Global investors have been attracted to Australia for the high build quality and sustainability standards of its buildings.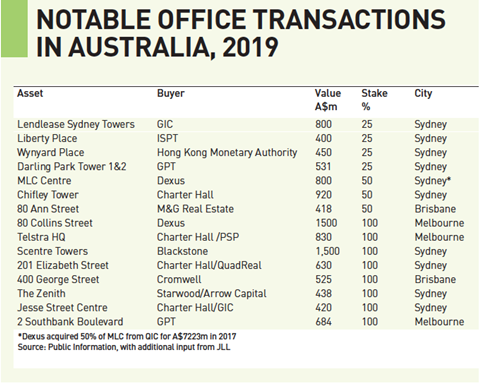 "Investors do want to ensure that their assets have a positive contribution to the environment and are created for the long term and managed well," he says.
Australia's listed property trusts, led by Charter Hall and Dexus, have been the most aggressive buyers, often in partnership with global institutional investors like Canada's PSP Investments and QuadReal, and Singapore's GIC (see table).
These large transactions have helped set the pace of cap rate compression. Dexus paid A$723m for a 50% stake in the iconic MLC Centre in Sydney's financial hub, Martin Place, in 2016 and this year paid A$800m for the other half.
Steinberg points to at least three recent significant market transactions made close to a 4% cap rate involving 201 Elizabeth Street and Liberty Place in Sydney, and 242 Exhibition Street in Melbourne.
The average cap rate of the Dexus portfolio stands a 5.1%. But falling cap rates have not sounded alarm bells, suggesting industry confidence in the health of the Australian office market.
"Nothing wrong in being confident," Steinberg says. "Our properties are effectively full, and there is nothing out there that would cause concern. We are realists, and know that global growth is slowing, so invariably at some point in time there will be some impact. But the key message at this point is that we are not seeing this. The flip side is that when [a slowdown] eventually comes, there is very limited new supply coming into the key markets in Sydney and Melbourne."
Hence, Dexus is busily assembling sites for new precinct developments. In August, it paid A$1.5bn for a prime site at the Paris End of Collins Street in Melbourne and continues to aggregate sites in core business locations.
Steinberg says most new supply in Melbourne is pre-committed and the long-term forecast vacancy rate is about 6% in 2024. In Sydney what is coming to market is essentially replacement stock.
Falling rates lift market even higher
Industry experts remain convinced that falling bond rates in Australia – and globally – will further tighten cap rates, prolonging the current cycle for at least another 18 months, perhaps longer.
"We expect accelerated yield compression of 0.25%-0.5% over the next year to the end of 2020," says Bradley Speers, head of research at CBRE Australia. "Roughly a quarter of corporate and [global] government bonds are now negative-yielding. Property returns, whether 3.5% in Singapore or 4% in Sydney, are a lot better. If you compare yield on Australian property against overseas markets – in Singapore, Hong Kong, Los Angeles or Paris – it is still relatively high."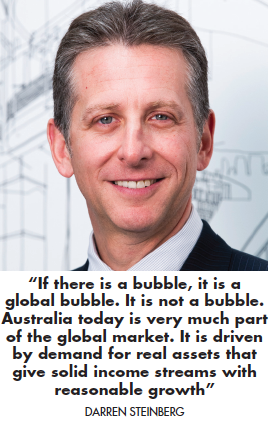 Ballantyne says: "We have entered a world of negative rates, and for pension funds, investing in anything that can generate a positive return is attractive. In Australia, we are at metrics that we have not seen before, generating unlevered returns of around 6%. That is very attractive in a global context."
Despite recent upward revaluations, Australian real estate is still relatively cheap, Speers says. "This supports our thesis that we are going to see further yield compression in the Australian market."
The lowering of Australia's official interest rate and weakening of the Australian currency have added an additional gloss to Australian assets from an offshore perspective.
"The interest rate [in Australia] has gone down to 0.75%. This reduces currency hedging costs, making Australia more attractive than Germany and other markets, where many investors need to hedge their offshore investments."
Ballantyne says the current cap rate compression cycle started in 2013-14, and physical market recovery started around 2015-16. "This cycle has been characterised by falling vacancies. The vacancy rate in Melbourne (3.6%) is the lowest since the late-1980s and the lowest in Australia. The last time a vacancy rate was this low was in Sydney in 2000. Sydney is currently at 4.6%."
Demand for office accommodation, primarily from the financial services, health, education, co-working and IT sectors, has pushed down vacancies in sought-after areas of both cities.
Michael Stratton, head of acquisitions at LaSalle Investment Management in Australia, says: "The difference between Melbourne and Sydney is that rents are lower in Melbourne and, unlike Sydney, Melbourne does not have regional commercial centres like Parramatta, North Sydney and Chatswood."
The Docklands area is the only other business centre, and Docklands is running out of commercial sites for office development, Stratton says. LaSalle owns 222 Exhibition Street in Docklands, acquired for A$231m in 2015, along with 380 Docklands Drive in 2015 for A$80m and continues to look for more assets in an increasingly tight market.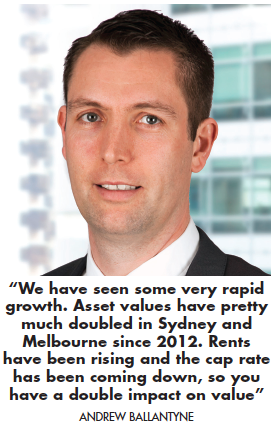 LaSalle manages a portfolio of about A$1.5bn, mostly for the California State Teachers' Retirement System, German pension fund BVK, and LaSalle's own series of Asia opportunity funds.
It is believed to be pitching for an office building in Sydney's Castlereagh Street, the Central Square complex, which is expected to sell for A$325m. As with several recent acquisitions, some with Charter Hall and ARA Asset Management, sources say LaSalle is buying an older building that lends itself to repositioning in a tight market.
Ballantyne says Sydney has seen little new supply since Barangaroo, a A$6bn regeneration project on the Sydney's harbour foreshore.
Brookfield, which is developing the 75,000sqm, A$2bn Wynyard Place precinct in central Sydney, has secured pre-commitments from a leading Australian bank and German insurer Allianz for some 49,000sqm.
AMP Capital, on behalf of its wholesale fund and pension fund investors, is developing AMP Capital Quarters in a site fronting Circular Quay. Some 80% of the office tower in the mixed-use project, which includes retail and residential apartments, has been pre-leased.
The latest PCA office market report looks out to 2023. Morrison says: "From a supply perspective, Australia is not about to go into oversupply."
The shortage of stock is one reason foreign investors have resorted to partnering with Australian companies to develop new projects or to add value to convert buildings into core assets.
Morrison says: "Investors are looking for alignment with managers prepared to co-invest. More Australian operators are looking to form partnerships with offshore entities. Capital from a range of sources is partnering with Australian-based managers to produce assets."
Canadian investors are highly represented among foreign owners. "The Australian and Canadian markets have similar characteristics, and our dollars move the same way," says Ballantyne. "For Canadian investors, this is an extension of their own market."
There is also a revival in interest in Australia from Europe, led by German investors; Deka Immobilien, Real IS, Commerzbank, Union Investment and the DWS Group are active in both office and the broader market.
Australia's second-tier capital cities, Brisbane, Perth and even Adelaide, have been emerging from a recent slumber just as institutional investors have shifted their focus in the hunt for value. They are on a slow path to recovery, having suffered a serious hangover of over-investment during Australia's decade-long mining boom.
Speculative development spawned high double-digit vacancy rates, which are only now drifting slowly downwards. It is two years since Australia's resources-heavy exports turned the corner, and office markets in the capital cities of the key resource-reliant states – Western Australia and Queensland – have begun to stir.
They are attracting countercyclical investors, including GIC, which has mandated Charter Hall to look at opportunities in Perth and Brisbane. Through an A$800m mandate with Australian managers, GIC has purchased offices in Brisbane and Perth for A$370m and A$320m, respectively, in the past two years.
M&G Real Estate is forward-funding an A$836m development in Brisbane and, on completion, will hold a 50% stake in the building. The deal, with Mirvac, was transacted at a yield of 5%.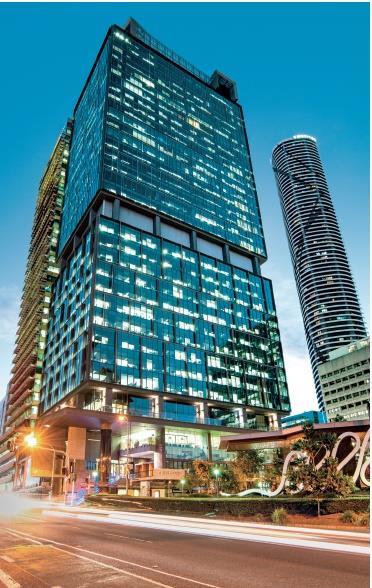 Cromwell set a record this year, paying $525m to acquire 400 George Street in Brisbane CBD from Blackstone and the German financial institution, HSBC Trinkaus.
Speers says: "Three years ago, overseas investors almost exclusively focused on Sydney and Melbourne. They are now expanding their reach." He says that, over the next year, Perth will deliver the strongest effective rental growth in Australia.
Ng Chiang Ling, chief executive of M&G Asia Real Estate Asia, says: "We believe that Brisbane provides a higher relative return. With a declining cash rate, the yield spread is almost 4%, or 0.5%-0.75% higher than Sydney or Melbourne."
Stratton agrees: "Certainly, you get better yields in Brisbane than you would get in Sydney or Melbourne. Brisbane is growing, with improved infrastructure. And because Brisbane is on the east-coast corridor, most investors are happy to look at Sydney, Melbourne and Brisbane."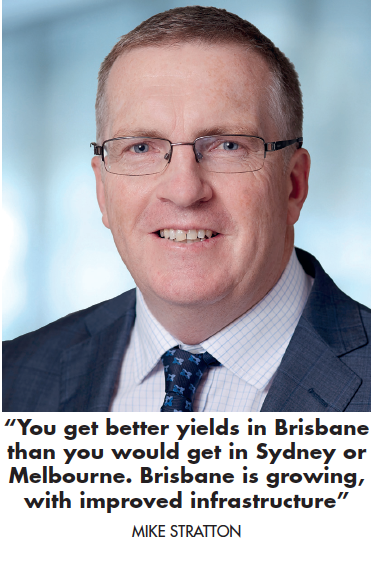 Acting for US pension fund CalSTRS, LaSalle has acquired two buildings in Queen Street Brisbane for just under A$200m. They are the starting block for site consolidation for a potential redevelopment project.
LaSalle's Fortitude Valley site sits atop a railway station, and is earmarked for mixed-use development. "Office, retail and residential makes a good gentrification story," says Stratton.
Morrison says Brisbane is still recovering from the end of the mining boom. "Demand is picking up, but is still not overly strong." The vacancy rate is down to 11%. He is optimistic of Brisbane's future, with "some tremendous investment plans" going into the city, including expansion of Brisbane International Airport.
Perth, the Australian centre of last decade's resource boom, remains weighed down with high vacancies. But Morrison says: "We have seen a pick-up in demand of 1% over the last six months. The vacancy rate has fallen to 18.4%, and the stock of A-grade and premium grade office is tight."
The prospects are bright enough to convince Invesco Real Estate to consider making one of its single biggest commitments in Australia to Perth.
"Over the next 12 months, Perth will deliver the strongest growth in Australia," Speers says.
IPE Real Assets understands that Invesco is close to finalising a A$400m fund-through arrangement with Brookfield, which is building a new Australian headquarters for the US oil giant Chevron. Invesco would be an equal co-owner of the asset on completion.
Adelaide has the stronger occupancy take-up rate of 1.6% pushing its vacancy level down to 12.8%. It is stimulated by growth in its defence sector, which is expanding due to contracts to build new submarines.
Blackstone was one of the early movers, buying a portfolio for A$600m in 2017. It has since sold some assets, including a A$184.6m office tower Centuria and the Lederer Group this year.