The outlook for office markets in Asia-Pacific varies across the region, as countries respond differently to the crisis. Florence Chong reports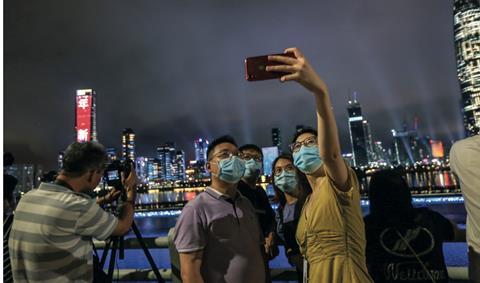 In the first half of this year, the COVID-19 pandemic claimed 85.4m jobs in Asia-Pacific. This caused a massive 45% decline in office space demand in the region for the second quarter, according to Cushman & Wakefield.
The airline, hospitality and retail sectors – among those most seriously affected by the crisis – were forced to quit office space as they retrenched staff. Dominic Brown, Cushman & Wakefield's head of insight and analysis for Asia-Pacific, says: "We will likely see a slow and steady recovery in the job market. Over the next four to five quarters, employment will get back to roughly where we were pre-COVID."
But Brown points to Oxford Economics research which, he says, comes with "a health warning". He says: "The situation is fluid. Much will depend on the level of success in containing the virus. Those countries that have done well in control measures will recover more quickly."
Brown believes there will be a three-speed recovery among countries in Asia-Pacific. The first recovery will be in north Asia, with China in the lead, along with Japan, Hong Kong, South Korea and Taiwan. Australia could have been in this group, but the second wave of COVID-19 in Melbourne has set it back.
"Singapore and Malaysia also had flare-ups, but dealt with them. They are likely to be in the second group, too" he says. "India, which is struggling to keep COVID-19 under control, will likely see a more protracted style of recovery."
Harry Tan, head of research for Asia-Pacific at Nuveen Real Estate, is optimistic that Asia-Pacific will be the first global region to recover from the pandemic-induced slowdown. "Our view of the region's third-quarter economic outlook is very positive," he says. "We expect to see a strong pent-up demand boost to growth in the third quarter, although, as you can imagine, the outlook beyond that is uneven and uncertain. Until a COVID-19 vaccine is developed, uncertainty will continue to cloud the economic and market outlook."
Tan is also mindful of ongoing geopolitical tensions and soft global demand, which continue to have an impact on growth. But the speed with which Asia-Pacific governments contained the virus and to put economic support measures in place has paid dividends, he says. "China provides important lessons as to what can happen if governments get their act together. We are looking at better-than-expected growth of 2.5% in China this year."
Tan says China will likely experience a sharp V-shaped recovery, with a forecast growth rate of 8.5% for next year. "The rest of the region will likely follow China's lead," he says.
As economies have re-opened, office absorption in Asia-Pacific has gradually improved. By the second quarter, absorption had turned positive, with a take-up of 7m sqft. The annual average take-up in Asia-Pacific is 25m sqft. However, some pandemic containment measures, such as remote working, are expected to have an ongoing impact on offices.
Today's immediate problem lies in quantifying the longer-term impact. It could take months more before a clearer picture emerges. In its analysis of the Asia-Pacific market, M&G Real Estate suggests that allowing employees to work from home just 20% of the week would increase vacancy rates by 2-4% across major cities.
Ng Chiang Ling, chief executive of M&G Real Estate Asia says: "The COVID-19 pandemic provides an opportunity for companies to better assess the proportion of employees that could work remotely for a sustained period of time." She expects some remote working will continue, but the degree and rate at which it is implemented will vary between companies and industries across the region.
There has been a limited impact on the income and valuation of M&G's portfolio, she says. "We do, however, expect a longer downtime for leasing activity, given the current uncertain market conditions."
Ling says the pandemic has accelerated the trend of 'real estate as a service' and is increasing bifurcation in the office sector. "Assets that are well-built and managed will likely be more resilient against the potential headwinds," she says.
Shenzhen leads China recovery
Office leasing inquiries in China are recovering rapidly on the back of a rapid bounce-back from COVID-19. GDP growth of 3.2% was reported in the second quarter, snapping back from a 6.8% contraction three months earlier.
Daniel Yeo, head of research at JLL China, says: "Office markets in China's tier-one cities are gradually recovering after taking a hit in the first quarter. In the first quarter, the COVID outbreak, and subsequent containment measures, stalled economic activity and curbed leasing activity."
Chinese government control measures helped to contain COVID in the second quarter, Yeo says, with employees returning to their offices. "Most companies at this point are working with landlords and property managers to adopt measures to ensure employee safety and health in the workplace," he says. "Buildings are regularly sterilised, and employees are given personal protection packages with sanitiser and face masks."
Yeo says there are clear employee benefits to working from home but, in many cases, living arrangements make it a sub-optimal choice, because of limited space, lack of privacy and/or more distractions. "Whether productivity can be maintained away from the office over the longer term is also yet to be verified," he says. "In fact, productivity is [more] likely to be boosted by regular office interaction."
Yeo points out that the office in China has long provided a place for concentrated work, and increasingly is a place for collaboration, connection, innovation and social interaction. "Firms' and workers' desire for these characteristics have not diminished."
A CBRE survey of brokers indicates that leasing inquiries in Shanghai are now back to 80-90% of pre-COVID-19 levels.
Henry Chin, CBRE head of research of Asia-Pacific, says much of the leasing activity in mainland China is coming from tech companies, which are taking advantage of oversupply – especially in Shanghai and Shenzhen – to move to quality buildings. "It is a combination of flight to quality and companies taking more space to plan for expansion," he says.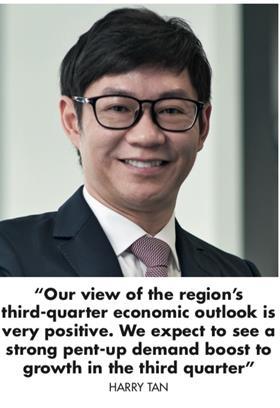 According to Chin, Chinese cities had their first taste of negative office absorption at the height of the pandemic, in the first quarter. "This shows just how significant the impact was on the Chinese office market. We have seen a strong V-shaped bounce-back in the second quarter."
Shanghai is among the top cities on CBRE's Recovery index, a system of 12 key indicators tracking the economy, transportation/mobility, tourism, workplace re-opening, retail and entertainment activity. A score of between 1 and 5 measures recovery from COVID-19, with 1 indicating that most COVID restrictions remain in place and 5 indicating a recovery to pre-pandemic levels. Shanghai's overall score is close to 4, while Beijing scores just above 3.
Chin says office rentals in Shanghai were declining before COVID-19 because of oversupply, which continues. Although several new projects were delayed for delivery, the city registered more than 64,000sqm of new space in the second quarter. Quality assets continue to attract occupiers, he says.
Beijing has neither oversupply nor new projects due for completion. Its vacancy rate is below 5%.
CBRE says 708,000sqm of new completions due to come onto the market over the next six months will push up vacancy rates in Beijing. Average office rents in Beijing there fell by 1.2% in the second quarter, and are expected to bottom out in the coming 12-24 months.
Chin says the strongest tier-1 markets in China are Shenzhen and Shanghai, which have shown more resilience in demand than other major Chinese cities.
According to the Savills research team, China, the net office take-up in Shenzhen surged 11.7 times in the second quarter over the level recorded in the first quarter of this year.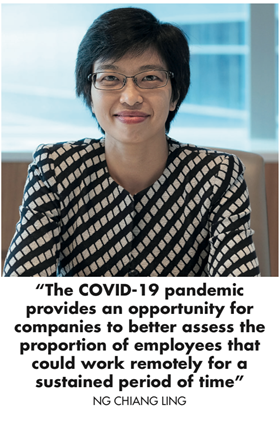 Growing companies in the technology, media and telecommunications and finance sectors are driving demand in Shenzhen.
Industry experts say that, among other key sectors of the Chinese economy – such as professional services – cost-saving will likely remain a goal, with firms expected to renew leases rather than take on additional space.
Japan breaks with tradition
With hardly any vacant office space available in its major cities before COVID-19 hit, Japan seems set to dodge the pain of rising vacancies and falling rents. But the pandemic will leave a lasting legacy. It has hastened the end of Japan's famously-rigid work culture, with remote working gradually being adopted by Japanese corporates.
Japan entered the pandemic with the strongest office market fundamentals in Asia-Pacific. The vacancy rate in Tokyo was 1.7%, while the next largest market, Osaka, had zero vacancy and zero supply coming online.
"Despite the lockdown, rents increased by 0.3% in the first half," says Chin. "Our forecast is that CBD rents in Tokyo will increase by between 0.1 and 0.2% this year. There will be no correction in that market."
Hideaki Suzuki, head of research – Japan, says the impact of COVID-19 on Japan's office market will become clearer next year. "The tight market has masked an increasing number of cancellations, and we will not know how much space has been surrendered until the end of the year," he says.
"During the [2008] global financial crisis, the companies giving up space were those already performing poorly. But in this crisis, we see good performers also surrendering space."
Suzuki says the key motivation is cost-saving. Irrespective of whether companies are performing well or badly, they are concerned by uncertain macro-economic conditions and the as-yet unquantifiable impact of remote working.
Japanese conglomerate Fujitsu took the lead in July when it implemented its work-life shift initiative. It plans to free its 80,000 Japan-based employees to work remotely as it transforms itself into a digital company. The move, it says, will reduce its office footprint in Japan to 50% of current levels by 2022.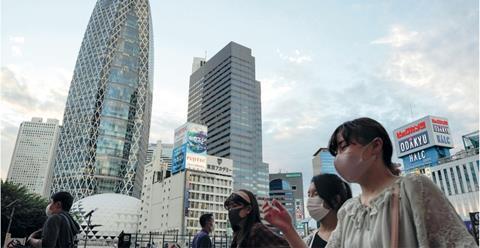 Chin says: "We interviewed 361 Japanese major companies, and were very surprised to find that 54% of respondents plan to allow employees to work remotely on a regular basis."
But he has doubts that working from home is likely to be widely adopted. The culture is different, and Japanese, like Korean corporations, are hierarchical, and managers want their subordinates in the office so that they can monitor their work.
Before the pandemic, about 10% of Japanese companies allowed employees to work remotely in Tokyo, Suzuki estimates. Today, despite a government mandate for 70% of workers to work from home, nearly half of office workers have returned.
However, rather than the linear style of the past, with employees and management working out of head offices in Tokyo, Chin sees the hub-and-spoke model becoming more prominent. Rather than signing up for long leases, companies will increasingly opt for agile flexible space.
Suzuki says the hub-and-spoke approach allows companies to have multiple offices in various Japanese cities. "In future, some employees will be able to choose to work in either Tokyo, Osaka or Fukuoka as employers adopt more flexible arrangements," he says.
The shift to what Suzuki jokingly terms "the great perks" is under way as companies seek to attract young talent in a job market below 3% unemployment. This is a break from Japan's traditional rigid office culture.
Incentives, sub-leasing test Australia
Rising incentives and the amount of space coming back for sub-lease speak volumes for the health of Australia's office market. COVID-19 has quickly turned around what was the strongest market in Sydney and Melbourne in two decades to one that is slipping inexorably towards high rates of vacancy.
"We are expecting vacancies in Sydney and Melbourne to trend up to 9-10% by 2021," says Mark Curtain, head of office leasing Pacific with CBRE. "But even if we end up at that level, it is still a reasonably-balanced position. A market with a vacancy rate of 7-8% is considered balanced. Pre-COVID, we were extremely well-positioned to take on a crisis – with a vacancy rate of 3-4% in both Sydney and Melbourne."
JLL Research shows an increase of 1.8% in national CBD office vacancies, up from 8.4% to 10.2% in the second quarter. Andrew Ballantyne, JLL's head of research for Australia, says the office vacancy rate in the larger CBD office markets of Sydney (7.5%) and Melbourne (7.7%) is below the national average.
But these are headline numbers. Vacancies in office buildings under 10 years old are actually much lower than vacancies across the broader market. The vacancy level in these newer buildings is 5% in Sydney and less than 3% in Melbourne.
But US investment bank Morgan Stanley is bearish on Australia. In a recent research note, it said office vacancies could rise to as much as 15% in Sydney and Melbourne in the next three years, as working from home becomes more widely accepted.
And sub-leasing is a growing issue. Ballantyne says the level of sub-leasing goes up in every downturn, and that there was 72,000sqm of space for sub-lease in Sydney and about 70,000sqm in Melbourne at the end of June.
Ballantyne expects the level of sub-leasing to rise as corporates give back space they do not need, whether through more flexible work policies or downsizing. During the 2008 financial crisis, sub-leasing was largely concentrated in premium-grade buildings as investment banks downsized, he says. In this crisis, sub-leasing of space is across a range of industry sectors and building grades.
Anecdotally, incentives have gone as high as 45% in some of Australia's softest markets, says Curtain. Incentives are a common tool in holding up face rents, with landlords offering to cover capital expenditure, such as fit-out costs. Incentives have long been a feature of Australia's office rental market, and in good times, they drop below 20%.
Kevin George, Dexus executive general manager, office, told analysts in August that Dexus expects a 10-20% drop in effective office rents because of the current elevated level of incentives. The company says that, with the exception of Melbourne, which is still in lockdown, leasing inquiries have recovered. In the company's experience, these inquiries are coming from financial services companies looking to take advantage of softer conditions by upgrading to better space.
Curtain says some businesses, such as technology companies and professional services firms, are doing well, with accounting, and legal practices specialising in industrial relations, thriving in the current environment. He says new projects slated for completion in Sydney in the next couple of years are mostly pre-committed. In Melbourne, new projects are "backfill space", and some of these are starting to be committed.
Ballantyne says: "Every economic downturn has its own unique ingredients and this one is no different. Companies are seeking a pathway back
to achieving their pre-crisis revenue levels. We expect market conditions to remain challenging in 2021 prior to a sustained leasing market recovery in 2022."
China looms large over Hong Kong
Office vacancy in Hong Kong has spiked to a 12-year high, and there is a fear this figure will continue to climb. The COVID-19 lockdown has added to the pressures that Hong Kong's office market was already facing after a period of civil unrest.
Property analysts are forecasting grade-A office rents will fall 14% year-on-year in 2020, with a bigger correction of 18% in Central, Hong Kong's main business district.
"The rise in office vacancy began well before the pandemic, although it has exacerbated in recent months," says Nelson Wong, head of research for Greater China at JLL. "As business prospects become murky, it is understandable that many companies will take a more cautious stance with respect to their real estate requirements."
Hong Kong's office vacancy rate reached 7.6% at the end of June, its highest level since September 2009, when it touched 7.7%. "In the first half, Central experienced the greatest change, from 3.6% at end-2019 to 5.6% at end-June 2020," says Wong.
Take-up of space turned around from net absorption of 1.5m sqft in the first half of 2019 to negative 1.4m sqft for the same period this year. By the middle of the year, tenants had surrendered some 1.32m sqft – about 1.3% of Hong Kong's total stock of grade-A office.
"Demand for office space is ultimately driven by business potential," says Wong. "When the economy is moderating, demand for office will naturally be weaker. Basically, any event that adversely affects the local and regional economies will have an adverse effect on office demand."
Wong says most demand is from cost-conscious tenants and companies moving to consolidate, or seeking lower rents in decentralised locations.
Chin believes Hong Kong's resilience should not be underestimated. Its ability to bounce back from dire situations has surprised in the past, he says. "The Hong Kong office market will rebound. We forecast CBD growth to be positive 2-3% next year, reversing the forecast of a minus-5% to minus-20% decline this year."
Tan says Chinese companies have been replacing global financial services firms as they move out of Central into decentralised areas like Kowloon East. Chinese tech companies will continue to list in Hong Kong, following the likes of JD.Com, Netease and Alibaba, and take up office space in the city.
But Tan is unsure whether current momentum will persist in future because of geopolitical tensions. "This may slow their aggressive expansion in Hong Kong," he says.
The presence of Chinese companies has been growing over the past decade. In 2013, they occupied 8.5% of Hong Kong's office market; last year they occupied 9.3m sqft, equivalent to 11.7%.
It cannot be denied that Hong Kong is facing "super challenges", says Chin, but he believes its role as the gateway to China will not diminish and that, if anything, it will grow in coming years.
Many do not share his optimism. Geopolitical issues are chipping away at Hong Kong's status and strength as the financial centre of North Asia. In June, China imposed its controversial national security law. The US government reacted swiftly, with a presidential executive order revoking Hong Kong's special preferential trade status.
The US has imposed financial sanctions on 11 individuals, including Hong Kong's chief executive Carrie Lam. US sanctions also apply to banks "deemed to have aided the erosion of Hong Kong's autonomy".
In the wake of the US action, one in four firms surveyed by the American Chamber of Commerce in Hong Kong said it was considering leaving Hong Kong. A handful of companies, particularly those in the media and technology sectors, have relocated to other Asian cities as China tightens its grip on Hong Kong's freedoms.
Remote working new norm for Singapore?
Singapore moved to phase two of a re-opening in June, with most businesses starting to resume operations. Across the island, according to Singapore's Urban Redevelopment Authority (URA), a government agency, vacancies rose to 12.1% from 11% at the end of the first quarter.
Core office vacancies have crept up from 2% in the first quarter to 2.9% in the second quarter. URA says the amount of occupied office space decreased by 55,000sqm of net lettable area in the second quarter. There was a 7,000sqm decrease in the first quarter.
"About 20% of our office community had gone back to their office," Kevin Chee, CEO of Capita-Land Commercial Trust (CCT), told analysts in July. "Leasing activity was muted in the second quarter, but we still managed to ink 176,000sqft of new and renewal leases."
The largest deal was the renewal of a lease by Singapore's Economic Development Board for nearly 100,00sqft at Raffles City Tower. Chee says it was hard to predict what would happen in 2021 and 2022. "That story remains to unfold," he says.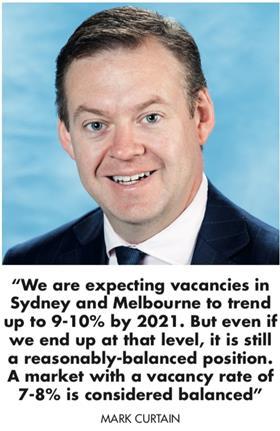 To cushion the impact of COVID-19, CCT, Singapore's largest office landlord, has passed on a 30% property tax rebate to office tenants and provided "targeted" assistance to some.
The Singapore government is also supporting companies and their employees during the crisis. "We are watching how the office market rental cycle evolves as weaker economic conditions are counter-balanced by limited new supply," says Chee.
About 2m sqft of new space is scheduled to come on-stream in the next two years, when new projects such as Central Boulevard, in the relatively-new financial area of Marina Bay, and Guoco Midtown, located in a secondary commercial area, are completed.
Normally, new space is welcomed to provide relief to a tight rental market, where average annual net absorption is around 1.3m sqft, but the new supply could dampen rental growth as absorption continues to fall.
"We are currently seeing the tip of the iceberg," says Christine Li, head of research for Southeast Asia at Cushman & Wakefield, "because office leases run from three to five years. Until companies start to relocate or renew, the picture will not be clear."
So far, she says, take-up of space in grade-A buildings remains positive. Net absorption in the second quarter was 24,000sqft.
Co-working operators drove demand for office space in the past three years, but that has abated as the sector began to consolidate.
Real estate analysts are unanimous in belief that there will be a fundamental change in demand for space as remote working becomes a norm in Singapore's office culture. About half of employees of multinational corporations (MNCs) still stay away for health and safety reasons.
US-centric tech firms have been very supportive of long-term remote working," says Li. "At Cushman, we are still allowing only a quarter of our employees to be at the office at any one time."
Li says MNCs are looking at employee profiles to determine who can work remotely. "It is an ongoing conversation," she says. "No one knows for sure. It may be that companies will decide that non-client-facing employees are able to continue working remotely. Or those with regional roles and whose job entails constant travelling may not need a designated desk in the office."
When the dust finally settles, depending on individual company, Li expects space reduction to be in the range of 5% to 20%.
Future of Offices: No going back
1

2

3

4

5

6

7

8

9

10

Currently reading

Future of Offices: Asia-Pacific – a region in flux