Co-working providers are probable casualties of COVID-19. But the flexible office market itself could become bigger and stronger, writes Maha Khan Phillips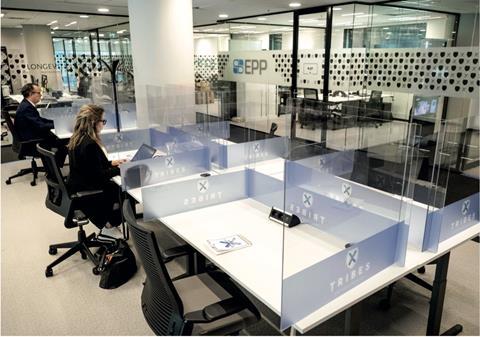 In August, RGN Holdings, the company that operates several Regus shared office suites in the US, filed for chapter 11 bankruptcy. RNG, which runs a network of more than 1,000 co-working and on-demand office locations, said, in court documents, that the pandemic had "severely disrupted business plans and operations for certain locations within the company's US portfolio". It is a cdilemma that many other co-working operators face. The pandemic turned off their income almost overnight.
"In the short term it's going to be very difficult for co-working operators, until there is a vaccine found," says Zachary Gauge, director of European real estate research at UBS-AM Real Estate & Private Markets. "It's pretty obvious why. So a big question is how many of those operators will be able to survive financially while their occupational levels will be around zero. We won't know that for months or years, but there is likely to be a shake-out, and the smaller and less well-capitalised companies are likely not to survive this period."
Flexible space leasing slowed down considerably in the first quarter 2020, compared with the previous 12 months. In New York, flexible space leasing was down 84% year on year, according to figures from JLL. Central London and Paris activity was down 83% and 52%, respectively, compared with Q1 2019. In Asia, Hong Kong recorded a decrease of 44%, while no new flexible office space was signed in Shanghai during Q1 2020.
But the long-term outlook for the sector is a different story. With the way that offices are used is set to change, JLL believes that 30% of all office space will be consumed flexibly by 2030. In its July 2020 report, The Impact of COVID-19 on Flexible Space, the firm argues that over the medium term there will be an increase in workplace mobility programmes that emphasise remote working. Flexible space is quick and easy to acquire, and tenants will turn to it as a solution for smaller, satellite offices that reduce commuting and the need for public transport.
The firm's Occupancy Benchmarking Survey revealed that 67% of real estate decision-makers are increasing workplace mobility programmes.
Chris Urwin, director of research for real assets at Aviva Investors, says: "I'm a believer in co-working as a concept, in that it reflects the nature of today's economies. Given the improvement in information tech and communication tech, it's much easier to break down working tasks to individual components and find the right person for them."
What will change, however, is the concept of co-working itself – and the way operating models work. Anne Koeman Sharapova, Principal of European real estate at Mercer, says: "Many people think of co-working as a typical open plan, where creatives mingle. But keep in mind that most flex providers offer a range of solutions. The majority is for office space within a bigger flexible complex."
30% of all office space will be consumed flexibly by 2030 - JLL
Sharapova says smaller companies not tied to long leases and which want to make changes to their provisions are likely to shift to flexible providers after the pandemic.
"I actually think the flexible office space model will do quite well," she says. "It's hugely flexible from a payment perspective, and it is also inclusive of everything, including cleaning, which is an increased cost for corporates now."
Industry participants believe 'traditional' co-working models, which cater to individuals and smaller entities, are the ones that will really struggle. They were already shrinking as a percentage of the market, with larger players looking to offer more enterprise solutions.
Peter Papadakos, head of European research at Green Street, says: "There's a distinction between co-working, which is a small part of the market, and the flex office, which is different. Co-working is only possible if it is very dense. Profitability is therefore a question mark for co-working operators. If a vaccine isn't developed in the medium term, then it's going to be very difficult, and many co-working companies will go out of business. But, probably, the flex office will take part of that share."
Papadakos cites WeWork as an example of a company that has repositioned its model. "Probably 30-40% of WeWork is actually enterprise, leased out to corporates, with dedicated floor space that you can only enter if you have a security pass and are working for the firm," he explains.
Ben Sanderson, director of fund management at Federated Hermes, feels that WeWork's model should not be considered as reflecting the market as a whole. "The WeWork model have leased buildings wholesale and sold them resale," he says. "They rely on the arbitrage and they sign a huge commitment to pay the rent, so they have their debt commitment and leasing commitment, so it's basically a pricing arbitrage model."
JLL believes that once the initial wave of uncertainty has passed, larger, well-capitalised flexible-space operators will restart expansion, picking up assets and market share from those unable to weather the storm.
It also believes that market consolidation will yield a healthier marketplace, with strong flexible-space operators remaining. At the same time, it expects growth to shift from leases to fee-based management agreements, white-labelling, and or self-perform concepts by landlords.
Ben Munn, global head of flex space at JLL, says operating models that were in a strong financial position with well-established businesses before the crisis should survive, particularly if they can adapt.
"Companies that struggle will be those that have grown very quickly, that have made significant capital commitments, and those that were in an investment period rather than an actual profitable operating period and therefore were carrying significant excess space, which they would have filled if the market hadn't changed," he says.
"They are effectively over-extended on their cost commitments."
Munn is optimistic about the long-term opportunities for flex providers. "I think the definition of flex will change," he says. "Today, most people understand it to be co-working serviced operators, but flex is already much broader than that. I think we'll see more product offers, and different operating models come to the market as well."
Jonathan Weinbrenn, managing director of BESpoke, the flex space offering for large corporate occupiers, says his company has had challenges in the short term, but believes its model is well-positioned for the future. He points out that corporates need more flexibility and agility, and more overall support, and that many are looking to adopt hub-and-spoke models, incorporating more local and decentralised offices. They will want to focus their efforts on attracting talent and focusing on their core business proposition, not on stud partitions or buying furniture.
"Our business is actually quite mature in the flexible space arena," he says. "We've been around for 25 years or so and, as a result, our client base tends to be more stable and established. I think that's helped us because we've never really set up a pure co-working site to our business."
BESpoke's clients remain in the buildings for an average of three years and 11 months, but customers sign up for shorter periods. Weinbrenn believes COVID-19 will only accelerate demand for those types of outsourced services.
"There was already a move towards a more customer-centric real estate model," he says. "The traditional model is incredibly outdated and not, in my view, fit for purpose. I think COVID has highlighted that there are huge uncertainties in the world, and there will be an increased demand for agility, flexibility, and outsourced models."
But employers will expect a lot of bang for their buck. It will not be enough for co-working or flexible providers to provide workstations and basic amenities. They will be expected to offer environments that foster innovation and creativity, as well as provide a high level of service.
"We think we'll see the evolution of the flex market into more of a hotel type service, with owners, operators, and brands," says Munn. "Owners will look for partners that can deliver all aspects of the building operations that they need, from floor space, to entrant experience, health and wellbeing, and amenities management.
"If you look at how the hotel market developed, the splitting of owners and operators, and valuation around variable income streams that hotels represent, the office market will have to get comfortable with more variability in the rental income stream."
But, for those who can keep going until after the crisis, the future looks rosy. "We think the winners in the future will be those owners that really get on the front foot in terms of understanding what that customer demand looks like, and putting their product and workspace out in an easily consumable way.