Despite a rise in vacancies as a result of the lockdowns, investors are bullish on the tech-fuelled growth potential of Berlin's office market. Luigi Serenelli reports
A popular area where the Spree river flows alongside the remaining part of the Berlin Wall has, over the years, grown into an attractive and modern office location for investors. The area, known as Mediaspree, located in the Kreuzberg-Friedrichshain district, has caught the interest of investors, says Kai Mende, managing director for investment in Berlin at CBRE.
Amazon, Zalando and Daimler are among the companies moving into Mediaspree. Last year, one of the main lettings was 80,000sqm by the state pension scheme's administrator Deutsche Rentenversicherung. The area is close to the city centre, the Spree river adds to the quality of life and "Kreuzberg, a multi-cultural district, particularly suits a generation that likes to live in these types of districts, with good transport without using cars", Mende says.
According to Mende, another attractive location for high-end office space is Alexanderplatz. "We are going to see significant changes in the next few years [there]," he says. Compared to almost all other international office markets, Berlin lacks an imposing skyline, but "the upcoming developments at Alexanderplatz might help to change this", he says.
Real estate fund manager Patrizia lists Mitte, Mediaspree and Kreuzberg as examples of attractive Berlin sub-markets of interest to its customers. New buildings that meet the demands of changing working environments and that can be converted into high-quality office space through targeted renovation and asset management measures are under the radar too, says Marcus Cieleback, the company's chief urban economist.
German pension fund Bayerische Versorgung-skammer has invested through a joint venture in the EDGE East Side project, an office building close to Warschauer Strasse, not far from the Oberbaum Bridge and the Spree, set to be completed by 2023. BVK will continue to pursue strategic partnerships and joint ventures in the future, it says, but it has the option to acquire properties for its own funds without a partner. The pension fund says it will look at office properties in core locations with stable tenant demand. The quality of the building is a high priority in order to redesign or keep buildings fit for the future.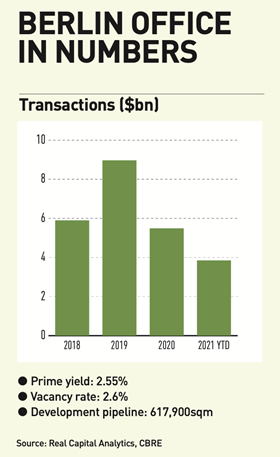 According to Andrew Coombs, CEO of Sirius Real Estate, the demand for two-storey and three-storey offices on the outskirts of Berlin is increasing. "However, we are not yet seeing people cancelling leases in the central business district (CBD) to come to the edge of town – we are seeing workers hiring one or two offices for short lease lengths at the edge of town whilst their employers continue with their leases in the CBDs," he says. This is where Sirius sees the demand for office changing in the future as a result of the pandemic.
Spandau, a district in western Berlin, might present an opportunity with the closure of the Tegel airport. The area leading towards Tempelhof offers a new corridor to the new Berlin-Brandenburg Airport.
"We watch this dynamic very closely because Berlin remains a very thriving and rapidly changing city," says Coombs. "In the next two to three years we have our eyes on what happens in Spandau and what happens in that corridor through Tempelhof as the airport in Brandenburg becomes busier and busier and the route throughout the city to the airport develops."
In Tempelhof, Sirius operates one of its four Berlin industrial parks, the others being Gartenfeld, Mahlsdorf and in Berlin-Borsigwerke. "When we bought in Mahlsdorf in 2015 everyone was saying 'you are mad, nobody occupies offices in Mahlsdorf', but we knew it was at the end of the subway ring and we could see that, as office jobs increased, it was only a matter of time before demand pushed east into Mahlsdorf – and we are now 97% full in terms of offices there," he says.
Sirius buys business parks to turn them into a business community that typically has up to 100 tenants. Gartenfeld in Berlin Spandau is a good example. "It was an old Siemens site, and since owning the site Sirius has established a totally new tenant base. We have developed three new buildings on the site and refurbished the inside of many more," Coombs adds. Today the anchor tenant occupies 25-30% of the site and many more smaller companies form a community of tenants.
Meanwhile, global real estate fund manager and developer Hines is looking to buy office locations in Berlin with a focus on quality and public transport nearby, although "not necessarily in the city centre", says Christoph Reschke the co-head of operations in Germany. In his view, Berlin has been able to outperform the bigger European and German markets. "We would like to increase investments in Berlin in the future. We strongly believe in the future growth of the office market, we don't see the hesitation that we see in other cities," he says.
The office market in the German capital has two main drivers, says Mende: the government, and the technology sector and start-ups. "BMW, Mercedes, Volkswagen have their tech departments in Berlin to concentrate on automated driving, car sharing, and the reason they are here is because the younger generation prefers to move to Berlin," he says. The younger generation wants "to work and walk", Mende says, dropping the kids to the Kindergarten without using cars.
Commuting to the office might look easier in Berlin compared with other cities. "It does not cost that much, there isn't much traffic congestion and therefore the issue in Berlin is different from that of other more congested cities," says Coombs.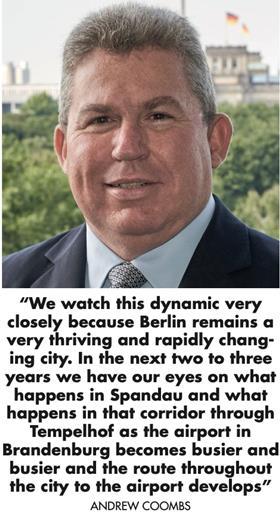 Reschke observes that companies, especially in the tech sector, are leasing office space. He says: "That is a bright future. Start-ups have become conglomerates and new companies are moving to Berlin." The competition among investors in Berlin is fierce. "We believe that, once the pandemic is over, the influx of international and German money to Berlin will increase, with investments of pension funds, hedge funds and insurance companies," he says.
André Gretsch, head of portfolio management at Optimum Asset Management, says the office market in Berlin has remained resilient during the pandemic. "Benefitting from a booming tech and start-up industry, Berlin continues to boast attractive real estate fundamentals with a strong occupier base and significant supply constraints," he says.
Rents, however, are expected to increase in 2021. The office vacancy rate in Berlin before the pandemic was 1%, and even below in some sub-markets. Now the office vacancy rate in Berlin is up to 2.6%, which is still low. Mende says: "Within the 2.6% vacancy rate, if you say I need 10,000sqm or, for example, air conditioning, the question becomes where can I go to find an office space?"
The COVID-19 pandemic and mobile working means rethinking the traditional idea of the office. An essential element of new office concepts is moving away from single, or open-plan, offices, towards flexible units for joint creative work, networking and brainstorming, but also with options for retreats and spaces for phone calls or video calls in small groups.
"This will change the office market in Berlin just as it does in London, Paris or Amsterdam," says Cieleback. "How sustainably mobile working will change office use remains to be seen, since people also have a need for personal contact and exchange."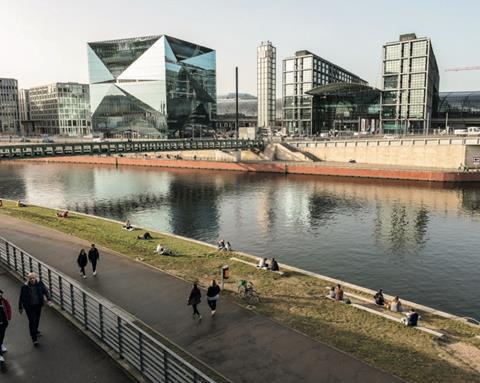 New types of offices should become an alternative to the remote-working environment. Alexander Moell, co-head of Hines' operations in Germany, says: "I think there is a development towards quality with respect to locations. Ideally, employees would have a very enjoyable day with amenities that make the transition from remote to office working environment seamless."