Investment activity has picked up markedly in recent months. Tsering Namgyal explores what is powering the South Korean capital
South Korean real estate will continue to be a magnet for overseas capital, after attracting a significant increase in foreign money this year. In 2012 and 2013, activity in the market was dominated by domestic pension funds and life insurance companies competing for a limited number of core office deals. This year, foreign investors became active, most notably in Q2.
The commercial real estate market in Seoul is entering a mature stage, according to analysts. "There are more investors searching for alternative investment in Korea and therefore the market is becoming more efficient," says SeungHo Park, research analyst with Knight Frank in Seoul.
However, the government, which is seeking to increase its tax revenue, is likely to reduce tax incentives for real estate investment, for example through real estate investment trusts (REITs) and funds. Park believes this might be a source of concern for many real estate investment funds at the moment.
The most recent transactions in Q2 included the State Oil Fund of Azerbaijan's acquisition of Pine Avenue A for approximately $450m (€355.7m), and KKR and LIM Advisor's purchase of the K Twin tower for $500m.
Meanwhile, the A bu Dhabi Investment Authority intends to purchase State Tower Namsan for approximately $485m. "Most foreign investors aim to purchase prime office buildings in prime locations," says Steven Craig, managing director for JLL.
Justin Kim, director of research and consulting at CBRE Korea, believes "this trend of foreign investors' interest is expected to stay strong in the coming years".
The South Korean economy has actually been performing worse than expected with a Q2 2014 GDP growth rate of 3.5%. While there are many signs of recovery (as seen from the case of the KOSPI stock exchange reaching 2,090 – its highest since 2012), the GDP growth for 2014 is expected to be lower than 4.1% originally forecast by the Bank of Korea.
Meanwhile, the Korea Institute of Finance has recently lowered the 2014 GDP growth forecast to 3.9%. Some of the key issues facing the current economy are low consumption, high household debt, and relatively lacklustre export performance. The lower consumption was largely influenced by the Sewol Ferry disaster in April. "However," says Kim, "exports are more or less stable and are expected to grow stronger in the coming years."
The government has made various efforts
to revive the economy recently, including lowering the base interest rate to 2.25% to boost growth. "Therefore," Kim says, "though the economy has slightly underperformed in Q2, there are great expectations for growth in the future with the implementation of government measures."
JLL expects the South Korean economy to grow by 3-3.5% over the next two to three years, driven by the strong performance of major Korean exporters such as Samsung, LG and Hyundai, which are positioned to benefit from a recovery in global trade in 2015 and 2016.
Analysts believe capital values will continue to appreciate over the next six months, thanks in part to the slowdown in market supply and the downward trend in vacancy, as well as low interest rates and interest from international and domestic capital in the market.
Seoul's grade-A office buildings are priced at approximately KRW5.73m/sqm, having risen approximately 7% from 2001 to 2013, which is relatively consistent with inflation, according to CBRE.
However, the growth rate from 2010 to 2013 has slowed to approximately 4.5%, signalling a possible halt to capital value increase. "There are also concerns over foreign investors raising the price levels of grade-A office buildings, with some concerned this could create a bubble in the office market," according to Kim. However, he believes that "the outlook for capital value growth rates is still likely to be positive in the next few years".
"Though concerns certainly do exist, the price level does not yet seem too unreasonable at this point," says Kim.
Craig also believes that, although capital values are currently at record levels, they will continue to rise during the next six months thanks to "the slowdown in market supply and the downward vacancy trend – as well as low interest rates and the weight of international and domestic capital reviewing the market".
Occupier markets
Tenant relocation – either upgrading or consolidating – has absorbed much of the office supply in Seoul since the global financial crisis.
Although overall business expansion has been limited, construction and IT companies have shown strong levels of office take-up during the first half of 2014, according to JLL. This explains why Seoul grade-A office vacancy has come down to 10% from a record high of 13.6% in Q4 2013.
Seoul office beats global average
The IPD Global Intel dataset includes an annual metropolitan sample for Seoul. The city's office market recorded a total return of 7.8% for 2013, putting it just above the 7.4% return of the global office market.
Seoul has experienced a strong average performance of 10.6% pa since the IPD index began in 2006. This was driven by strong rental growth and cap-rate compression in 2006-07 when the performance averaged over 20% for those two years.
Since then, a combination of lower income returns, a wave of supply, and weak rental growth have kept returns more subdued, averaging 7% over the past five years.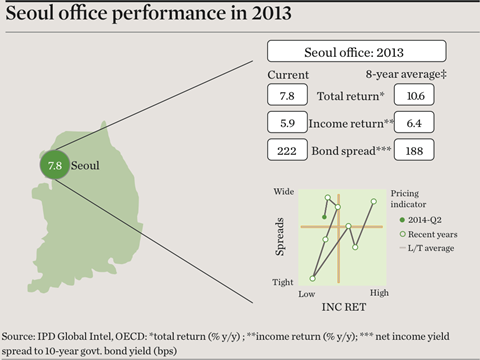 The capital market has been supported by domestic and international activity, but rental growth was subdued due to new supply and rising vacancy rates, particularly in 2010-11. Although income returns have been tighter than average since the global financial crisis, falling interest rates have boosted spreads to above-average levels since 2011.
The overall office vacancy rate was 8.34% in Q2 2014. The vacancy rate in the commercial business district (CBD) has been decreasing since 2010, while in other areas it has been rising. In Q2 2014, the CBD had a vacancy rate of 7% while other major business districts such as Gangnam Business District and Yeouido Business District had 6% and 12%, respectively.
Meanwhile, there have been movements between districts, in part caused by tenants attempting to take advantage of weaker demand. As the economy has suffered, tenants have demanded more incentives – allowing them to move into higher-quality buildings in prime locations while paying lower rents. Meanwhile, conglomerates have also consolidated their operations into larger, single offices, benefitting from the convenience of having their staff in closer proximity
Seoul is probably approaching the end of a strong supply cycle. The city has seen 1.8m sqm of new stock enter the market since 2010, which has pushed vacancy rates up to record levels.
"The good news for landlords is that supply is expected to ease significantly over the next three years, with just a handful of new buildings due to complete," says Craig. With an expected increase in demand, vacancy rates are forecast to return to the historical average of around 5% by 2017.
With much new supply introduced to the market, with more in the pipeline, the real estate industry has become a tenant's market. It is therefore not surprising that landlords are providing many incentives to attract tenants and this is expected to continue for some time. For instance, landlords are offering incentive packages including free rent for as many as four months per year.
However, office market rent level is less volatile in Seoul compared with Hong Kong and Singapore. "This is largely due to the fact that the tenant composition is not too heavily finance-based in Seoul," says Kim.
As evident in its falling vacancy rate, the CBD is currently performing well, while Gangnam Business District and Yeouido Business District, are going through difficulties. Therefore, as incentive packages lower the effective rent level, there has been a flight to quality in CBD, where the buildings are mostly of higher quality and newer.
According to Knight Frank, the supply of prime offices in Seoul stands at around 7m sqm, which is expected to increase as new prime office buildings come onto the market by the beginning of 2015. "After that, there is no significant supply expected in the market and thereby supply is expected to be stabilised," says Park.
Amsterdam: Filling the void
1

2

3

Currently reading

Seoul: Heart and Seoul of Asia