The new generation of co-working office space in the US has been transformative. But there are risks in its lease-arbitrage business model, writes Stephanie Schwartz-Driver
The latest round of financing for WeWork, the shared office space behemoth, valued the company at $16bn, ranking the start-up among the top office landlords. It is now looking to enter Asia.
WeWork, which controls around 5m sqft of office space in 65 locations in the US, Europe, and Israel, is the largest lessee of new US space since 2014, accounting for 3.55m sqft, according to a CoStar survey. Like many other companies that provide shared office space, it profits from the difference in what it pays per square foot and what it charges its members – totalling around 50,000 globally – to occupy that space.
WeWork's basic business model is not unique. In its 2016 global co-working survey, Deskmag projects that there will be 10,100 co-working spaces globally by October 2016, rising to 12,700 a year later. And membership is similarly projected to grow, from 735,000 members in 2016 to more than one million a year on.
It is not a new model either. Serviced office space has been around since the 1980s through Regus, the largest operator of shared office space worldwide. It controls more than 40m sqft of office space – but with a market capitalisation of only $4bn versus WeWork's $16bn. The Global Workspace Association, which has represented traditional business centres as well as co-working spaces for 30 years, just appointed its first executive director from the co-working world, Jamie Russo, who owns Enerspace Coworking in Chicago and Palo Alto.
But 21st century co-working, Russo points out, is relatively new. "We are only 10 years in at this point," he says. It differs from its predecessors in its emphasis on community as well as its appeal to entrepreneurs, and its emphasis on cutting-edge design and technology. Proponents say that contemporary co-working spaces respond to the changing nature of work and its role in our lives. As Russo puts it, "the future is where work is a place [where] your people are, where work is a part of your life. Most people do not know that is possible yet." However, this cultural shift has not gone unnoticed – Even Regus has launched new brands, so far only outside the US, to appeal to millennial workers.
Riding on sociocultural trends, as well as real estate dynamics, co-working has achieved a critical mass that is making it a disruptive force in commercial real estate, say some observers, and real estate owners have different ways to respond. "Commercial real estate professionals who are not paying attention will be left behind," says Liz Elam, founder of Link Coworking in Austin, Texas, and executive producer of GCUC, the largest international co-wor king conference series.
The basic business model for co-working is lease arbitrage; the co-working operator re-leases space for more than the rent it is paying. But this model comes with risks for the operator and the landlord. According to the Deskmag survey, about one-third of co-working spaces have leases that are up for renewal in the next two years, leaving them open to rent increases that could force them to move.
"The biggest barrier to entry to co-working is the lease," said Elam. "Some potential operators do not have a good understanding of the real estate industry. And good operators may choose to shut down because their lease gets renegotiated." But Elam also maintains that because a good co-working space creates community, members will move with the space if relocation is necessary.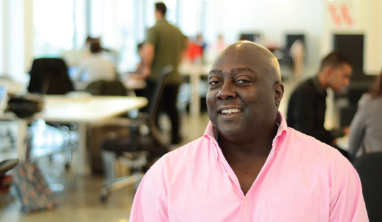 The lease arbitrage model represents a risk for landlords as well. There is significant turnover in membership in most co-working spaces, with most memberships on a month-by-month basis and tenure lasting around 14 months on average. Successful spaces are bringing in new members at the same rate. But Julie Whelan, head of occupier research for the Americas, CBRE, and the author of CBRE's four-part series on shared office space, says: "When landlords and investors are looking at credit, they are looking at the co-working space, not that of the customers. But the co-working space owners should be aware of the credit base of the tenant mix they are servicing."
Whelan believes that the co-working spaces that endure the next cycle will be those that hedge their tenant base or who create innovative relationships with landlords and developers, versus the traditional tenant-landlord relationship. And there are already several models for doing this.
Grind, which currently has four co-working spaces in New York City and one in Chicago, primarily enters into joint venture deals with asset owners to steer clear of market volatility. Co-founder Benjamin Dyett says this makes Grind a more stable tenant and improves a landlord's asset value. "I have been a real estate lawyer my whole career, and I've been through a few market cycles in my life, so I know that I want to minimise lease risk while helping my landlords address the paradigm shift in what tenants need from their commercial real estate," he says.
Grind is also piloting a joint venture with telecoms giant Verizon, to open co-working spaces in Verizon properties. The first such space, in NYC's financial district, opened in March. In this sort of agreement, Verizon gives functionality to and monetises under-utilised space while gaining the attention of a community of entrepreneurs, and Grind gets to expand its reach into a sought-after neighborhood.
In Boston, Workbar is entering into a partnership with Staples, the national office supplies retailer, taking around a quarter of its retail footprint in three suburban locations around Boston. Each space will be separated from Staples' retail floor and will have a dedicated Workbar community manager. "Once you are in Workbar, you are in a different world," says Bill Jacobson, co-founder and CEO. Members in the new suburban locations will also be entitled to limited use of Workbar's central Boston spaces.
Workbar's existing locations often combine a more public presence in retail locations, which house member cafes, with work areas located elsewhere in the building. "They are a public-facing component of what we are doing," says Jacobson. "We are finding that our use of a space does a lot for a property – it energises it in a non-restaurant way. It is a different use for retail space."
These partnerships are a sign that the success of co-working spaces has not escaped asset owners, and some are even trying to go it on their own. For example, NYC real estate investor Charles Aini has opened his own co-working space, Workville, in a building owned by his father and a business partner (his father's business partner is also partnering on Workville). And Silverstein Properties has opened Silver Suites in vacant space in the World Trade Center.
But many are also finding out that operating a shared workplace is different from running real estate. "You have to bring more value than simply space, and you cannot put a dollar amount on that," says Elam. "That is why commercial real estate has had such a hard time figuring it out." And that is why partnering with an existing co-working operator, either in a joint venture or with the landlord as owner and the operator as manager – the hotel model – is generally a more successful path.
"In an ideal world, asset owners and corporates would understand that community is a really important piece," said Russo.
Whelan believes that an element to making co-working spaces sustainable in the longer term is by catering to stable companies that are looking for alternatives to dedicated leases to satisfy requirements, such as a hub for innovation teams or as part of expansion into new markets.
"You have to bring more value than simply space, and you cannot put a dollar amount on that"
Liz Elam
"There is a very short-term nature to co-working agreements," she says. "These co-working models will benefit from securing a good credit tenant base across a diverse industry set, which will allow them a better chance of surviving the next downturn." Whelan believes that, although some co-working models will continue to market the collaborative benefits of these spaces, we will also see increasing numbers and sizes of suites that will address the privacy concerns of corporate members.
Grind has welcomed corporate clients in its spaces in the past, noted Dyett, who pointed out that, "this can be a challenge for the established community and culture of a co-working space full of entrepreneurs". He says: "You have to make sure that the corporate workers are prepared to integrate into the co-working environment and thus benefit from the professional support and sharing of expertise that occurs every day."
In the proliferation of co-working spaces and models for success, Mark Gilbreath, founder and CEO of Liquidspace, sees "an exploding appetite for space on flexible terms". Pointing out that some 8% of office transactions are for spaces of less than 5,000sqft, he notes that businesses are looking for space they can tap into faster and that will grow or shrink with them.
Exploiting this trend, Liquidspace has created an online marketplace not just for co-working spaces but one that will allow asset owners to activate the 12% of office stock that is structural vacancy – spaces that are small or available only for a short term. "We are helping co-working operators fill their properties, either with new members or just their meeting rooms. And we are helping asset owners by monetising small vacancies, allowing the asset owner to lease space by just the month or sometimes longer."
In the meantime, in a real estate environment that is exploring the virtue of small spaces, what influence is WeWork having? One co-working insider notes that, while WeWork helped smaller operators by getting the word out, the company is also coming into new markets and aggressively crowding out competitors and putting pressure on pricing.
"Everyone is looking at WeWork," says another. "But it's a unicorn – a start-up that gets to $1bn in sales in under five years – elusive and unique. And investors have unrealistic expectations now based on WeWork's numbers."
Office US: Suburban survival
1

2

3

4

5

Currently reading

Office US: Shared-space economy