As 'mega leasing' stalls and cap rates slow, Christopher O'Dea asks whether the US office market is about to feel the squeeze
Employers that have traditionally been among the largest users of offices in the US are adopting a new philosophy: use it sparingly. Various surveys – from banks to office designers – show that occupiers are changing the way they use and allocate space and it could have lasting effects on the property market.
Doing more with less has become the new mantra for traditional big office occupiers – in part, a continuation of an older trend towards less space per employee. While US data suggests a relatively stable office market – and one continuing to attract strong interest from global investors – a squeeze could be developing.
Nationally, pricing in the office market remained steady in 2016, but cap-rate compression appeared to be slowing by the third quarter. JLL data show that, although cap rates compressed in nearly two-thirds of markets, the rate of compression slowed in one-fifth.
The proportion of new leases that related to expansions of space is on par with the past several years, but an increase in construction – especially in gateway cities – could mean that, by 2018, it may take longer for all new space to be absorbed.
Law firms are major occupiers of US office space in both gateway and secondary markets, and typically use two to three times more space per employee than other professional services, like management consulting firms. But they are unlikely to take up new space at the rate they have in the past (see Lawyers move with the times).
At the same time, the number of large-lease transactions dropped sharply during 2016, and researchers predict that the slackening demand means that tenant improvements and rent concessions – once negotiated on a deal-by-deal basis – have become a 'new normal' that is effectively raising costs for office property owners.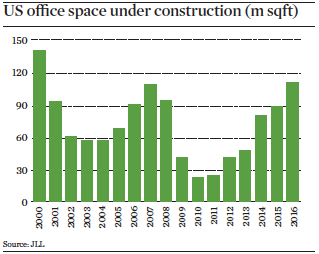 Landlords have responded with generous improvement allowances and rent abatements, according to a new study by Newmark Grubb Knight Frank. The US office vacancy rate has declined steadily, from 16.6% in 2011 to 13.4% in the third quarter of 2016, but average concessions for class-A space in major downtown markets have risen significantly during the same period. Since 2008 the average tenant improvement allowance per square foot has risen 66%, and the average number of months of free rent per year of lease term has risen by 73%. Over the same period, average starting rents also have risen, the report says, "albeit at a much slower rate of 21%".
The study concludes: "Despite market fundamentals shifting in favor of owners over the past several years, the demand patterns for office space in the US have shifted significantly over the past several years." Those changes typically raise density per square foot and reduce total space requirements. "The result has been robust competition for large tenants as a slowdown in demand for office space has yielded muted net absorption and rising concessions."
Large leases are becoming scarce. No leases surpassed the 500sqft mark in Q4 2016, according to JLL, and there was a 43% drop in large leases over 2016.
The pullback started in 2016 with previously high-flying tech markets like San Francisco being the first to show signs of slowing down. By the fourth quarter it was clear that demand for office space was slackening across the country. In fact, JLL says decelerating leasing velocity and a lower level of 'mega leasing' over the course of 2016 resulted in the lowest level of occupancy growth in 24 months – it recorded just 6.5m sqft of net absorption during the fourth quarter. While workforce constraints in tech hubs were a primary factor in the slowdown, JLL notes that the industry remains the main driver of leasing activity in the US.
JLL remains hopeful that the lack of large deals will turn out to be more like a post-holiday diet than a lasting change in occupiers' appetites. "A bounce back is likely on the horizon in 2017," JLL says, noting that "several large letters of intent are signed and nearing execution".
And despite the lease slowdown, construction volume continued its upward trend in 2016, reaching a cyclical high of 111m sqft by the end of the year. As the new space comes on the market in 2017, JLL projects vacancy rates to "likely edge higher as rent growth slows".
While new supply can certainly weigh on rental rates, some major office property investors continued to see hefty rent increases on leases renewed in the third quarter of last year. Brookfield Property Partners reported new leases were signed at average rents approximately 17% higher than expiring leases in the quarter. As office property prices have risen in the current cycle, Brookfield has turned to value-add, development and redevelopment projects to maintain returns.
During 2016, Brookfield sold office assets in New York City, Washington DC and other global cities at an average cap rate of 4.2%, while its office development pipeline carried an average yield-on-cost of 7%, with nearly 60% of the 7.3m sqft pipeline pre-leased in order to mitigate risk.
Such a shift should appeal to investors. According to the annual survey of the Association of Foreign Investors in Real Estate, more than half of respondents said they wanted to increase both value-added and opportunistic allocations in the coming year. And despite the changes effecting the US office market, interest in the market is rising, with foreign investors ranking it their number three target, up from fourth last year.
Lawyers move with the times
Law firms spent 7.2% of revenue on rent and other real estate fees in 2015, according to Citi Private Bank.
Only compensation is a bigger budget item for them. That outlay has been declining by an average of 1.2% annually since 2010 as firms reduce square footage per lawyer by 0.2% each year – costs per square foot rose over the period by an average of 1.6% annually.
With costs rising, something has to give. Design and architectural consulting company Gensler says the use of collaborative space has become an important factor in attracting and retaining top talent.
Law firms want to use space more efficiently while improving the workplace experience. It is a tall order, one that marks a cultural shift for a traditional industry.
To help the profession become comfortable with creative office layouts and work flows, Gensler built a Legal Innovation Lab, where law firms can test new arrangements as they look to replace hierarchical, private corner offices with collaborative spaces.
They are making progress. A study last year from JLL reported that law firms now average 760sqft per attorney, compared with 976sqft pre-recession. Market participants estimate that firms are trying to downsize closer to 600-625sqft.
Reducing per-lawyer space allocations is the first step. The next is likely to entail outsourcing IT and support functions, changes that much of corporate America has already made.
Just 36% of law firms have off-site data centres, and only 17% have moved administrative functions out of the high-cost premises. Gensler found that nearly one in three law firms was simply leasing more space than it needed.
Office Europe: Mixed fortunes
1

2

3

4

5

Currently reading

Office US: Doing more with less