Investors are looking beyond London to the UK's Big Six and Mid Six. Martin Towns assesses the case for venturing outside the capital
Since the global financial crisis, London has re-asserted itself as one of the world's leading destinations for global investment; as the capital's economy has grown, investors have been richly rewarded.
As the UK's economic recovery spreads across the country, the demand for quality office accommodation is increasing and rents have also started to rise outside London. As a result, we now see international money beginning to target other UK cities in search of higher returns. But how far beyond London does it make sense to go? Which regional cities have sufficiently powerful and diverse economies to produce sustainable growth, attract and retain significant occupiers, and provide attractive long-term investment propositions?
M&G Real Estate has compiled the thematic factors shaping urban economies and influencing occupier demand, assessing the prospects for future property returns across these UK cities. The research compares the vital signs of life in the UK office market across the 'Big Six' (Birmingham, Bristol, Edinburgh, Glasgow, Leeds and Manchester), 'Mid Six' (Sheffield, Liverpool, Cardiff, Nottingham, Newcastle and Aberdeen) and London.
London, with a population equal to the next 12 biggest UK cities combined and 127m sqft of office space, is the UK's dominant office centre and leads in job creation.
However, against the backdrop of the widening economic recovery, increased demand for quality office space and rising rents, our research shows that there is indeed life in the UK office market beyond London, as the graph shows. Inevitably, though, it is predominantly the larger Big Six that have the characteristics necessary to attract international capital and to deliver attractive, sustainable returns.
As a leading international gateway city, the London office investment market is also the most liquid, with a wide universe of investors, from local UK institutions to international sovereign and private wealth. These factors have pushed prime yields to record lows in an environment of slowing rental growth. Strong performance can still be found, though – for example, through targeting sub-markets outside the traditional prime locations, which show the greatest potential for income growth.
London is also home to many world-class business clusters – areas where interconnected businesses, suppliers and associated institutions in a particular field are concentrated. These clusters are deemed to increase the productivity with which companies can compete both nationally and globally. But with 80% of economic activity taking place outside of Greater London, there are clear opportunities beyond the capital.
So how far outside London should institutional investors venture and what should they expect?
The Big Six versus Mid Six
The Big Six, characterised by their large populations, sizeable stock and regional dominance, account for 30% of total investment in UK offices and 26% of international flows in the office sector.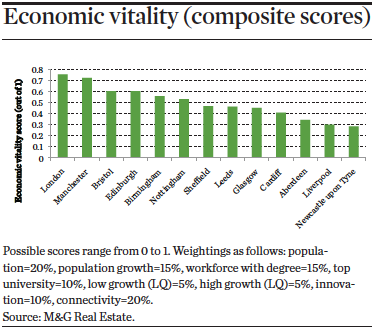 The central business districts of these cities can offer institutional lot sizes, liquidity and solid occupier demand. In these cities, strong economic fundamentals and a lack of prime stock are creating attractive opportunities across the risk spectrum, including development and active asset management of secondary stock in core locations.
To date, the Mid Six have attracted limited international interest due to the smaller universe of investable institutional stock, hampered by smaller lot sizes and reduced liquidity when compared with London and the major regional cities. Our belief is that the Mid Six can offer opportunities, but on-the-ground knowledge, or partnering with an organisation that has a deep understanding of the drivers of local demand in these smaller markets, is essential.
These factors may keep prime yields relatively elevated, presenting compelling investment cases.
Some of the smaller cities have sufficiently large and diverse economies to produce sustainable growth, and to attract significant occupiers and provide them with attractive long-term investments. Nottingham and Sheffield score particularly well in this respect, but neither city has yet seen a significant increase in its office supply pipeline.
In general, though, we believe that investors should be selective if venturing into the Mid Six, giving careful consideration to the drivers of occupier demand and to the potential for income growth of each individual potential investment.
And what about Brexit? It would be remiss to ignore the imminent referendum and its potential impact on real estate investment. M&G Real Estate believes that a vote to leave may have the greatest impact on the City of London office market, certainly in the short term, given the significant presence of European and global banks.
However, we believe the UK's regional cities would be less impacted and importantly, their relative merits will present clear investment opportunities, given the continued shortage of good quality, modern office accommodation in key UK cities.
With current opinion polls suggesting a close outcome and the vote nearly upon us, we believe investors should look beyond the current political headlines and instead assess the fundamentals driving long-term real estate performance.

The signs are good for the UK regional office market and there is certainly life beyond London.
Martin Towns is head of separate accounts and partnerships at M&G Real Estate
Office US: Suburban survival
1

2

3

4

Currently reading

Office UK: Life beyond London?

5