The technology, media and telecoms sector has been offsetting the decline in traditional office-based industries. Milena Kuljanin and Hans Vrensen report
Over the past few years, the TMT (technology, media and telecoms) sector has emerged as an increasingly powerful driver of demand for commercial real estate. While at the same time most other industries were exercising caution and space consolidation, TMT companies expanded and there was a burst of new tech start-ups. This has led to significant growth in the sector's leasing activity. Major global cities with the best human capital and the greatest innovation capacity were at the forefront of this trend. In 2012, DTZ Research already showed that TMT overtook the financial services sector as the leading source of demand for space in central London, reflecting the city's status as an up and coming technology hub. Meanwhile, in the established TMT hub of San Francisco, technology tenants accounted for two thirds of the total take-up, an increase from 19% in 2009.
In a more recent study, DTZ Research confirmed consistent and continued growth in the TMT sector across established as well as emerging global hubs. In London, take-up by TMT companies doubled over 2013 (figure 1). The sector has especially driven demand for flexible and adaptive office space in the city. For a sector placing a premium on creativity and innovation, being able to attract and retain the right talent is paramount. Choice of available high quality office space has become very limited in CBD areas. As a result, landlords find it difficult to accommodate TMT players. Especially as many follow a steep growth curve requiring not only highly customised and innovative space but also sufficient room to support their business expansion. As a result, TMT occupiers have increasingly been seeking space in secondary districts where flexible floor plates that provide open and collaborative layouts are both more affordable, as well as available.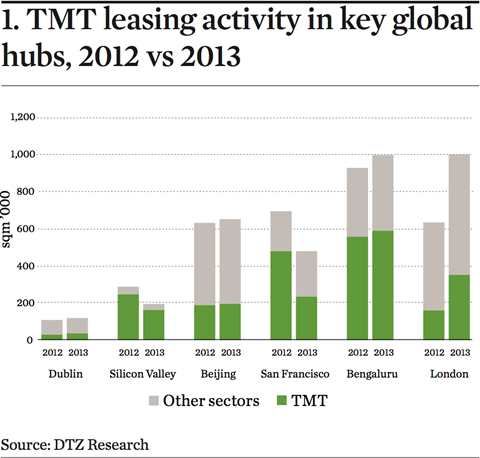 As TMT companies in London struggle to find affordable high quality office space, the city's competitiveness and quest to become a global tech powerhouse is challenged by several more affordable European locations, including Berlin and Dublin. The strong technology sector draws on these cities' favourable tax regime, large talent pool and affordable property. Berlin, in particular has a large pool of young entrepreneurs and is seen as a mecca for TMT start-ups.
At the same time, as most other US office markets suffered from cautious occupiers primarily focused on cost control, San Francisco saw rising rents and significant decreases in vacancy. This was mainly driven by a rapidly expanding TMT sector which has proven resilient to the national economic uncertainty. Occupier activity was particularly strong in 2012, when the sector hired at a rapid pace and ultimately accounted for more than two-thirds of local office absorption. Although levels failed to reach such heights during 2013, leasing activity by the TMT sector relative to total space demand by all sectors remained high at 50% (figure 2).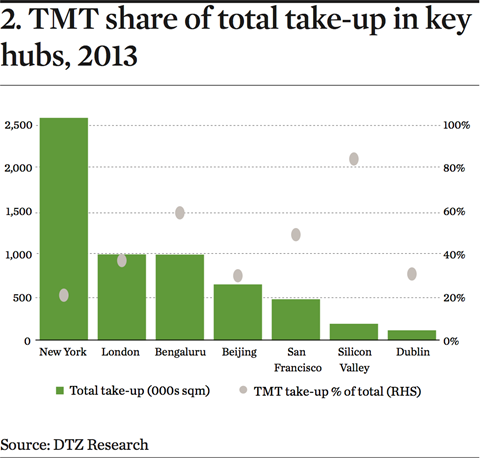 The TMT industry has also boomed in China in recent years, with Beijing at the centre of this rapid development. More than a third of China's 240 largest quoted TMT companies have chosen to locate their headquarters in Beijing, accounting for nearly 30% of the city's total office demand in 2013 (figure 2). Although the sector is expected to continue expanding rapidly in Beijing, companies remain cost conscious and struggle with the conundrum of how to continue to grow operations in one of Asia's most costly office leasing markets.
Indeed, high occupancy costs prevail across most global hubs (figure 3). One exception is Bengaluru, where office space is currently six times more affordable than London. The low-cost Indian IT hub is headquarters to numerous successful domestic companies. But, it also is one of the world's most attractive outsourcing locations. Strong local language skills, quality of labour, IP security and continued governmental support will sustain India's strong positioning as an attractive country for global TMT companies looking to strengthen their cost competitiveness. The city recorded impressive take-up in 2013 – totalling nearly 600,000sqm in the TMT sector alone, accounting for 60% of total activity.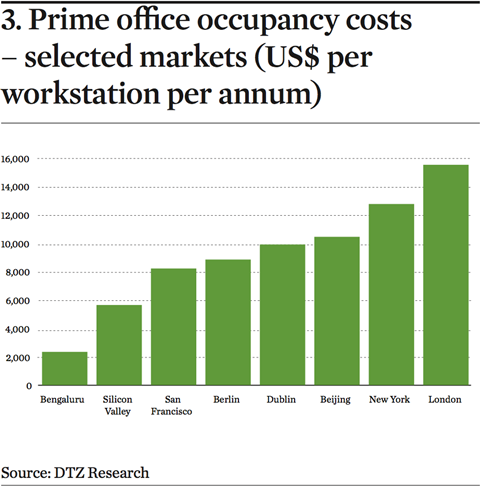 The outlook for TMT across global key hubs is highly positive. The influence of the technology sector will continue to be strong across major global office markets. Not only will existing companies expand and fresh start-ups appear, but the sector will also infiltrate other industries. A key future driver of TMT office take-up is likely to stem from corporates across all sectors striving to grow business by improving and developing their digital and technology strategies. The fast adoption and application of new technologies will remain high on corporate agendas and ultimately increase the hiring rate of digital talent. These interdependent and self-enforcing trends will undoubtedly translate to strong future growth and rising demand for space. As a possible side-effect, it might become more difficult to classify occupier demand by different industries.
DTZ Research anticipates the availability of flexible and scalable space sought by TMT companies to remain tight, particularly in rising global hubs such as London and New York. As a result, both start-ups and existing companies will continue to focus on lower-cost fringe locations, accelerating urban regeneration.
Outside these global hubs, varied technology services are starting to reach emerging regions. Mobile money, mobile grocery pricing updates and online courses are now part of daily life in many developing countries. In some cases they are leapfrogging more advanced economies. This has created growth opportunities for global network operators, content and service providers as revenue streams follow suit. In a move to capitalise on the growth opportunity, key TMT players are expected to increase their demand for associated real estate in large emerging markets across Africa, Latin America, Asia and the Middle East.
Milena Kuljanin is a senior analyst and Hans Vrensen is global head of research at DTZ Research
Office: Altered states
1

2

3

4

Currently reading

Office: TMT explosion