There is a growth of 'invisible' space in offices and its impact on achievable rents will be disruptive, writes Graham Porter
Investors in offices are, traditionally, highly focused on cyclical factors, projecting rental value growth based on economic drivers of demand and the total square footage of supply. And not without reason; offices is the sector most susceptible to changes in the economic cycle with the most volatile rents and income streams. Long-term returns tend to be modest in comparison with the risk that their volatile returns imply.
Structural change is a disruptive force and the office market is not immune. Too little regard is given to the specific nature of demand, the considerable changes to the way occupiers use space, or to the technological advances and new construction techniques that allow greater flexibility and higher density occupation.
Future supply is often viewed in the context of historic completion rates. However, as the space required for each workspace reduces, every future square foot can absorb more demand than it did in the past. It is a mistake to compare the pipeline of new schemes with historic averages. At the same time, measures of take-up are not adjusted for the increased churn resulting from a steady decline in lease lengths and the high propensity for tenants to exercise break clauses and move premises when leases expire. It is quite common for market commentary to put current take-up and projected completions in the context of an historic average, which is likely to overstate take-up and understate the impact of new supply.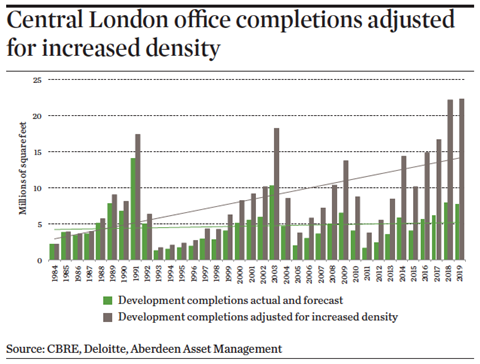 The review of new leases produced annually by MSCI shows that the weighted average length of new office leases to the first lease event has fallen from 11.1 years in 2002 to 6.7 years in 2014. MSCI's separate study of lease event outcomes shows that the proportion of leases renewed, weighted by rent, has reduced from 40% before 2007 to 30% since 2007 and the propensity to exercise break options has risen from 31% to 49%, comparing those same periods. These figures imply greater churn and higher take-up, with that take-up not translating into the net absorption of space.
It is difficult to get a firm handle on changing density behind the closed doors of office occupiers. Different industries use their space differently, but even the approach of individual companies to working environments and office design can vary significantly.
Nevertheless, it is difficult to dispute that technology is a major reason for change within the office environment. Technological advances make different ways of working possible and workers are increasingly able to find the optimum, most productive way of working, as more businesses offer flexible layouts, enabled by technology.
Over time, there have been some obvious advances that have allowed higher densities to be achieved, including flat-screen monitors, docked laptops and digital archiving. Meanwhile, modern construction techniques reduce the size of – or even the need for – columns within floorplates. Cannon Place in the City of London has virtually column-free floorplates of nearly 50,000sqft thanks to its exoskeleton design.
Competition among developers usually means new office developments are usually designed to the highest specification and can achieve high densities. Major advances in heating, ventilation and air-conditioning (HVAC) systems also allow areas of very high density occupation, where the HVAC can adapt to changing density to maintain a comfortable, stable temperature and air quality.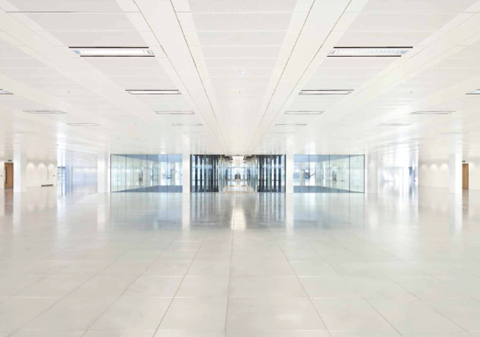 Various studies have been carried out that imply the level of density for which a new building was designed – not necessarily how it is used – has risen from 20sqm per workspace to 8sqm over the past 30 years. The figure left is a theoretical application of that trend to central London office completion data from CBRE showing that putting the pipeline in the context of the raw square footage data is highly misleading – each square foot is absorbing more demand than ever before.
It should be noted that not all occupiers want or need to fit in one workspace per 6sqm, as some of the most modern schemes and those in the pipeline can accommodate. In the medium term, there is perhaps a danger of developers losing money when they are unable to achieve a high enough rent to recoup costs.
In the long term, however, it means many buildings are not fully used and businesses have much more space to grow into than they think. Technology will continue to advance beyond what most of us are able to visualise, enabling a gradual transition of most businesses towards collaborative environments where workspaces are easily shared and offices are used more efficiently. Such efficient use of space will bring down the total space required, rendering some older stock obsolete or putting significant downward pressure on rental values.
In London's case, there is also an often underappreciated driver of a shift to flexible working and efficient use of office space: the housing crisis. As the cost of homes in the capital rises ever further out of kilter with incomes and the chronic shortage of school places makes life difficult for parents, more commuters with longer commutes looks almost inevitable.
While businesses will remain keen to occupy space in central London in order to access the deepest possible pool of talent, that talent will become more widely dispersed. The pressure to use commuting time productively will encourage greater use of laptops and tablets on trains.
This technologically driven mobility will mean higher rates of hot-desking and work in collaborative spaces. Long commutes may also result in more flexibility to work from home, which will also encourage the sharing of workspaces in the office, reducing total space requirements.
Beware headline numbers; there is 'invisible' space out there and its impact on achievable rents in individual buildings will be disruptive.
Graham Porter is head of UK property research at Aberdeen Asset Management
Office: The rise of the tech hub
1

2

3

4

5

Currently reading

Office: The invisible office