Employers want flexible space that facilitates collaboration. Landlords are obliging and investors are providing the capital, writes Christopher O'Dea
Gone now are the high-walled cubicles, drab interior kitchens and windowed perimeter offices, along with the managers who would periodically check up on subordinates deep in the maze. The US office of the 1980s and 1990s has been swept aside by the tide of collaboration, replaced with space that accommodates the way professionals work today. High-ceilinged space with configurable floors has been fitted out with mobile furniture arranged around breakout rooms and common areas with amenities.
Office tenants seeking to attract the best talent want the newest, best-quality space, and apparently are willing to pay for it – and even move if necessary. Landlords are happy to oblige and investors are increasingly providing the capital to bring existing space up to standard or to build it from scratch.
The numbers suggest it is a winning combination. Occupancy, rental rates and net operating income are rising and expected to continue higher into next year. The US office property market posted the strongest performance of the current recovery in the second quarter, according to CBRE . The vacancy rate decreased by 40bps to 13.5%, matching the largest quarterly decline of the current property cycle, CBRE says in its 2Q-15 US Office Marketview. That translated into a 40% year-on-year increase in net absorption.
The downtown vacancy rate posted its largest quarterly decrease of the current cycle, and at just 10.6% the vacancy rates is only 90bps higher than its pre-recession low in 2007. Strong demand reflected growth in office-using employment – the net addition of 165,000 jobs in the second quarter was the largest second-quarter gain since 2000 – and that allowed landlords to raise prices. The average asking rent in the US increased by 1.1%, surpassing the pre-recession rent peak reached in 2008.
The new space for office workers in the US is patterned on the now-familiar loft-style caverns favoured by high-tech companies, which were largely an adaptation of the space used by advertising and design firms that proved especially well-suited to the needs of fast-growing, innovative technology teams. Now called 'creative office' space, the new normal facilitates collaboration among teams of professionals that change their composition as projects evolve, focusing on project goals rather than personnel hierarchies embodied in private offices and furniture budgets.
Ventilation and IT cabling are housed under floors made of increasingly convincing simulations of fine stone – an unacknowledged borrowing from the trading floors of banks that are now fashionably dismissed as inessential – allowing for airy ceilings and plenty of natural light to keep today's tech-oriented professionals perky should they miss their afternoon Americano.
The new standard in office design "is a reflection of the increasing importance of technology to our economy," says Christopher Macke, managing director at American Realty Advisors.
Technology accounted for nearly 25% of the leasing volume in the US in the second quarter, CBRE says, with office leasing in five cities in the Western US accounting for nearly 60% of technology leasing, far ahead of the 12% share taken by financial services.
Scientific and technical companies have led the growth in office use, with more than 40% of all office leases 20,000sqft and larger signed during the second quarter representing net growth. It is "a trend that has persisted over the past four quarters and is expected to continue amidst a growing economy," JLL says. "Tenants remained focused on adding space in amenity-rich locations, and will continue to seek space in these in-demand submarkets as a recruitment and retention tool. Suburbs and business parks lacking an amenity or talent base will continue to feel the depleting interest."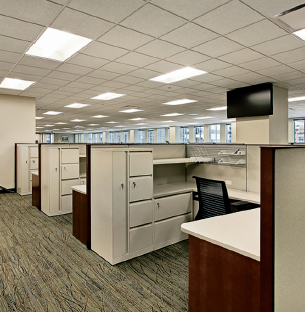 Underlying social trends will support the office property market, according to the head of one major property investment firm who requested anonymity because the firm is actively engaged in both purchases and sales of major assets. Millennials are renting longer in central city locations, and older workers and retirees prefer urban lifestyles.
"People want to live and work in the cities," he says. In major markets, property owners are focused on increasing the efficiency of workspace for tenants, he says, "making sure you have the most useful space for the most workers". In some situations, owners of major office assets will undergo a period of low occupancy in order to renovate property and add retail, dining and entertainment amenities.
Lack of new supply during the financial crisis had buoyed US office property values. Fitch Ratings expects the strong risk-adjusted returns now offered by new development to encourage office REITs to favour new building over acquisitions. Fitch expects office REITs to fund new development primarily through asset sales and at-the-market equity issuance; facing strong institutional demand, office REITs were net sellers of assets during 2014 for the first year since 2009.
Strong demand has pushed prices higher. In its US Office REIT Dashboard, Fitch says low interest rates and strong institutional investor demand pushed core acquisition cap rates for office REITs "into the 5% range and below 5% for the best assets in the most desirable CBDs". That pushed the total cost and unfunded component of office REIT development pipelines to 6.6% and 3.2% of gross assets, respectively, at the end of 2014, above the respective 5.5% and 3.3% prior cycle peaks in 2007.
Despite some indications that US office property is becoming expensive amid strong investment demand, CBRE's underwriting survey indicates that cooler heads are prevailing and buyers are not raising expectations as prices rise and cap rates decline. Buyers in the second quarter were targeting an average unlevered internal rate of return of 7.3% for CBD assets and 7.9% for suburban assets, about the same as the first quarter for CBD offices and down slightly for suburban property.
CBD markets are attracting most overseas investment, prompting domestic investors to seek opportunities in higher-yielding suburban markets. This has caused an increase in suburban portfolio deals for multiple properties, according to Real Capital Analytics. Portfolio deals totalled $5.3bn in the second quarter, topping the $5bn mark for the third consecutive quarter as private investors and equity funds stepped up buying in Los Angeles, Chicago and Boston.
Transactions above $500m are expected to drive the US office market for the rest of this year, says JLL. In one of the largest deals, a Blackstone affiliate acquired the Willis Tower in Chicago's West Loop submarket for $1.3bn, or $354 per sqft. Blackstone plans to enhance the building's ground floor and street-level retail and dining areas, as well as its iconic Skydeck. Across town in the East Loop submarket, a private New York-based property investment firm, 601W Companies, earlier this year bought another Chicago office icon, the Aon Center, for $712m from Piedmont Office Realty Trust, a Georgia-based REIT that paid $462m for the building in 2003.
The Aon purchase marks a big bet that companies will lease space in Chicago's East Loop, which encompasses offices, hotels and condos adjacent to a more recently-constructed park and cultural complex. Piedmont said the tower was 86% leased at the time of the sale, but the area's 16.5% office vacancy rate was the highest of all downtown submarkets during the second quarter.
The emergence of large deals has paralleled a growth in portfolio and partial-interest transactions, which have doubled in frequency in the US relative to the prior cycle, JLL says. In the first half of 2015, there were four partial interest transactions in excess of $500m, all in New York, and most involving foreign buyers.
Office: The rise of the tech hub
1

2

3

4

Currently reading

Office: Removing the cubicles

5