Regional office markets in the UK are back on the radar. But new research shows the importance of studying the local drivers. Bill Page reports
Understanding occupier demand at a granular level underpins future performance prospects. After all, the only aspect of a property that cannot be changed is its location.
Although growing local economies are a key ingredient for rising property values, many studies only focus on the top one or two cities in each country. Most investment portfolios are more diverse. Legal & General Property (LGP) places great emphasis on understanding the drivers of local economic growth, with a view to selecting locations that are poised to outperform.
The key is to understand and predict workplace-based employment growth. This is, of course, different from more commonly quoted measures of residence-based employment. This will guide us to locations offering robust office occupier demand over the long term.
Some studies may illustrate differences between countries, across regions (of which there are nine in England) or counties (of which there are 140). We have chosen the local level and have collated information on 380 local authorities in Great Britain, of which 180 comprise 75% of the nation's workforce. We have focused on these areas, as the remainder are less likely to have sufficient stock for institutional investment.
There are six factors behind the success of areas: agglomeration and density; entrepreneurship; education and human capital; population; amenity; housing.
This is a key area for measuring localised success. Agglomeration draws together themes of business density. It concerns business co-location and the advantages emanating from the sharing and matching of skills and ideas among similar business types.
This is an integral concept to office markets. We have seen tremendous growth of the technology sector in London, for instance; its clustering around the Old Street area in particular has been credited to competing businesses wanting to be close together, both to access a footloose pool of talent and to foster innovation by idea sharing. One of the best examples of this was supermarket chain Tesco's decision to locate a digital campus close to what has now been dubbed Silicon Roundabout, showing awareness that it would be more likely to attract the tech talent required there than, say, at its corporate head office in Cheshunt.
This theme can be measured by jobs density – either a broad measure of workplace-based employees as a proportion of working age residents, or a simplified but effective measure of jobs or number of businesses per sqkm in each local area. We have accounted for these measures but found that the Krugman index, a measure of how diverse a local economy's industrial base is relative to the national average, had greater explanatory power on subsequent jobs growth.
Successful cities require a buoyant private sector that will foster employment growth. This will be reflected in an elevated rate of business start-ups relative to other areas and, potentially, a higher rate of business churn. While this latter indicator could be viewed negatively during periods of short-term stress, it can be viewed positively when it enables growth over the long term. In the US, studies indicate1 that a 10% variance between areas in the number of firms per worker is associated with an almost 10% differential in employment growth over the subsequent 20-year period.
For our purposes we also look for areas with a lower proportion of public sector employees. Although this sector remains the biggest employer in the UK, and has driven tremendous localised growth in the past, we take the view that its long-term growth is limited and better demand prospects will be found where the private sector dominates.
We will also need to identify areas where local housing stock value can support entrepreneurship – there is evidence that an increase in housing collateral value leads to a higher probability of becoming an entrepreneur, while, at a regional level, total firm creation has been proven to have a higher correlation with house prices in those areas where the proportion of home ownership is larger.
Businesses are attracted to areas with a skilled labour force and this will therefore increase the likelihood of business and employment growth. We found that the proportion of those educated to degree level or beyond was a good predictor of subsequent local employment growth.
Figure 1 illustrates this. We have divided local areas into quintiles according to the qualifications of their residents in 2004, where one is the best and five the worst. When this is plotted against subsequent employment growth (2004-13) for the same areas, the differentials are compelling.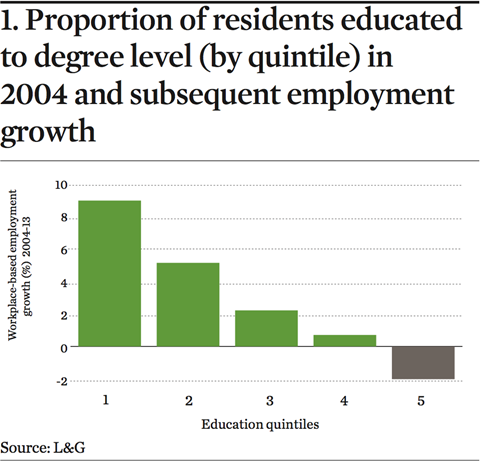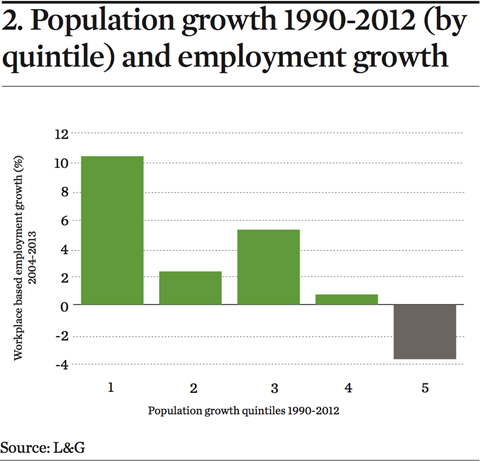 Skilled workers also tend to go where the best jobs are being created and there has been evidence2 that the more highly skilled an individual is, the more likely they are to move. The effect is to embed local differences in skill levels giving certain locations a persistent and growing advantage. Often this is reinforced by scale – larger areas can often win over smaller ones.
We also found that the proportion of employees in banking, finance and insurance in 2004 had a strong relationship with subsequent overall employment growth. As this sector returns to growth, this should abide once again, although we are weighting the proportion of KIBS (Knowledge Intensive Business Services) employees more favourably as we feel this grouping will have a stronger influence on local office markets going forward – particularly the more creative subsectors within.
When analysing influential factors for local employment growth, we can divide indicators into drivers (cause) and evidence (effect). Most of the time these are clear, but sometimes an indicator can justifiably be both. Population is one of these; a growing local economy will naturally result in population growth as workers gravitate towards buoyant areas.
But to what extent does population growth cause employment growth? We attest it does, although some circularity is unavoidable. The most effective way to illustrate this is to consider the reverse: a declining population will tend to retain poorer-quality, less elastic, labour. Areas of reducing population, therefore, will tend to restrict employment growth. The opposite is also true. As mobile labour is more likely to be of higher quality, it follows that growing populations have a greater likelihood of benefitting from an improving labour pool and therefore be conducive to local economic and employment growth. In the context of major cities, such data can become slightly confused by in-and-out commuting, but the general trend is clear, as shown in figure 1.
Amenities covers a range of topics from leisure uses to broadband availability to public transport and even social tolerance. It can be approximated by how unusually high house prices are relative to incomes (suggesting the difference is explained by localised characteristics). There is evidence that cities with better amenity can grow more quickly. A study in the US3, for instance, showed areas considered top quartile for amenity in 1980 saw populations grow by 40% on average subsequently, whereas lower-quartile areas experienced no change. In the UK, the majority of London boroughs exhibit house prices higher than local incomes suggest they should be, in an indication of desirability, while areas such as Cotswold, Torridge and Blackpool also stand out positively. Areas where prices are lower than local incomes would suggest include Burnley, Barrow and Copeland – the home of Sellafield nuclear reprocessing site.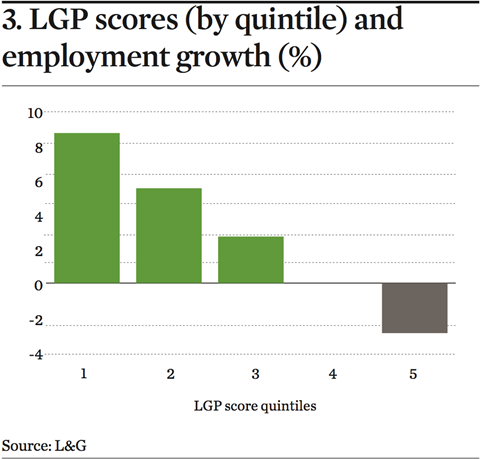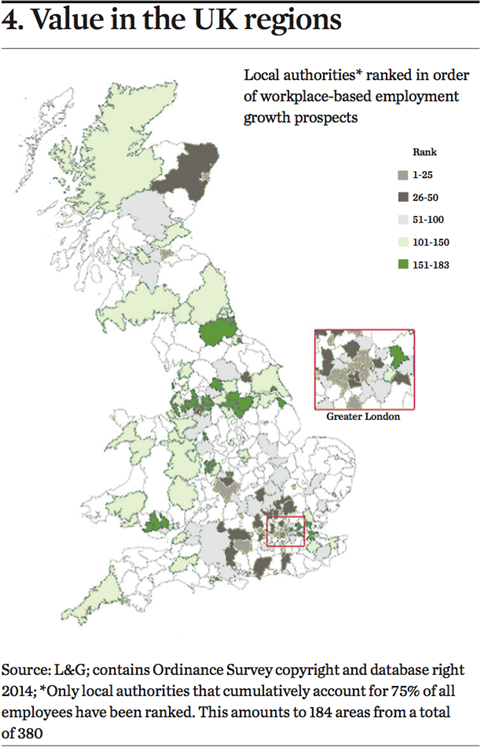 Housing is influenced by most of the above in some way but can also be considered a driver itself. Flexible housing supports flexible labour, so a robust and high quality private-rental sector (PRS) provision will be beneficial to, and demanded by, growing local economies. Over time, therefore, incremental private housing of decent quality will retain and encourage quality labour. House price inflation also drives planning gain and thus fosters further development and revitalisation. Although housing affordability problems are unwelcome, the ratio of house price to incomes can correlate well with local economic growth.
We have undertaken regression exercises to determine the strongest drivers across local areas and have also created an 'attractiveness index', which collates variables we deem as key, many of which have been discussed above, and scores all local authorities accordingly. Figure 2 shows how this attractiveness score corresponds with local employment growth.
A small selection of attributes with the strongest relationship to employment growth and our attractiveness score were combined to create a list of local authorities in which conditions are deemed most supportive for subsequent workplace employment growth over the long term.
Eight of the top 10 areas identified by this research were London boroughs. This reinforces the strong growth dynamics of the capital. But equally, a range of relatively well positioned areas lie outside London and the South East, underpinning the benefits of a more nuanced approach and discrediting an overly simplistic view of there being a straightforward north/south divide.
Cambridge rates highly in this research. It is the second strongest local authority outside London and the eighth strongest overall. This is principally due to its educated population, but it also scores well in terms of business diversity and in our blended attractiveness score.
London stands apart from the rest of the UK on a number of the characteristics we view as driving long-term growth in property demand. In the current environment of robust pricing, this aids our conviction that the capital will remain a market that will support income over the long term. This is also true of a number of other locations in the South East. But outside of London and the South East there are other compelling growth areas.
Bill Page is business space research manager at Legal & General
Footnotes:
1 Edward Glaeser, Triumph of the City, 2011
2 Centre for Cities, 2011
3 Glaeser 2011
Office: Altered states
1

2

Currently reading

Office: Local demand dynamics

3

4