In addition to the 'top seven', Germany has a diverse range of 'B cities'. Andri Eglitis looks at office investments in the second tier
In contrast to most European countries, Germany is characterised by a decentralised federal structure with a large number of economic and administrative centres. As a result, the country has a heterogeneous office property market. Besides the well-known top seven markets – Berlin, Cologne, Düsseldorf, Frankfurt am Main, Hamburg, Munich and Stuttgart – around 25 cities boast office markets with total space of over 1m sqft and annual take-up of more than 20,000sqm. These rental markets therefore have a sufficient size and liquidity to attract the interest of institutional investors – even taking account of risk aspects.
CORPUS SIREO narrows down this pool of B cities to the 'next 14 markets': Aachen, Bonn, Bremen, Dortmund, Dresden, Essen, Hanover, Karlsruhe, Leipzig, Mainz, Mannheim, Münster, Nuremberg and Wiesbaden. These represent attractive investment locations not just because of the absolute size of the market, but also on account of their sound economic environment with long-term growth in office employment.
Institutional investors have been active in large and medium-sized cities in the past. However, after the financial crisis their focus in terms of office investments was primarily on security – properties in good locations in the top seven cities.
Smaller locations were generally regarded as riskier due to the lower liquidity of their rental and investment markets. However, there are a number of good reasons to invest in B cities in Germany. The large number and economic diversity of these second-tier cities offer good opportunities, whether alone or combined with the top locations, to build up a diversified portfolio within a single country. This goes along with the advantage of a uniform legal, tax and currency framework.
In addition, the regional markets are characterised by higher stability than the top markets. This can be seen clearly in the long-term development of rents and initial yields in comparison with the main office markets.
One thing all of the 'next 14 markets' have in common is their stability. Traditional explanations for this include a higher share of owner-occupiers, fewer international tenants that are often more likely to relocate, and a low number of speculative project developments. And finally, there is one key criterion that the B cities still display, even in the current market phase –despite yield compression, the initial yields are still considerably higher than the top locations' level.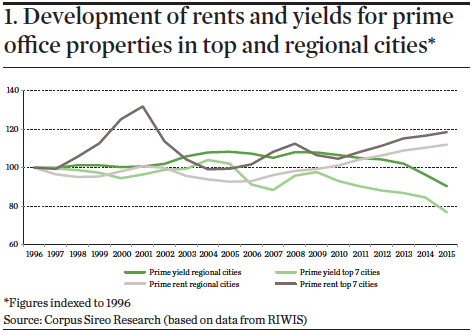 In the top seven markets, net initial yields for prime office properties fell to an average of 4.3% at the end of 2015, thus hitting historic lows. Strong demand for office investments drove up the transaction volume in the main office markets to around €19bn in 2015 (up approximately 40% compared with 2014). Nonetheless, many investors remained on the sidelines – they were unable to achieve their investment targets due to a lack of available properties or failure to meet yield targets.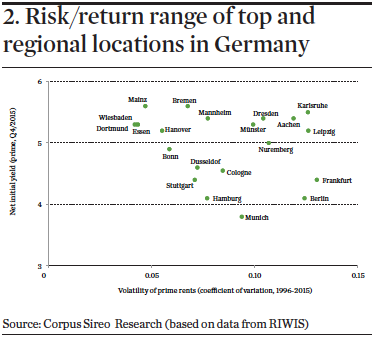 As they sought investment alternatives, competition for properties in B cities began to intensify in 2014 and then particularly significantly over the course of 2015. It is clear that regionally oriented investors, including family offices and institutional investors, were already operating with a specific focus on locations outside the top seven markets. But now the general market has also arrived in the 'next 14' and other growth cities.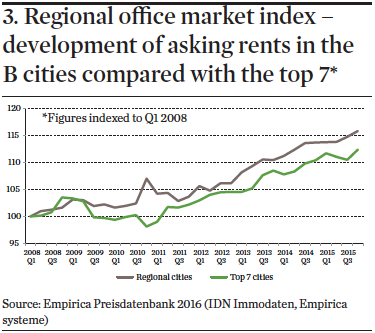 Demand is coming partly from generally risk-averse institutional investors such as insurance companies and pension funds, but also from national and international fund managers, and they have already concluded a number of transactions. However, there are no reliable data on transaction volumes at individual locations or about any defined segment of B cities. Based on published transactions, a volume of approximately €2bn can be derived for 2015 in the 14 selected B cities, but this figure should generally be regarded as a minimum level.
The growing demand in regional centres has caused yields to decrease considerably here, too – an average decline in net initial yields for prime properties of 35bps can be observed for the 14 selected markets. But despite this significant price increase, there is still a substantial yield spread of around 100bps in comparison with the top seven locations, where yields fell by an average of around 45bps last year.
Investors' increasing focus on B cities is no doubt largely due to the capital market environment and the competitive situation in the top markets. However, fundamental data and trends also militate in favour of second-tier cities. For example, Germany 21: Regional Office Index, a bi-annual study of the development of asking rents in the office sector of regional and top locations by Corpus Sireo and research institute Empirica, shows a positive trend in rents not just for 2015 but also in the medium term. This also supports the increase in prices on the investment side.
In 2015, asking rents in the 'next 14 markets' rose by an average of 1.9%, thus slightly exceeding the growth of 1.8% in the top seven markets. There are two particularly noteworthy findings in the B cities. Firstly, asking rents increased considerably faster in the second half of 2015, at a rate of 1.8%, than in the first six months.
Secondly, the fluctuations over the course of the year were lower in these locations than in the main office markets.
While the top seven cities recorded a positive first quarter, followed by decreasing asking rents around the middle of the year that did not recover significantly until the final quarter, rents in the regional markets examined generally displayed an upward trend over the year as a whole. The current study shows that the upturn encompassed the whole of the market, particularly in the second half of the year.
Looking at building ages, it is clear that asking rents continued to increase for properties in all age categories and rose particularly sharply for older properties built before 1945.
Here, too, the regional markets do not represent a homogeneous group but, rather, they display differentiated rent levels and trends. Asking rents as at the end of 2015 averaged €8.20 per sqm per month across all locations, but varied between €6.90 in Leipzig and €9.90 in Wiesbaden.
At the same time, the markets participated in the general upward trend over the course of 2015 to different extents, ranging from rental growth of 7.6% in Aachen to a decline of 1.6% in Mannheim. In general, the B cities development in 2015 was in line with the medium-term upward trend, which has seen rents increase by around 2% a year since the index was first launched in 2008, and especially since 2011. Office locations with a low or medium rent level, such as Bremen, Hanover, Essen and Münster, generally posted above-average increases. By contrast, 'high-price' markets such as Bonn and Wiesbaden saw lower growth.
Along with all the positive findings in regard to the rent development, the 14 regional markets also showed a few drawbacks in 2015 – particularly in comparison with the top locations. For example, take-up was below the 10-year average in most of the markets in 2015 and in several markets it was also down year-on-year. The situation was very different for the top seven cities, among which only the Frankfurt market showed signs of weakness. Reduction of vacancies therefore progressed slowly or stagnated, whereas vacancy rates in all of the top seven markets saw a significant decrease.
However, the regional markets' stability comes into play here. Apart from a few exceptions, such as Dresden, Leipzig and Nuremberg, the secondary locations have been at a low level of about 5% for several years, whereas the top locations have been subject to considerably stronger fluctuations in the past.
In conclusion, on account of their structural features, and also due to the current condition of the rental markets, B cities present a good opportunity to invest in the German office property market. However, the degree of 'relief' for the top locations is limited, as indicated by the transactions known to date. This is also confirmed when looking at the absolute size of the office markets; the 'next 14 markets' have only around half of the office stock of the top seven. B cities should, therefore, be regarded as a valuable addition to, rather than a substitute for, investments in the top seven locations.
Andri Eglitis is head of research at Corpus Sireo
Office US: Suburban survival
1

2

3

Currently reading

Office Germany: From A to B

4

5