Six months after the Brexit vote, the prognosis for the UK's office sector is still unclear, writes Russell Handy
The uncertainty created by the UK's vote to leave the EU has split the real estate sector, with some pointing to the potential opportunity for investors and others fearing a halt to office leasing activity for as long as two years.
'Post-Brexit caution' pushed London offices to fourth place in investor preference, according to a recent survey by the association for Investors in Non-listed Real Estate Vehicles.
"Political and economic uncertainty worries occupiers, so until the Brexit negotiations are concluded, occupiers will be cautious," says TH Real Estate senior portfolio manager Peter Neal, who manages TIAA's Cityhold Office Partnership with Swedish buffer funds AP1 and AP2.
"There is no question that next year could be difficult for the London office market, the occupier market, in particular, could see a period of inactivity that we predict could last 18 to 24 months."
The €4bn Cityhold Office Partnership last year sold The Peak, a central London office asset, for £145m (€168m) to a Middle Eastern buyer at a net 4.27% yield, after investing £102m in 60 Great Portland Street at a 3.89% net initial yield. Such low yields have become less eyebrow-raising than in previous cycles.
Stephen Down, head of central London investment at advisory firm Savills, says that, with prime yields ranging between 3% and 6%, commercial property continues to be an attractive asset class for investors.
Compared with 2015, Savills says prime yields moved out by 25bps in both London's City and West End markets, to end 2016 at 4.25% and 3.25% respectively.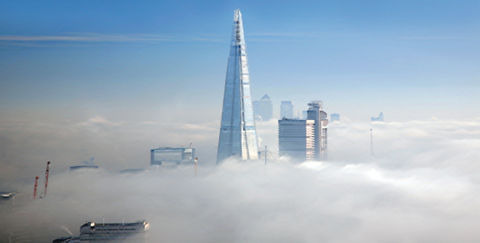 Yield increases, says Anne Kavanagh, global head of asset management and transactions at AXA IM-Real Assets, are likely to give way after an adjustment period of around 18 months. "This is subject to [Brexit] negotiations going well and a smooth exit progress being put in place. Finance and business services sectors are likely to be the hardest hit, due to uncertainty around passporting rights."
Pricing for prime real estate with income characteristics will prove more defensive than for secondary, risky assets, says Neal.
"We predict that rents will fall, nowhere near financial-crisis territory – but they will be lower," Neal says.
Kavanagh says 2017 could be a year of transition in the London office market.
"Given the weaker occupier demand experienced in 2016, the ongoing uncertainty over the timing of the Article 50 trigger, as well as the wider implications for office occupiers from Brexit negotiations, headline rents may begin to fall in central London," she says.
Further rental falls could continue into 2018, but are dependent on the direction of negotiations and the likely outcome.
"Rents could recover from the latter part of 2018," Kavanagh says.
Neal says that occupiers are likely to put off any leasing decisions in the near term unless under pressure to do so.
He says, the uncertainty in leasing and capital markets will provide investors with an opportunity to access enhanced office returns.
Neil Prime, head of central London markets at JLL, says that while take-up of office space in the City in 2016 was down 6% on its long-term average, the district enjoyed an "encouraging surge" of lettings in the final quarter of last year.
"It demonstrates that demand has been more resilient than many feared. In many cases, tenants are seeking more flexibility and earlier break options to address the uncertainty around Brexit, rather than abandoning requirements altogether," Prime says.
"Businesses are undoubtedly more cautious, but the desire to consolidate operations and upgrade functionally obsolete stock remain key to business strategies."
Kavanagh says supply in London is likely to fall from levels previously expected at the start of last year, with "marginal" schemes requiring leverage or pre-lets at risk of being cancelled or postponed.
AXA IM-Real Assets last year sold an office building it owned with BlackRock Real Estate in the City of London, which they jointly developed and let, for about £220m.
The property, 6 Bevis Marks, was purchased in a 50:50 joint venture in 2011, at a time when there was, the manager says, little new construction being commenced.
Uncertainty caused by last year's referendum could not have come at a more critical point in the office development cycle. Last year and 2015 were the most active years for new developments in two decades, according to Deloitte Real Estate. In its latest London Office Crane Survey, the firm estimates that 148 schemes totalling 15m sqft were started over the past two years. "Many of these schemes are now nearing completion, meaning that almost 7.5m sqft of offices are due to be delivered between now and mid-2017," says Will Matthews, head of insight at Deloitte Real Estate.
An expected increase in completions, combined with economic uncertainty, is leading some developers to defer the start-date of future speculative schemes, says Matthews.
Green Street Advisors, which predicts a soft landing following the Brexit vote for the central London office sector, foresees development peaking next year and in 2018 – when, it says, demand is likely to trough. Deloitte foresees the bulk of future delivery being in 2019 and 2020.
"Demolition levels have increased by 12% over six months, indicating that other developers are continuing to press ahead," Matthews says.
With the firm predicting the balance moving in favour of occupiers, the well-documented issue of post-Brexit tenant choice is not the sole issue the office sector has to grapple with.
Is tech the bigger risk?
While Brexit may, as Green Street Advisors notes, "jolt London's crown as the leading financial centre in Europe", the role of technology and, in particular, automation, was recently highlighted by Bank of England Governor Mark Carney as a longer-term risk to the future of the UK economy.
Carney said "great disruption" due to technology is likely.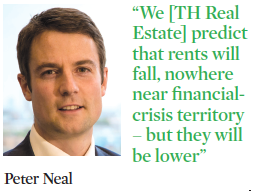 Neal says the key for office investors is to "future-proof. It is so vital to embrace new in technology, we believe we can do this by designing 'smart' buildings," says Neal. "Occupiers want buildings that are less expensive to run, enhance the productivity of the workforce and increase the investment value of the building."
The Bank of England has predicted that automation could affect jobs in sectors ranging from admin and secretarial to sales and customer service. As many as 15m UK jobs are at risk from automation, the bank has forecast.
Professionals within the financial services industry feel more threatened by automation than in any other sector, data firm Emolument has found. The firm's 'How is technology putting jobs at risk?' report, released in October last year, asked 900 professionals in several industries and countries whether they believed their job was being threatened by technology.
"Jobs in the financial sector are becoming more and more technical: employees are expected to control or at least understand the technological automated processes necessary to fulfil their professional tasks," says Alice Leguay, Emolument co-founder and COO. "While some functions still require a human touch, none are unscathed, with even sales jobs being obliterated by efficient machines."
Emolument's results show that financial services professionals are feeling the heat the most, while those leading the technological disruption – such as engineers and computer science graduates – feel safe.
Tony Smedley, fund manager at Schroder European REIT, says that banks will probably invest more in automated trading.
"In part it is because some of the less profitable operations in London will be closed," he says. "It's also possible that tech companies will choose Berlin and Stockholm over London, given the prospect of immigration controls in the UK and the need to keep data on EU citizens within the EU."
Giles Fuchs, chief executive and founder of Office Space in Town, says the effects of the UK's departure from the EU will soon become clearer and clarity will "begin to alleviate the uncertainty which has weighed down on the broad property sector".
There have, he says, been "robust signs of recovery" across the wider commercial property sector following the initial shock of the referendum result, with the market once again delivering positive monthly returns.
"The UK continues to be seen globally as a strong and reliable destination for investment and the weakness of sterling is making the UK particularly attractive to international investors," Fuchs says.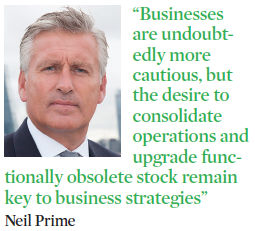 "Not only will this go unchanged by our departure from the EU, but we can expect growing interest from investors outside the EU, as they recognise our ambition to forge stronger ties beyond Europe." The serviced office sector, he says, has performed well since the referendum. "As businesses look ahead, the ability to be flexible will be a priority – something that serviced offices can offer."
Brexodus fears overdone?
M&G Real Estate says that with continental Europe enjoying its lowest unemployment rates in since July 2011, the office sector will be further supported, giving developers confidence to meet future demand with new developments.
The European office sector, it predicts, will generate average rental growth of 2.3% per year over the next three years.
Stockholm, Barcelona and Paris are highlighted as driving office sector growth, with year-to-date rental growth of up to 11.5%, 5% and 4.8% respectively.
London is, of course, not alone in having a strong pipeline of office developments.
In Dublin, 36 new office buildings – or more than 12m sqft – are being planned for the Irish capital over the next five years, according to Savills Ireland. This, the firm says, is enough space to accommodate over 100,000 office employees.
While Savills acknowledges that not all planned developments will proceed, even if half advance to completion, which it says is likely, Dublin will have enough office accommodation to "reap any potential benefit of the UK's decision to leave the EU".
Andrew Cunningham, director of offices at Savills Ireland, says "if any UK-based companies decide to move operations to Dublin on foot of Brexit – and we believe they will – it will not happen immediately.
"A gradual migration, spread out over number of years up to the final Brexit date, is far more likely, by which time supply should be able to cope with demand," he says.
"The on-off nature of the date for final Brexit is causing reactions among occupiers, with a noticeable increase in enquiries following the announcement of March 2019 as the deadline."
Talk of an en masse shift of financial talent from London to Frankfurt has subsided, despite Goldman Sachs reportedly looking to move staff to the city. Swiss bank UBS's merger of its wealth management operations into a new Frankfurt-based business could be regarded as a sign of things to come. However, the move has been planned for some time, the bank said.
Smedley says although Brexit means that Frankfurt, Paris and Amsterdam will probably experience an increase in financial jobs as certain activities – such as trading in euro-denominated securities – are moved away from London, a boost to employment in such cities will be "modest and progressive in nature.
"Our strategy is to focus on certain major cities in Europe which have diverse economies, a large pool of skilled labour, good infrastructure and are attractive places to live," Smedley says, referring to Amsterdam, Berlin, Hamburg, Madrid, Munich, Paris, Stockholm and Stuttgart.
"Although yields have compressed significantly since 2014, the positive surprise is that there is little new commercial building," he says.
"In part this is because the banks are still reluctant to lend on speculative projects and in part it is because high house prices mean that residential schemes are often more profitable for developers."
Smedley says a recent upswing in office rents has a long way to go. "We particularly like certain cheaper office locations, where there is modern office space, good infrastructure and yields are 0.5% higher than in the city centre."
Back in London, a "slow, yet manageable bleed of jobs" is likely, Green Street Advisors says. "The wound will heal and London will prosper as it always has," the firm's report on London offices says.
Neal says that apart from its greater volatility, London has an attractive risk profile, possessing a highly transparent market with deeply liquid capital markets and solid income security. "Even amid Brexit uncertainty, its critical mass will ensure it stays dominant and streets ahead of any other European contender," he says.
In its Investment Strategy Annual for 2017, LaSalle Investment says London real estate will continue to attract safe-haven capital from around the world.
"Property values in the UK could soften modestly in the short run until the terms of departure from the EU become clearer," according to LaSalle. "In the medium to long term, a new relationship with the continent could be to Britain's long-term advantage."
Office Europe: Mixed fortunes
1

Currently reading

Office Europe: Mixed fortunes

2

3

4

5