Investors are flocking to Australian offices. But Perth and Brisbane paint a different picture to Sydney and Melbourne, says Florence Chong
Since 2013, foreign and domestic investors have poured more than AUD60bn (€43bn) into the Australian office market. Canada Pension Plan Investment Board (CPPIB) and China Investment Corporation (CIC) alone have invested more than AUD4.15bn.
Australia's office sector is experiencing a favourable confluence of factors: a strong take-up of space, a slowdown in supply and ongoing investor interest in office assets.
The average vacancy rate is about 10.4%. But this figure hides a disparate picture, says Ken Morrison, chief executive of the Property Council of Australia. "Those investors with strong weighting to Sydney and Melbourne will be doing very well, and will sit pretty for the next couple of years. Others with assets in Brisbane and Perth have the task of managing those assets to ensure they secure leases to minimise vacancies and incentives."
According to Colliers International, the vacancy rate in Sydney is 5.6%, in Melbourne 7%, in Perth 21.8%, and Brisbane 16.9%. Luke Dixon, research director at Colliers, says Sydney's vacancy is forecast to fall below 5% by the middle of the year and could reach 4.7% next year. "This will be a record for Sydney CBD."
The forecasts are based on the assumption that the next round of office developments in the city will not be completed until 2020-21. The shortage is also being exacerbated by the withdrawal of office space. Some 34,000sqm will disappear from the market to make way for new metro stations in the city. The private sector is also expected to convert some offices into residential apartments and hotels.
"Everyone was worried about Barangaroo," says Darren Steinberg, chief executive of Dexus Property Group, referring to the massive urban renewal project in Sydney Harbour. "In hindsight, it was actually a blessing for the Sydney CBD market, because it deferred other developments for about five years."
The Barangaroo project is being undertaken by Lend Lease on the western foreshore of the harbour and will add some 280,000sqm of prime office space to the CBD. Dixon says the largest building in Barangaroo, Tower 1, offering 100,000sqm, is more than 60% full and filling up, while Towers 2 and 3 are 80% and 75% leased up respectively.
Demand has been strong thanks to the vibrancy of the New South Wales (NSW) economy, says Morrison, boosted by a boom in residential construction, infrastructure projects and a growing population. Steinberg credits the NSW state government with a growth strategy that has helped create more employment.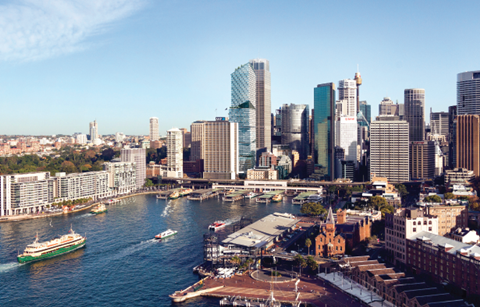 In recent months, several billion-dollar-plus projects have been approved, and work will begin on these over the coming months. They include Brookfield's Wynyard Place and AMP Capital's Quay Quarter Sydney, which will offer 102,000sqm of office space. Another large office landlord, Investa Property Group, has two major projects, including one at 60 Martin Place.
Melbourne tells a similar story. It is a different market, where key tenants are the large Australian banks and the superannuation industry. Rapid growth is also taking place in education, health and other services.
During the global financial crisis, foreign investment banks reduced staff numbers and commercial space in Sydney, pushing vacancies to 11%, but Melbourne avoided a similar fate.
Dixon says tenant incentives in Melbourne fell to 13% during the financial crisis, but they have since crept up to around 30% . In the past 10 years, Melbourne's annual average additional take-up has been 90,000sqm, compared with Sydney's 55,000sqm.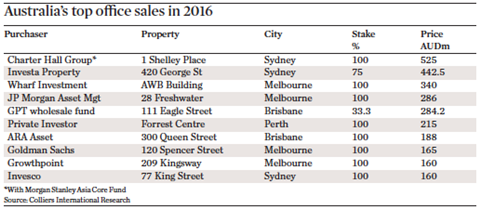 Take-up in Melbourne in 2015 was 137,000sqm, well above the 10-year average. Steinberg says the city will have total net additional supply of 233,000sqm over the next three years, but this will still be below its 10-year average. Dexus, which has 13% of AUD14.9bn office portfolio in Melbourne, forecasts "a tightening of vacancy" in the coming two years, Steinberg says.
However, Melbourne is unlikely to overtake Sydney in either rental growth or value appreciation. Today, premium office rents in Melbourne average AUD730 per sqm, compared with AUD1,150 in Sydney.
Two-speed economy
The outlooks for Brisbane and Perth offer a sharp contrast. Morrison says the situation reflects Australia's two-speed economy – the buoyant services economies of NSW and Victoria versus the resource-based economies of Queensland and Western Australia.
The slowdown in the mining sector has hit both Brisbane and Perth hard. And Brisbane's previous government added to its economic woes by shedding 15,000 public-servant jobs.
Dixon says five new projects are planned or mooted for Brisbane CBD, and that these will provide an additional 146,000sqm of office space. To put this in context, the average annual absorption in Brisbane is just 19,000sqm. Dixon expects a push-back on two of the projects planned, which would withhold some 82,000sqm of supply.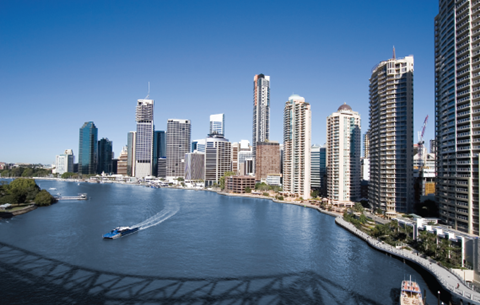 One of Australia's largest fund managers, ISPT, has halted a new office project in Brisbane in what is known as Wintergarden. A source tells IPE Real Estate: "We didn't want to take the risk when we could see the new supply coming on."
ISPT and its partner, CBUS, a superannuation fund, recently completed 1 William Street, which is leased to the Queensland state government to house more than 5,000 public servants.
Steinberg says Brisbane is definitely improving, with the supply outlook subdued. "This will provide the window for the market to recover in the next couple of years," he says.
A flight to quality is taking place in Brisbane, with tenants in lower-grade buildings opting to upgrade to better buildings and to the Golden Triangle in the city's CBD.
But it is Perth that is most challenged. The only silver lining there is that no new projects are being built. Tenants are being enticed to move into new buildings with incentives of more than 35%. And the brunt of vacancies is being borne by landlords with older buildings.
Foreign investors keep pressure on
Meanwhile, foreign investors continue to flock to Australia in record numbers, pushing capital values to new peaks.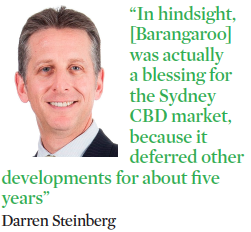 "Australia looks good internationally," says Morrison. "It is an economy that has seen 25 years of economic growth. It is stable and it is linked to Asia. So there are many reasons for the world to want to invest in premium and strong assets in Australia."
David Cannington, head of research and strategy at Investa, says depreciation of the Australian dollar in recent years has created a 30% capital value windfall for foreign investors. This will continue to be a significant factor in shaping the outlook for the office market.
Assets are increasingly hard to come by, says Dixon. "There has been a lot of churn among long-term funds," he says. "These new buyers are unlikely to dispose of assets in the short term."
Long-term core and core-plus funds will hang in because of a scarcity of good assets in gateway markets that have falling vacancy and rising rents.
As of the fourth quarter of 2016, average yields in Sydney were 5.3% for a premium tower and 6% for an A-grade building. The yield is now tighter than during the commercial property bubble of 2007-08. "If we take March 2008 as a proxy, Sydney's premium yield was 5.5% then," says Dixon.
Some domestic superannuation funds are beginning to worry about overheating. But others disagree, pointing out that bond and interest rates are lower than they were in 2008.
"We still have premium cap rate spreads of 300-350bps and A-grade of 400bps above the 10-year bond rate," Dixon says. "The cash rate is 1.5% compared with 4-4.5% in 2008. So the spread between the price now and what was paid then still leaves significant headroom for further compression."
Cannington says capital transaction flows point to further yield compression in the major Australian CBD office markets in coming years. But, he cautions, government bond rates, global economic uncertainty and central bank policy remain critical to the outlook for capital growth.
Office Europe: Mixed fortunes
1

2

3

Currently reading

Office Australia: Two tales of two cities

4

5